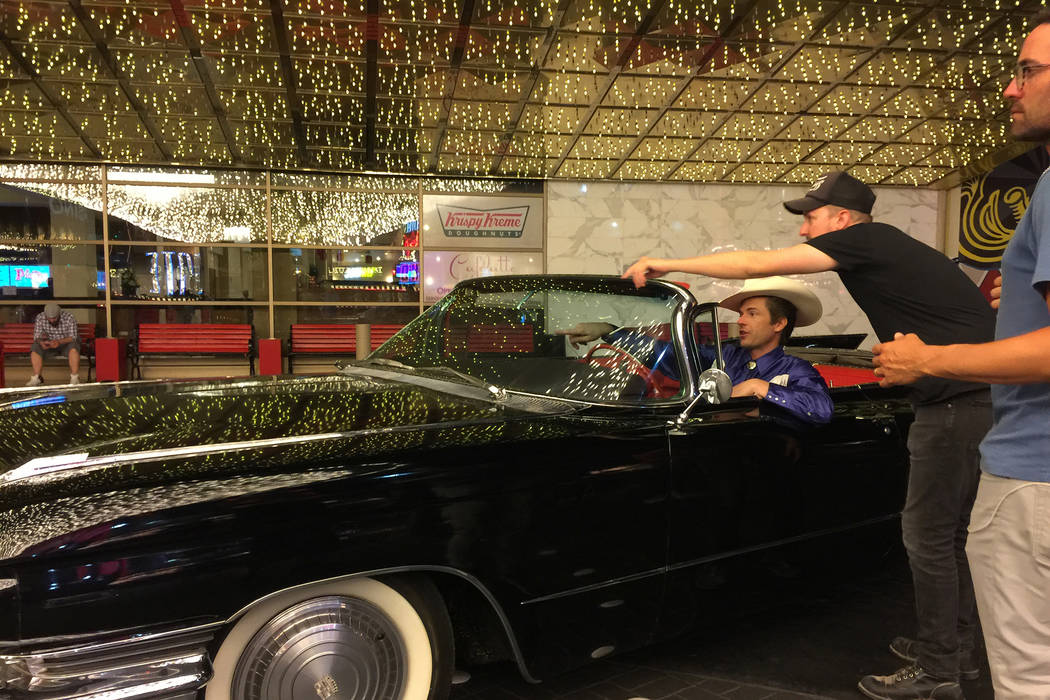 The first land-based robotic bar in the world opened today (June 29) at Planet Hollywood's Miracle Mile. Two cocktail-shaking and stirring robots serve up drinks that guests order from a technologically advanced pad-tablet. Guests as of regular hours tomorrow (June 30) will be able to watch the electronic duo dance between fulfilling drink orders.
But they don't have names yet! Rino Armeni who brought the modern technology from Italy says it will be up to customers in a competition to name the male and female bartender robot. I'm voting for Ricardo and Rosa.
They made me the perfect mojito. Each robot washes its cup in an air-blade cleanser between drinks before getting ice and then adding a lime it slices, mint that it muddles and the necessary alcohol and mix. The robots can make 120 drinks an hour and among the advantages: no weekly paycheck, no health care payments, no harassment complaints. It's the city's newest attraction.
The new Tipsy Robot Bar does employ a female bartender if you prefer old-fashioned conversation as she mixes your drink and there are other galactic girls who will serve your drink once it's completed if you don't want to pick it up from the robots. The robots will make classic cocktails or create your own concoctions.
• FIRST LOOK VIDEO: Brandon Flowers and the Killers shot their first Vegas location music video — "The Man" — at the Mr. Brightside Café next to the Plaza. Here's the first look YouTube video of this morning's release:
Film production company Oogoog Productions with Tim Mattia as director pulled off a covert operation with an A-list cast and crew with other locations that included Dino's Lounge and the Marc Anthony and Cleopatra Villas at Caesars Palace
• WICKED WHISPERS: What Vegas reality star showed up in front of a judge pleading poverty to avoid paying fines only to discover the opposing lawyer had a Facebook post of his new expensive sailing boat on Lake Mead to show his Honor, who was not amused!
• The House of Contentment that rap mogul Jay-Z and his wife, Beyonce, are leasing for the summer in Malibu is costing him a hefty $400,000 per month. It's a 16,000-square-foot property set on 6.5 acres and is up for sale for $55 million. It has its own movie screening theater and a wine cellar. The music couple are renting as they have been unable to find a home in the L.A. area that is for sale and fits the needs of their growing family. Their $120 million offer on a Bel Air home in April was turned down.
• It's the first time I've heard of a court case where a deceased theatrical manager is suing a former TV client to get the commission on his television show. Richard Dale, who stars on Rick's Restorations, is trying to get out of paying former manager, Irwin Gonor, commissions on the series claiming that his death automatically ends their business arrangement. The case has worked its way up to Judge Persi Mishel in the Nevada Supreme Court's appellate division of Clark County's 8th judicial district. Attorney Ryan Alexander is suing on behalf of the estate of Irwin Gonor and attorney Christopher Turtzo represents the Bookin' It agency of record. Attempts are being made to settle the claims and the case.
• CONGRATULATIONS: To Nannette Barbera, producer and the cast of "Solid Gold Soul" at Bally's, which has just been renewed for another year at the Window's Showroom. A second version of the hit show will open next month at Harrah's in Reno.
• MAGIC VIDEOS: Between the time that celebrity magician Murray Sawchuck sent out invitations to his Planet Hollywood party last night (June 28)) to celebrate 100,000 subscribers to his YouTube channel it had grown to 155,000! He screened two new YouTube videos and played one with Vegas twin Property Brothers reality stars Jonathan and Drew Scott. That will never be uploaded again. That's because a rival Strip entertainer had barred Murray from releasing the clip as the duo are featured on his next TV special. YouTube sent congratulatory letters and silver bar awards to Murray who appears as the magic expert on "Pawn Stars" had red YouTube shaped cupcakes available with champagne or guests. Over 450 million viewers have logged onto Murray's series of magic videos.
• TO EASE CONFUSION: The new "Men of the Strip" male burlesque review from 98 Degrees boy band singer Jeff Timmons is at the Hard Rock Live on the Strip as Channing Tatum's "Magic Mike Live" show is at the Had Rock. Jeff's location was inadvertently cut from yesterday's column item.
• STAR SURVEILLANCE:
— Breaking Bad actor Bryan Cranston taught a 101 acting seminar for the theater kids at the Pinecrest Academy here.
— Baywatch beauty Angelica Bridges is rehearsing a new "ICandy" show here, which she'll host this fall at Bally's.
— Canadian poker player Pablo Mariz who just won the World Series of Poker's fourth annual Millionaire Maker tournament at the Rio took a break from the tables to see Piff the Magic Dragon at The Flamingo but couldn't figure out how the "America's Got Talent" "loser" performed his card tricks.
— Michelle Rodriguez had a blast (quite literally) at Las Vegas Machine Gun Helicopters as she fired a belt-fed M249 belt-fed machine gun from a helicopter high above the Nevada desert yesterday afternoon (June 28). Michelle experienced what it was like to be a military door gunner with MGH's Door Gunner package for the ultimate machine gun experience.
Michelle is working on a movie with director Steve McQueen in Chicago and said that she needed a break from filming, so came to Vegas to hang out with her longtime friends, Genghis Cohen, owner of Machine Gun Helicopters and David Perriset, owner of Exotics Racing, both high-end adventure attractions in Las Vegas. The "Fast and Furious" actress and screenwriter also attended a friend's birthday party at the downtown La Comedia restaurant enjoying tequila shots, cheese enchiladas, guacamole and grilled sea bass tacos. Michelle is embroiled in a dispute with the "Fast & Furious" filmmakers with her threats to leave the movie franchise.
— Swing and jazz sensation Big Bad Voodoo Daddy brought its vibrant fusion of classic American sounds to M Pavilion as part of M Resort's summer concert series. More than 1,600 guests danced the night away to some of the band's most popular songs including "You And Me (And The Bottle Makes 3 Tonight)," "Mr. Pinstripe Suit" and "The Jitters."