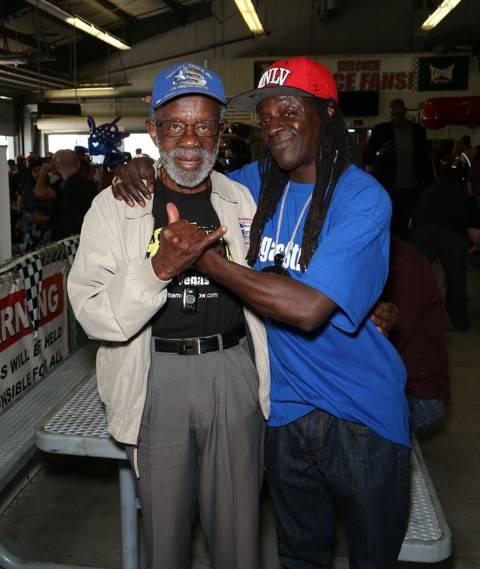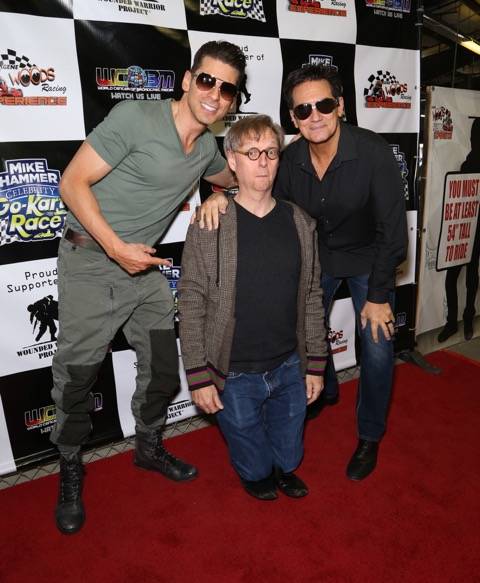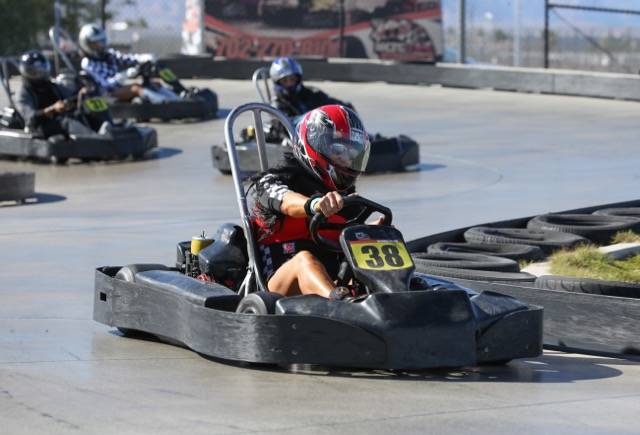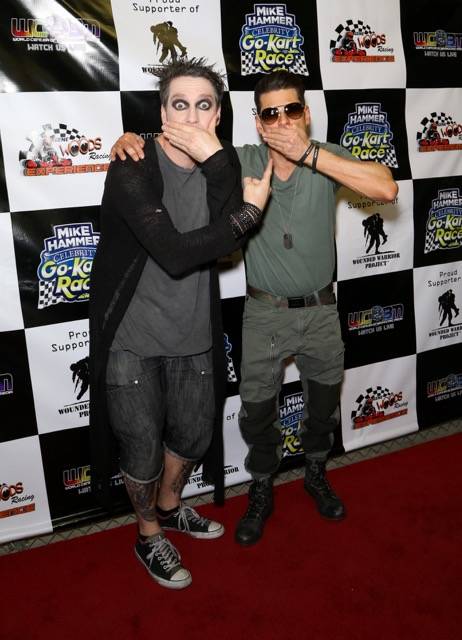 Two hot-shot Vegas auto racers will do battle against 350 drivers from 18 countries at next month's tough and rugged 50th anniversary of the treacherous Baja 1000. Rob MacCachren, 52, who has won four runs of the brutal course, and ballistic B.J. Baldwin, who is a seven-time national off-road racing champion, will compete in the experience that will actually start here at the Las Vegas Motor Speedway on Halloween Eve with the qualifying races.
The famed Baja 1000 is the world's most iconic, oldest, prestigious and longest continuously held desert race. Run over a 1,134-mile course down Mexico's majestic Baja peninsula from Ensenada to La Paz, it starts Nov. 16 and should run nonstop until Nov. 18. Rob and BJ are expected to complete the course in 20 hours while other drivers will take as long as 48 hours. Veteran Rod Hall is the only person who has raced in all previous 49 Baja 1000 races, and he will celebrate his 80th birthday Nov. 22.
Rob has won 20 championships during his racing career and was a 2011 inductee in the Off-road Motorsports Hall of Fame. B.J. will drive the No. 97 Monster Energy Trophy Truck and here's a YouTube video of him in death-defying action:
Their trucks will be on display at this year's SEMA convention show from next Tuesday (Halloween Eve) to Nov. 3. The qualifying races will be held next Tuesday at the Off-Road Track at the Las Vegas Motor Speedway before the drivers head down to Ensenada for the mandatory pre-race-driver and rider briefing on Tuesday, Nov. 14.
The point-to-point race with 78-year-old iconic desert racing promoter Sal Fish as the grand marshall is over the foreboding and unforgiving terrain of both the northern and southern state of Baja California. Cameras will be in the thick of the action for an eventual two-hour TV special.
CELEBRITY RACES
The real celebrity at Mike Hammer's star-studded Go-Kart Race on Sunday at the Gene Woods Racing Experience opposite McCarran Airport was a 98-year-old Tuskegee Airman from World War II, Lt Col Theodore Lumpkin, who traveled over from Los Angeles. The retired intelligence officer was greeted by rapper Flavor Flav and mobbed by other celebrities including Flamingo headliner Tape Face, magicians Lance Burton, Mac King and Mike Hammer, plus singers Gabriellas Versace and Pia Zadora. Gabriella from the Sexxy show at the Westgate sang an acapella version of the national anthem.
Mike, who performs nightly at the Four Queens hotel downtown, organized the race event to raise funds for four veteran's charities preventing suicides from returning war-front military members: the Wounded Warrior Project, RWB Dog Tags, the Nathan Tyler Davis Foundation and Forgotten Not Gone.
Over $5,600 was raised between the event and online donations for the four charities. Daelyn Woods, who is the daughter of racecourse owner Gene Woods, won the celebrity races which featured Jennifer Romas, Murray Sawchuck, Kevin Burke, Gordie Bown, Dixie Miranda, Marc Savard and Penny Wiggins among the racers.
BOTTOM OF THE BOARD
The judges, including Caesars Palace country guest star Shania Twain, on last night's (Monday) Movie Night edition of "Dancing with the Stars"' were not kind to Vegas reality star Drew Scott of "Property Brothers." He danced an action movie pasodoble with pro-partner Emma Slater, but it disappointed the experts Len Goodman, Carrie Ann Inaba and Bruno Tonioli so badly he wound up at the bottom of the leaderboard after Nick Lachey was eliminated with his partner Peta Murgatroyd. Now he could be in danger of being axed from the hit ABC TV show on next Monday's seventh show of the season. Only eight couples remain in their chase for the golden disco ball prize.
TOUR ENDS
Kid Rock will start a 21-show tour in January in Nashville and then wrap it up here at Mandalay Bay on March 24. He'll release his new album "Sweet Southern Sugar" on Nov. 3 and promote it on the "Greatest Show on Earth Tour 2018." He's promising fans a high-energy experience that will include the brand new tracks from his latest album.
$1 MILLION
A 2007 Ford Shelby Super Snake car was sold by Barrett-Jackson Auto Auction chief Steve Davis from his personal collection for $1 million at the classic collectors event in Mandalay Bay over the weekend, and he donated the entire proceeds to the Las Vegas first responders through the Injured Police Officers Fund benefit here. The winning bidder was the California based renewable energy company DC Solar.
MASTER CHEF
There's an open casting call for would-be kitchen kings and queens who think they have what it takes to be the next "Master Chef." At the W Hotel in SLS on Saturday, there will be an open casting call and the judges will decide who from Vegas can plate his or her dish without heating or cooking it in a 3-minute contest. Full details can be found at www.MasterChefCasting.com
VIDEO TREAT
Here's a video treat of LANY coming to Vinyl at the Hard Rock hotel next Wednesday (Nov. 1). Their latest song "Super Far" has already reached over 61-million streams on Spotify and, in addition to selling out shows while on the current tour, their music video has gone past the 3-million mark:
TONIGHTS TIPS:
The topless temptresses of "Fantasy" at the Luxor celebrate their 18th anniversary and the renewal through to a 20th season with the unveiling of their new "Black & White and Nude All Over" calendar for next year. It's the 12th full-calendar book since the tradition began in 2007. Fantasy founder Anita Mann says the calendar is "old Hollywood glamour with a contemporary twist" shot by pinup photographer Oscar Picazo. Interesting fun fact: The delicious dancers have never had a day off — 365 days a year — for the past 17 years!
Burlesque singer the oh-so-sexy Melody Sweets gave her final "Absinthe" performance as the Green Fairy lowering herself from the rooftop of the Absinthe tent at Caesars Palace last night (Monday), and tonight (Tuesday) launches her solo career. It's a vintage journey back to the days of ballsy blues original songs and a collection of elegant striptease routines with Bettina May and Miss Redd and vaudeville acts in her fourth run at the Smith Center. Also entertaining in this Halloween-flavored brew are former Miss Exotic World winners Kalani Kokonuts and LouLou D'vil and burlesque beauty Buttercup. Lon Bronson plays trumpet titan with his all-star 10- piece band. It's not to be missed — and now that she's free from "Absinthe," expect her powerhouse vocals to ring out right across downtown!
The Golden Knights aren't just leading a charmed life with their amazing 6-1 victory start to their first expansion club season in the NHL, they're overcoming the injuries sustained by not one but their two top goalkeepers: Marc-Andre Fleury and Malcolm Subban No other first-year team in the history of the league has won six of its first seven games but tonight (Tuesday) they face off against the threatening Chicago Blackhawks
Change! Breaking Benjamin stars at the House of Blues in Mandalay Bay. The five-man American rock band was founded in 1999 by lead singer and guitarist Benjamin Burnley in Pennsylvania.