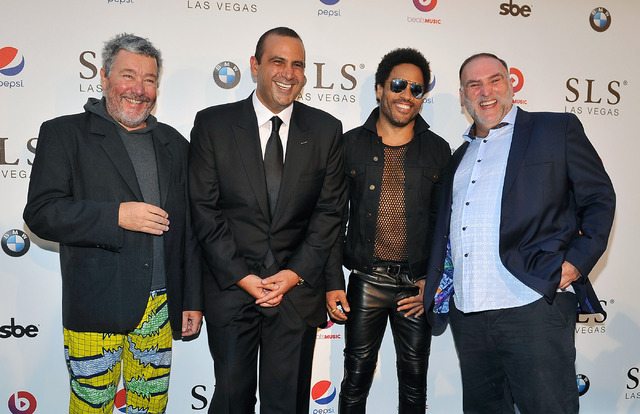 We have Wicked Whispers + Racy Rumors this manic Monday:
SLS Las Vegas and The Cosmopolitan of Las Vegas star Chef Jose Andres and President Donald Trump have solved their lawsuit and settled their dispute about ending Jose's plan to open a restaurant in The Donald's hotel in Washington, D.C. It's strictly confidential, of course, but it took son Donald Trump Jr. to iron out the mess.
Jose has buried the hatchet and will now work with the Trump organization on a variety of programs to benefit the community. The Trump Hotel opened in October as a transformation of the historic Post Office building on Pennsylvania Avenue just steps from The White House.
Chef David Burke, who had a restaurant here at The Venetian, has opened his steakhouse BLT there as the venue's signature restaurant. Jose said that then president-elect Trumps remarks disparaged immigrants, and since he was himself one from Spain, he backed out of his plan to open there. The Donald and Jose sued each other, but it has now been amicably settled.
* New York sports writers who follow the NHL are reporting that Las Vegas Golden Knights billionaire owner Bill Foley is having a tough time selling media rights for the newest expansion team and its games.
Two sources report that Bill has received offers of more than $10 million a year, but they are the lowest in the league, and broadcasts on a regional sports cable network would cause him a $30 million annual shortfall.
One good thing came to light in the financial reports: Each of the 30 league teams has to present at least two forwards, one defenseman and one goaltender for Las Vegas General Manager George McPhee to build his new expansion team.
And if he repeats the powerhouse that he built in Washington, George and Bill may have a winning West Coast team a lot sooner than critics give them credit. Per NHL Commissioner Gary Bettman, The Golden Knights have to choose at least one player from each franchise.
* Planet Hollywood magician Murray Sawchuck flies to Guantanamo Bay in Cuba on Tuesday to perform two magic shows for U.S. troops stationed there.