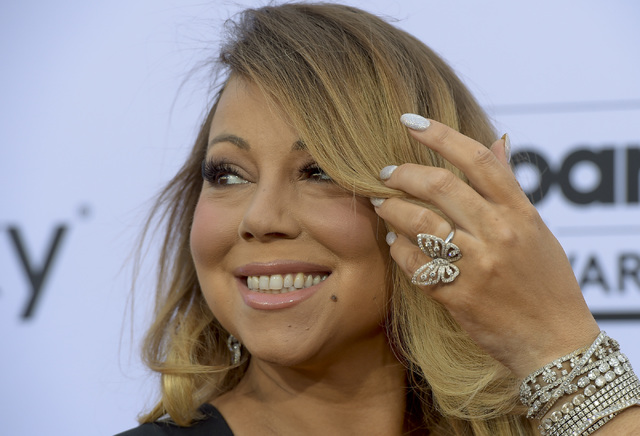 We have Wicked Whispers + Racy Rumors for you to devour on this Hump Day:
National tabloid magazine reporters are delving into an alleged feud between two divas of the Las Vegas Strip, reporting that Mariah Carey and Britney Spears are at war over a dispute involving their backup dancers.
The tales that In Touch and Gossip Cop cite are that Britney's dancers decided to stay in Las Vegas for Mariah's August dates at Caesars Palace rather than travel with Britney, who is taking her hit residency "Britney: Piece of Me" to Israel, Asia and possibly Europe. Britney's dancers will reportedly lose their show contracts if they sign new deals with Mariah.
Britney is at Axis at Planet Hollywood through May 20 and returns Aug. 9 after resident shows by Pitbull, The Backstreet Boys and Jennifer Lopez. Mariah starts her final run of her 18 No. 1 hits shows at The Colosseum at Caesars Palace on July 8, then returns for six holiday shows in December featuring her Christmas song catalog.
Comedy impressionist Gordie Brown, who suddenly upped from Downtown's Golden Nugget, is reportedly in negotiations to jump to Sin City Theater at Planet Hollywood.
The show schedule for The Scintas at the Downtown Plaza Hotel has been extended due to popular demand through the end of 2017. The Buffalo, New York, family also will add more performances to meet customer demand.
The Scintas, who opened in 2016 in the Plaza's classic showroom and were formerly at The D Las Vegas, will continue to perform throughout 2017, with a second-annual New Year's Eve performance at 8:30 p.m. Dec. 31.
And I'm hearing that "flaming arrow" stunt couple Ryan Stock and his fiancee, AmberLynn Walker, are bringing their daredevil show to an end at Hooters Casino. The Canadian duo made global headlines last August when one of their acts went horribly wrong.
Instead of a fiery arrow fired from her crossbow lodging in a tube that he held in his throat, it struck his neck. At the time, Ryan said after a hospital visit: "It was a serious mishap — an unfortunate mechanical failure — but I am very fortunate to walk away from it."