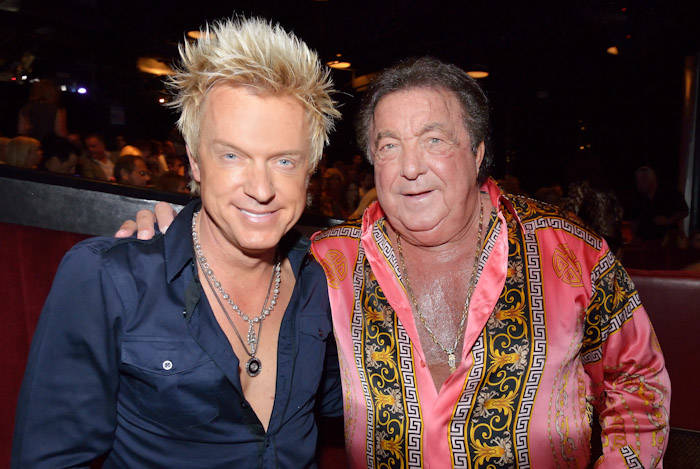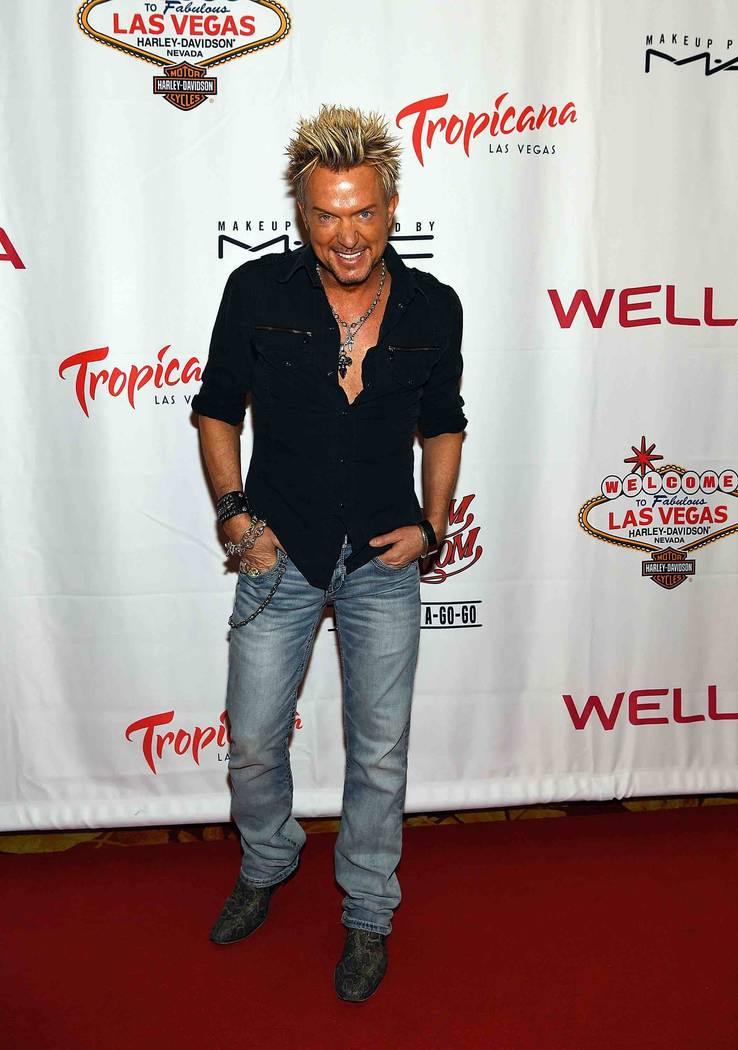 Zowie Bowie has been the life and soul of the Las Vegas party for 11 years. In fact, since arriving here from Phoenix, he has been the party, and he's kept it alive along with the lounge music vibe of yesteryear.
He marked his 11th year at Red Rock Resort this week. His trademark spiked hair, unusual stage name and frenzied, high-energy shows and community involvement have made him a valleywide favorite.
From Red Rock to Fremont Street and now Cleopatra's Barge at Caesars Palace, Chris Phillips, aka Zowie Bowie, has kept the music playing with his dynamic vocals for more than a decade. It was only natural to mark his 11th anniversary with 11 questions when we sat to chat:
What made you become Zowie Bowie and claim your fame with that style of song presentation?
I have been calling myself and my band Zowie Bowie for about 24 years now. I was a long-haired rock drummer for about 10 years until one day I was asked to fill in for a singer friend at a big show their band was doing in Tempe. Because I had never sung before, I thought that I would pretend to be David Bowie's son, Zowie Bowie, in case I fell apart, and I could hide behind this alternative persona.
Luckily things went great, so I sold my drums, cut off all my hair and started my own band who primarily did early '80s-themed music. I soon thereafter turned my attention to Top 40 dance music and hip hop, which no one was doing at the time in a pool of disco and '80s-type cover bands.
I also created a new type of formula by which I'd run all of the abbreviated song choices together in a large medley similar to the way I was hearing DJs do with club music to keep the dance floor packed. Thank goodness this formula and the idea to incorporate a lovely female as my singing partner have worked for our brand, as it has kept me working and making people happy every single week now for over two decades.
Did you think 11 years ago that you'd stay in Las Vegas this long after driving up from Phoenix?
Actually, yes. It has been my dream and desire to be an entertainer in this great city since I was about 10 years old.
When did you first dream of a Las Vegas residency?
It was when my parents brought us here in the mid-1970s giving us the opportunity to experience the opulence and excitement of these grand showrooms and entertainers. Instead of going to amusement parks and beaches, my family came to Las Vegas to see Don Rickles, Wayne Newton, Tony Orlando, Sammy Davis Jr. and all these other iconic Las Vegas marquee names who made a massive influence on not just what I wanted to do, but the lifestyle I wanted to live. I knew from the beginning that I wanted to be a Las Vegas entertainer and plant myself here.
Has it been everything you dreamed, or is it better than what you dreamed possible?
Well, let me start by saying this: I have been extremely blessed and lucky that I have been able to continue making music and making people happy for as long as I have. However, I feel like I have a lot yet to accomplish and make happen. As we all know, the entertainment scene has drastically evolved from the days of indigenous showroom headliners ruling the land to something very different.
The fact that I have been able to survive and continue on any level is something that I don't take for granted and truly appreciate every night I step onstage. It's certainly a dream come true to have the opportunity to be a part of people's exciting Las Vegas experience. I love this city and feel very strongly about doing my part to represent what I think this city has always been about and hopefully always will be.
Some thoughts about being at Red Rock Resort for 11 years: How long was that first booking? When is the next renewal? How long are you renewed?
I sincerely can't believe that we are coming up on our 11th anniversary at Red Rock and in Las Vegas, for that matter. It was originally the Fertitta family who were so incredibly instrumental in making my dreams become reality.
Twelve years ago, they found us performing in Scottsdale at this amazing club called Barcelona where we were bringing in around 4,000 people a weekend and fortunately thought we would be the right type of show and image for their new flagship property called Red Rock in Summerlin.
Needless to say, they changed my life, and I could not be more forever grateful for them taking a chance on us. Apparently they were right, and we have had the best time there since the day they opened. Originally I think the contract was for three years. We are proud to say the property was kind enough to extend us all the way through 2017. From there, I guess that we will see.
Is it a grueling schedule to play Red Rock and have shows at Fremont Street Experience and now Cleopatra's Barge?
Unlike many or most shows in this town, we are known for being a party, as well, so to be convincing and create that type of energy, it helps to party yourself. If you can imagine partying your ass off while putting on an extremely high-energy show for 2 to 3 hours five to six nights a week for countless years on end without even one week off, then I suppose that could be grueling. But strangely and thankfully, I can say that I wouldn't have it any other way.
I think after putting your body, liver and sanity through so much for so long with that much sensory overload, you really don't know anything else other than to just do it. I'm still as excited and get a charge when I go put on show for people as much as I did 30 years ago.
It's fun on a weekly basis going from the type of people and energy at Caesars Palace to our local friends at Red Rock to the thousands of tourists from around the world on Fremont who get to experience a big Las Vegas-style concert. One thing that I've learned and believe over decades of really staring at and feeling people is that we are all pretty much basically the same.
I think successful entertainers are able to recognize this and learn to tap into that part of all of us that makes us so similar. When we start our night, I have a group of strangers from all walks of life in front of me, and within an hour it's my challenge and thrill to bring them all together like high school friends at a backyard party.
Are you determined to keep Las Vegas lounge music alive? Everybody says nightclubs have hurt that The Rat Pack vibe, and in many places it has become a fading memory.
What I'm determined to do more than keep the lounge scene alive is to continue doing my best to create an affordable, exciting option for people who wish to have a good time by being entertained and party. If I can create a fun, positive experience for people that relates my show to Las Vegas and great memories of a cool night out, then that's what I'm determined to do regardless if it's a lounge, nightclub or concert venue.
However, I am a fan of lounges compared to the giant nightclubs. I get and understand their appeal, and they have obviously become a massive source of revenue and excitement for this city. I'm just hoping that there will always be a certain percentage of people going out who like to be entertained in a nightclub atmosphere instead of just sitting there listening to a DJ all night.
What's next for Zowie Bowie or Chris Phillips?
I'm very lucky and proud to say that I have accomplished a lot of what I set out to do professionally. However, there is no question that every entertainer's dream would be to have your own headlining show in a major showroom with all the marketing and backing from a property like they used to do in the good old days. The big change and next step in my life are on the personal front.
Will being a dad change your life at this stage? Do you want your little girl arriving in June to follow in your footsteps?
My life is part entertaining and part partying with people. I would guess that the partying aspect will be considerably less, and trying to be a responsible and reliable daddy will take its place. I'm really looking forward to sharing this amazing new chapter of my life with my lovely wife, Jennifer (Turco).
We are proud to say that we are going to have a little girl who is due in June. I would love to think that I will be half as wonderful as my parents who allowed me to follow any dreams or passions I had from the time I was a young kid to this day.
They have always been my biggest supporters and best friends. I hope that I can be that to our daughter if nothing else. If entertaining and making people happy is what fascinates her, then I will be fully supportive. It certainly has been good to me.
Is there a favorite memory of these 11 years in Las Vegas? And worst moment?
I think the favorite memory I have had in these 11 amazing years has to simply be the combination of all the incredible people who I have had the honor of meeting, including yourself. I've always been such a fan of entertainers, and to be able to not only meet them, but also to become good friends with individuals I have admired for years has truly been a thrill.
One instance that stands out has to be the night I was able to spend about 20 minutes alone with Don Rickles and his wife in his dressing room after one of his shows. It was surreal. I recall you being there that night, as well. However, if I was to pick the best memory ever, it would have to be without question Oct. 24 of last year, which you were part of, as well, on the night I was married to my beautiful wife. I have never been happier.
Another story I will never forget was the time Tony Orlando came to see me perform, and I was able to tell him after the show that he was the first Las Vegas performer I saw in the mid-1970s at my first showroom experience and how the impact of that night changed my life forever. He then told me almost the exact story back as to how that happened to him but with Bobby Darin back in the 1960s.
I would also like to mention a memory I will never forget was how shocked and stunned being backstage at our first performance here 11 years ago and having Robin Leach walk in our dressing room to be the first person to sit down and interview us. And, now 11 years later, we have become dear friends, and you are still asking questions.
Regarding the worst memory, I purposefully forget those. Besides, you can Google most of that!
How will you celebrate the 11-year run this weekend?
I'm guessing nothing too crazy other than to just keep on doing what we do best, which is to simply make people happy and to have them experience the true maverick spirit of Las Vegas.