Ice Cube takes over stage at Mandalay Bay's Daylight beach club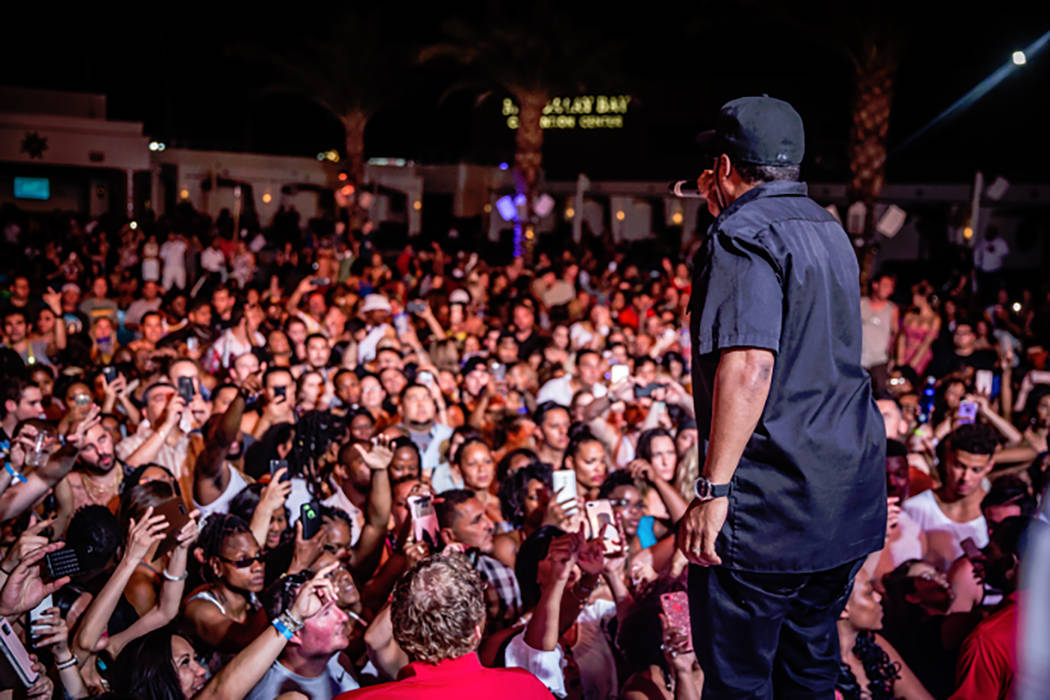 At a shade past 1:45 a.m., we learned all about the pyroclastic flow.
Everyone of us.
The servers slinging drinks and pumping bottles of vodka to the beat as they walked them to tables near the stage, where they were poured into plastic carafes that were often treated as outsize shot glasses.
The clutch of ladies glammed out in black dresses instead of the de rigueur bikinis. Old-school hip-hop heads here to dance hard to the even-harder soundtrack of their high-school years.
The fellow rapping along to Ludacris' "Move…" just a wee bit too vociferously ("Relax!" A woman passing by commanded after getting an earful of boozy, bellowed rhymes. Relax, he did not.)
The two young lasses twerking atop sofas in a front of a shirtless dude doing a very poor job of surreptitiously puffing a joint.
So, just what is the flow in question?
Well, before one of hip-hop's all-time steeliest MCs, Ice Cube, took the stage at Eclipse at Mandalay Bay's Daylight beach club Thursday night/Friday morning, a taped intro explained as much (the clip also kicks off Cube's 2008 disc "Raw Footage").
"That's what happens when a volcano blow. That's what happens when Ice Cube starts to flow. Red-hot lava mixed with saliva. Pulverizing everything in its wake. Nothing can survive a pyroclastic flow. And no one will survive this one."
And with that, Ice Cube bounded on stage dressed to match the sky above, head to toe in black.
His presence here was timely.
As a musician, Cube's back in the news of late for numerous reasons. He's readying a new album, tentatively titled "Everythang's Corrupt," and he recently dropped the 25th-anniversary reissue of "Death Certificate," his second solo effort, which remains one of rap's most incendiary records, registering like a tire iron to the teeth of detractors.
Cube's also featured in "The Defiant Ones," the excellent four-part HBO documentary series on Interscope Records founder Jimmy Iovine and Cube's N.W.A. groupmate Dr. Dre, which premiered last week.
In chronicling Dre's rise, "Defiant Ones" spends ample time exploring the development of gangsta rap in the late '80s, of which Cube was a leading figure, his stone-cold scowl a totem of the genre.
It's important to remember the hysteria with which this music was treated when it first hit like a musical mushroom cloud in mainstream America.
You had politicians from both sides of the aisle denouncing the music, turning it into a political football that they repeatedly fumbled in increasingly embarrassing fashion. Time Warner was pressured to distance itself from acts like Ice-T's Body Count or sell off its subsidiaries that were home to various hip-hop artists. The FBI and numerous police organizations railed against gangsta rap for its anti-cop sentiments, which the artists claimed was a product of police brutality.
There were death threats, even.
Decades later, it's hard to imagine musicians ever being subjected to this kind of scrutiny again, no matter their viewpoints. We've come to realize that if you don't like a particular message that a given artist imparts, your right to critique those words is the same right that enables him or her to say them to begin with.
Can't have one without the other.
We've also learned how foolhardy it is to suggest that it's music that catalyzes the ugliness that certain artists document in their songs as opposed to it being the other way around. N.W.A.'s songs, for instance, didn't provoke violence. Rather, the violence that the members of N.W.A. witnessed on the streets of their Compton, California, home turf provoked their songs.
Watching Ice Cube perform Thursday, in a crowded club of beach-wear-clad revelers, underscored all of this palpably, viscerally.
He opened his five-song, 20-minute performance (this was a club gig, remember) with "No Vaseline," the final cut on "Death Certificate," which remains staggeringly brazen and confrontational even for the artist in question, a brutal takedown of his former N.W.A. brothers in arms. From there came G-funk classics like "Check Yo' Self" and "It Was a Good Day," songs whose Parliament Funkadelic-derived bounce contrasts sharply with the grim worldview detailed within.
This was the opposite of party music, in terms of content, and yet it was soundtracking what was a pretty great party.
Decades ago, these songs stirred outrage. On this night, it was drinks that were stirred.
Both remained plenty potent.
Contact Jason Bracelin at jbracelin@reviewjournal.com or 702-383-0476. Follow @JasonBracelin on Twitter.