In Las Vegas, Queen + Adam Lambert rock Park Theater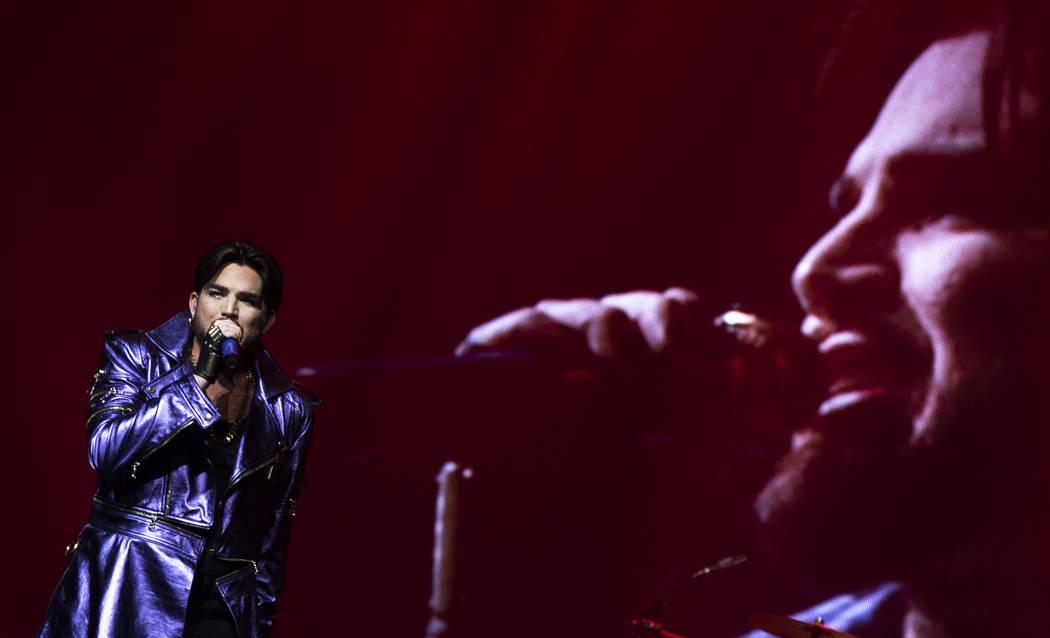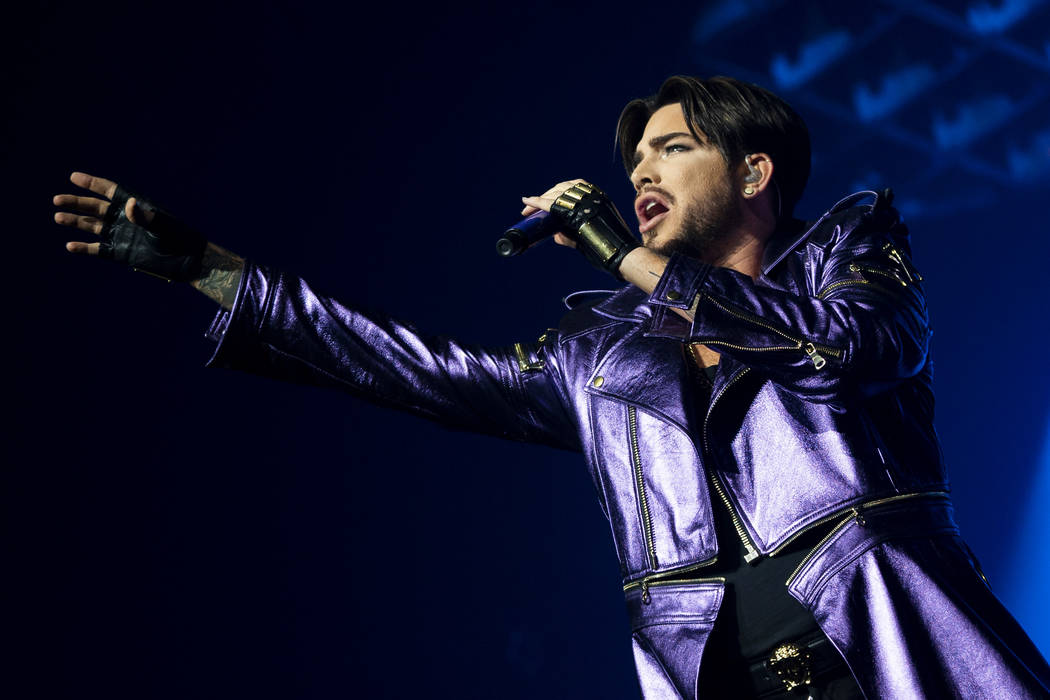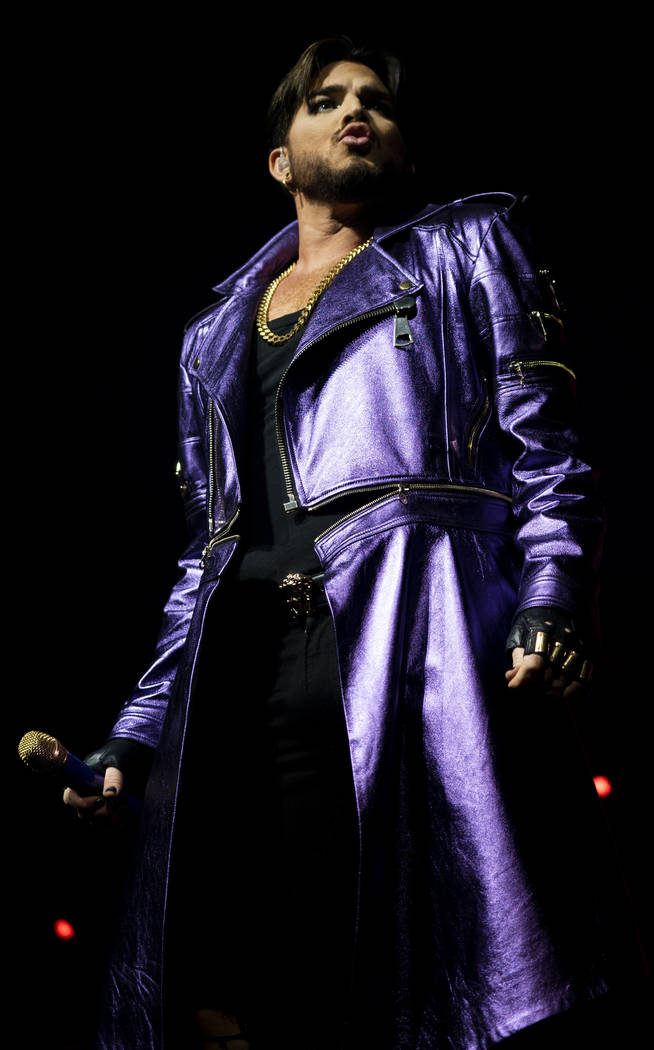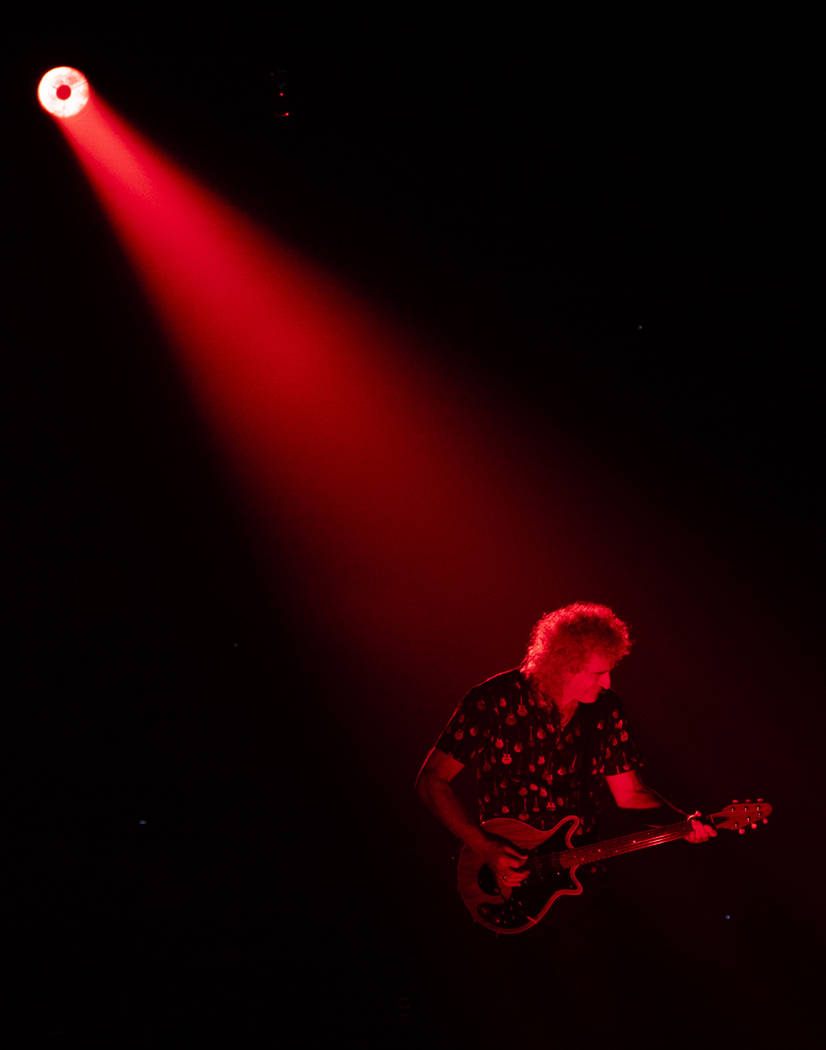 The pelvic-thrust-incarnate swished his hips just like the original occupant of the "Heartbreak Hotel," whose movements he mimicked via a similar cocktail of longing, lust and leather.
"I'll be so lone-ly, I could d-i-i-i-e-e," Adam Lambert sang on the Elvis Presley classic in question, taking a one-syllable word and outfitting it with another seven or so as guitarist Brian May ripped an equally elongated lead.
That number was the big new addition to Queen + Adam Lambert's set list as the band kicked off its 10-show "Crown Jewels" residency at the Park Theater at Park MGM on Saturday with a two-hour, 22-song performance.
The show will be somewhat familiar to those who caught the group on its most recent U.S. tour, which drew nearly 12,000 fans to T-Mobile Arena last June: Lambert pedaling around the stage on a hot pink tricycle during "Bicycle Race"; May soloing atop a riser fronted by a video screen depicting the arm of the giant robot from the cover of 1977's "News of the World," making it seem as if he were playing from the palm of the thing's hand; Lambert belting out "Killer Queen" while perched upon a prop of said robot's head.
After concluding that Queen concert staple, Lambert addressed the big, glittery, gold-spangled elephant in the room, as he normally does in concert.
"I know what some of you are thinking tonight," he began, his words a verbal eye roll directed at any naysayers. "He's no Freddie Mercury. No (expletive).
"Do you love Freddie? Do you miss Freddie?" he continued to a chorus of cheers. "Me too. I'm just a fan up here in the gayest outfit you've ever seen."
About that outfit — a sparkly red suit with matching platform shoes and plunging neck line — it was one of eight costume changes, by our count.
The real draw here, though, wasn't Lambert's exposed chest hair — OK, maybe for some — nor was it a radically different collection of songs. Instead, it was where they were playing those songs: in a 5,000-seat theater as opposed to the arenas and stadiums they're used to headlining.
This more up-close-and-personal setting served two purposes.
Most obviously, it heightened the operatic oomph of one of rock's most bombastic songbooks, exemplified Saturday by a seismic "Somebody to Love," the irrepressible harmonies of "Fat Bottom Girls," and the explosive coda to "Under Pressure," which Lambert delivered with such force, his lips quavered as if an electric current was being passed through them.
Secondly, these more intimate confines especially suited the more emotionally charged moments of the evening, of which there were plenty, chief among them, May's acoustic rendition of "Love of My Life," which he performed alone, seated at the lip of the catwalk that extended from the stage.
"This is a song we used to do many, many moons ago," May said by way of introducing the tune. "Just me and young Freddie."
By song's end, Mercury had joined in on the song, dueting with May via the video screens behind him.
Similarly stirring were inspired takes on capital 'P' power ballads "Who Wants to Live Forever" and "The Show Must Go On," the latter of which encapsulated the sentiment of the evening.
"I'll top the bill," Lambert sang on said number. "I'll overkill."
Check.
And check.
"The show must go on," he continued. Promise kept.
Contact Jason Bracelin at jbracelin@reviewjournal.com or 702-383-0476. Follow @JasonBracelin on Twitter.