Rock greats Queen hit their stride with Adam Lambert
Updated June 25, 2017 - 5:40 pm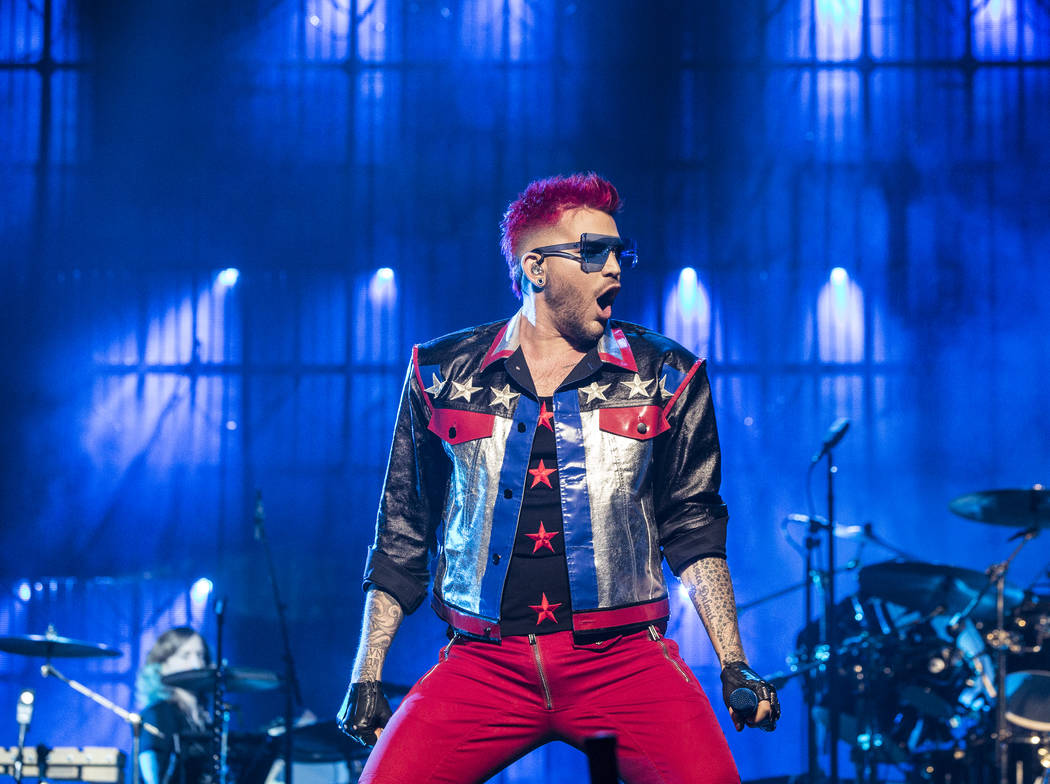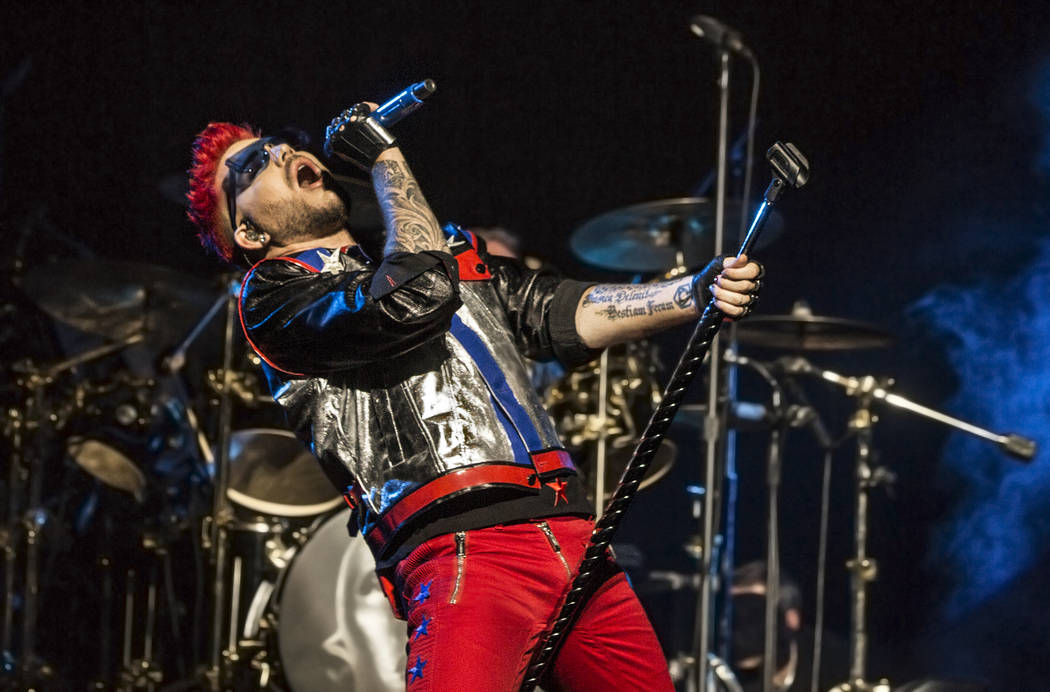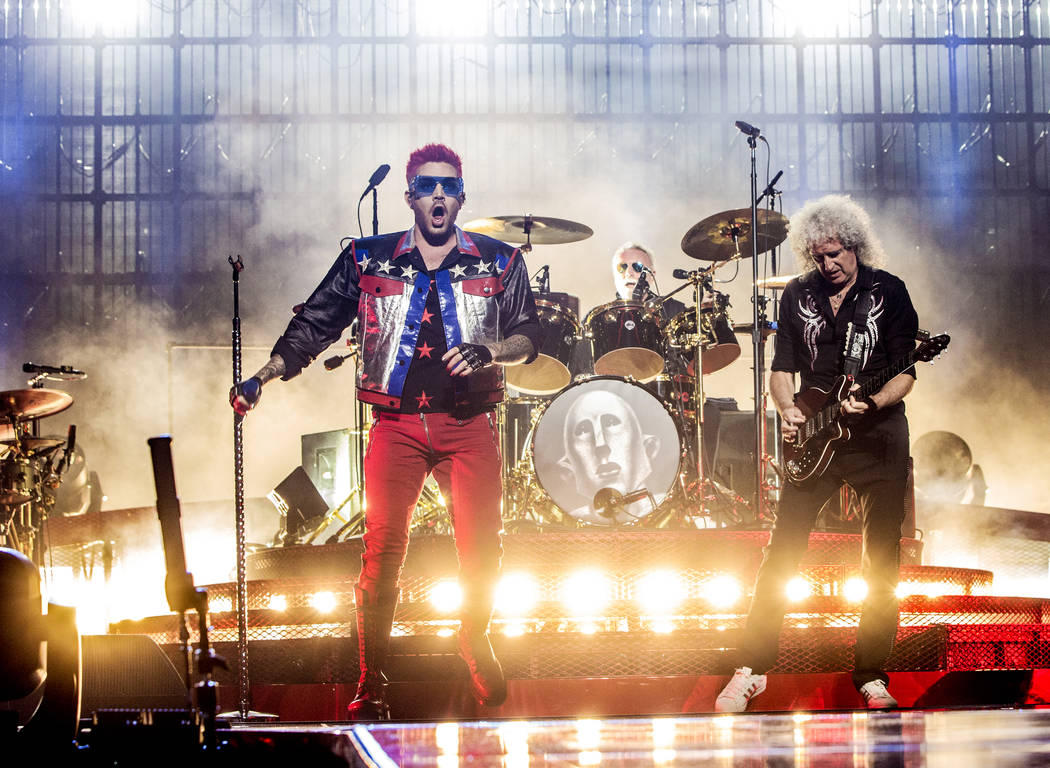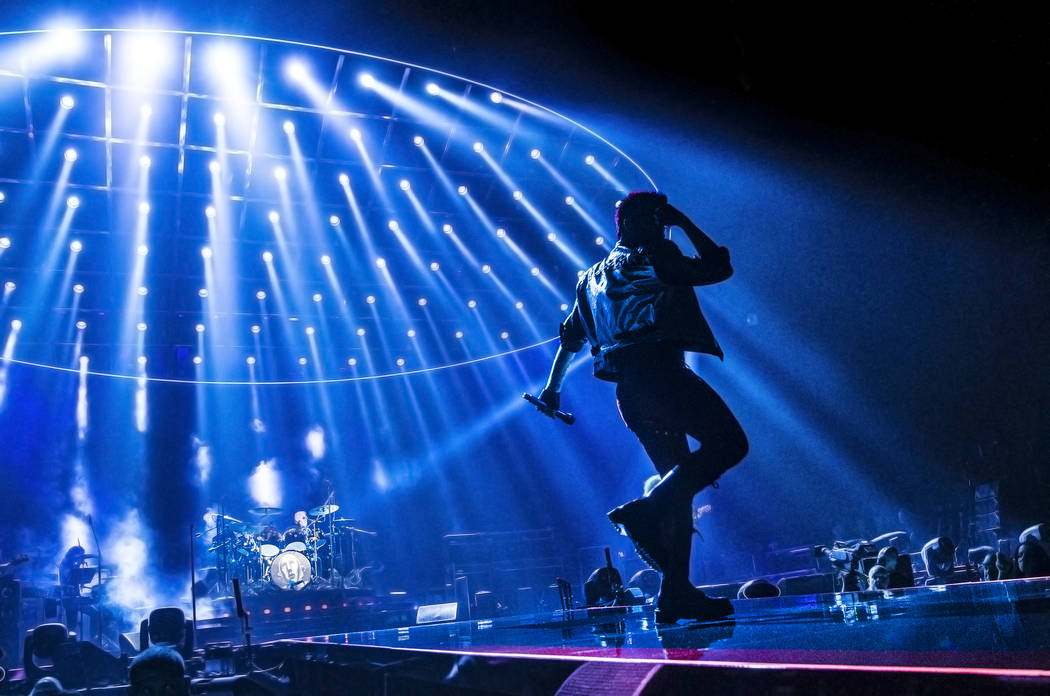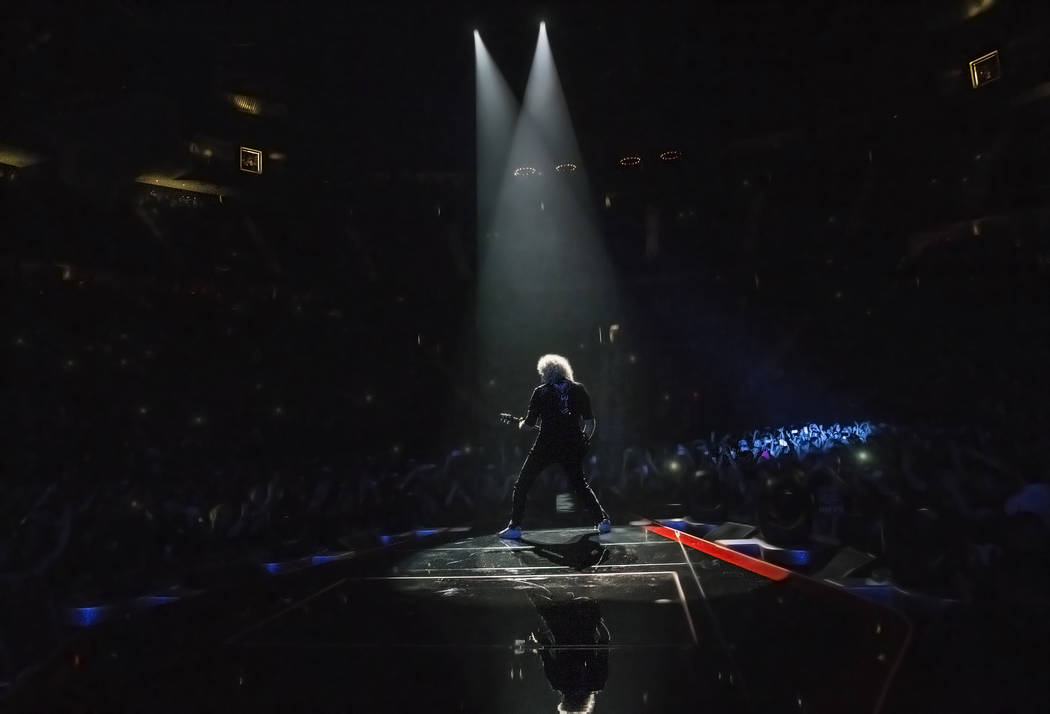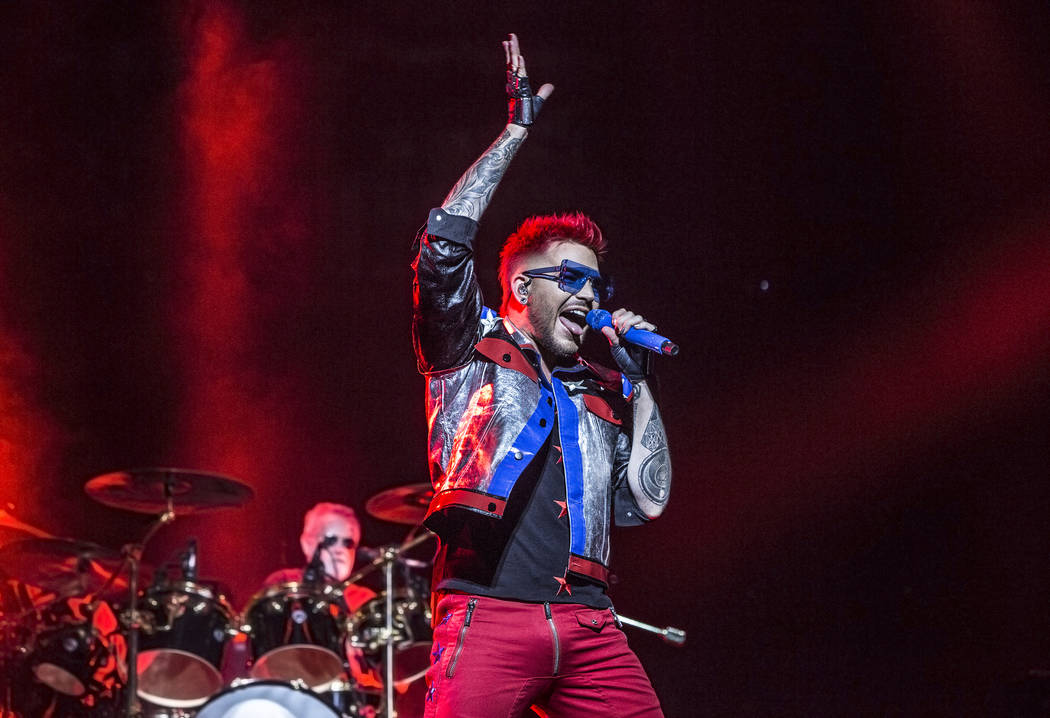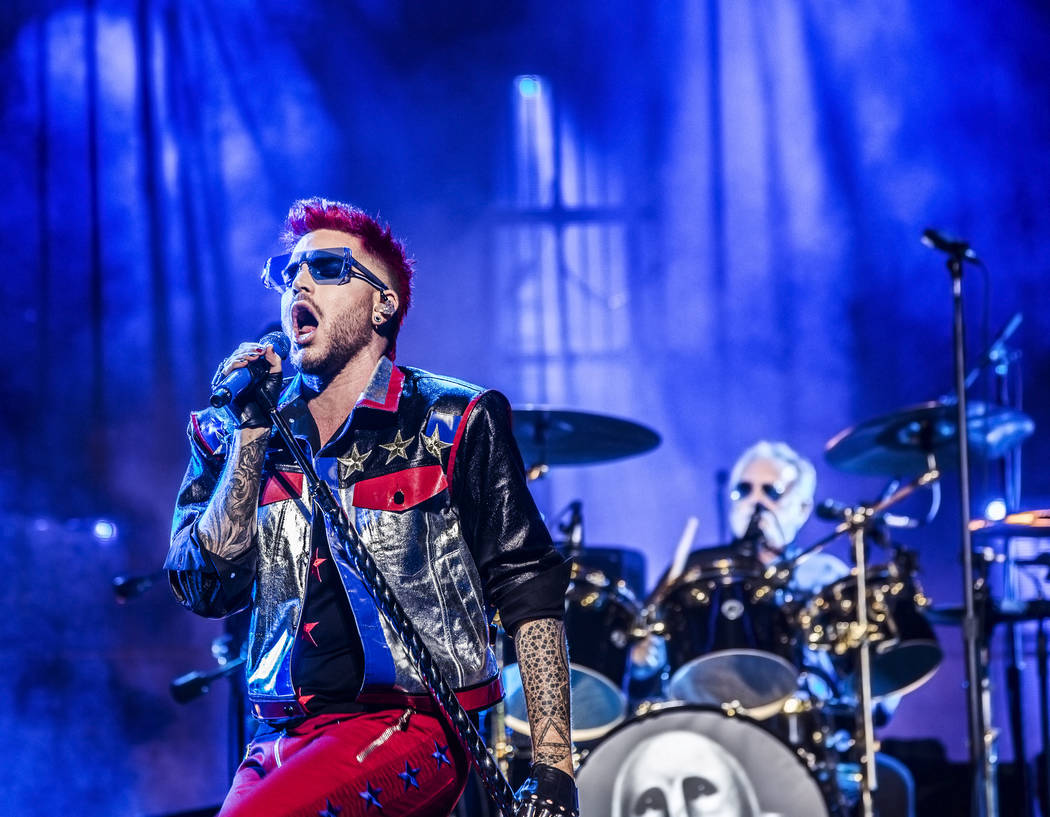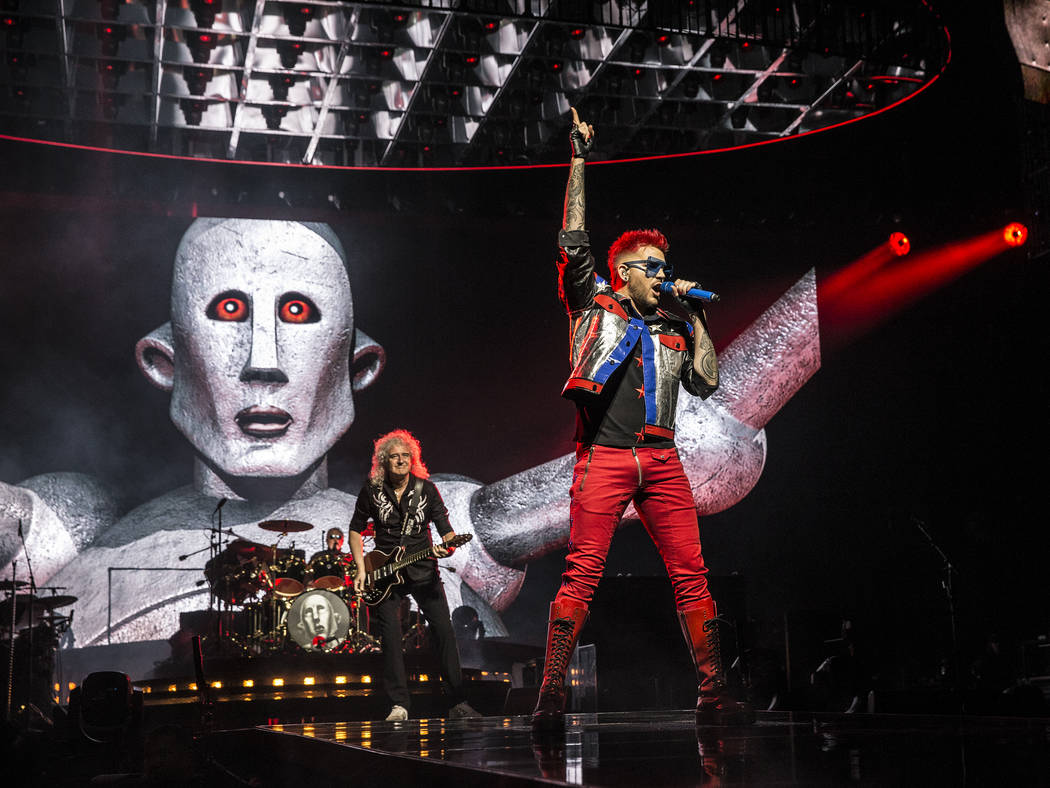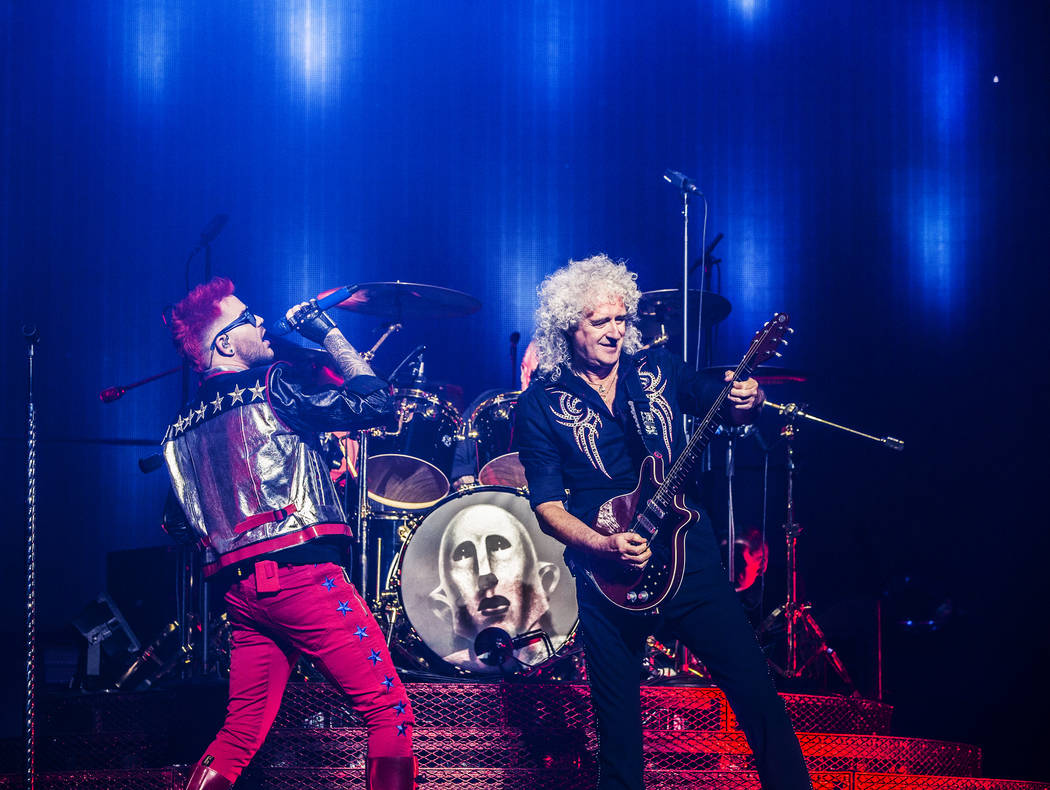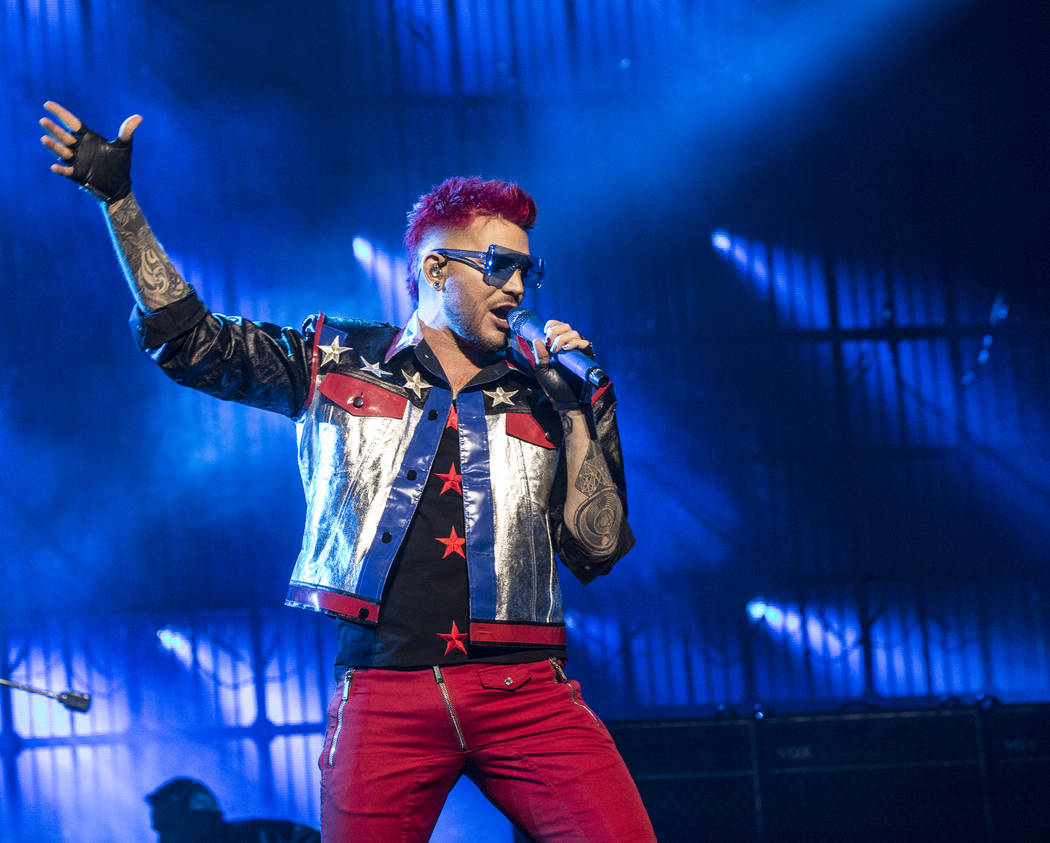 With a voice as robust as the backsides he sang of earlier, the fellow in the bubblegum-colored suit addressed the pink elephant in the room: himself.
"Some people bought tickets to the show tonight and you're like, 'He's no Freddie Mercury,' " Adam Lambert grinned slyly in a packed T-Mobile Arena on Saturday, where he fronted rock greats Queen in place of said vocal titan. "I know. I'm a fan like you guys."
And with that, Lambert launched into his new single, a supple-sounding kiss-off:
"I'm the center of a crowded room / I might as well be on the moon / Searching for that one or two / Who get it," Lambert purred. "Imma get my inner peace / In leather," he added later.
Oh, there was an abundance of leather to come — and there were also plenty of people in the house who did, in fact, get it by now.
Though Lambert referred to himself as a "guest" of the band at one point during Queen's 25-song set, he's been performing with the group since 2012, including an extensive U.S. tour in 2014, when Queen sold out two nights at The Joint at the Hard Rock Hotel.
And so it's no longer about whether or not Lambert fits the band — he does, just as snugly as circulation-imperiling trousers.
Now, the question is where Lambert can take Queen.
This is crucial — even more so than it might be with other bands forced to replace an iconic frontman — because Queen is one of the most egalitarian rock acts of all time, the only group where every original member has penned at least one tune to hit the top of the charts. All four of them — singer Freddie Mercury, guitarist Brian May, drummer Roger Taylor and bassist John Deacon — have been inducted into the Songwriters Hall of Fame.
This is a band defined by multiple, prominent creative voices. As such, it takes more than a singer with a command of the band's catalog to make this thing work — just look at Queen's stint with former Bad Company singer Paul Rodgers a decade ago. Rodgers is a powerhouse frontman, one of the signature rock voices of his era, but he didn't fully mesh with the band — perhaps it was his lack of sparkly platform boots or shirts adorned with glittery puckered lips, of which Lambert seemingly has a tour bus-full, judging by his numerous wardrobe changes Saturday.
If there were any lingering uncertainties as to whether Lambert has fully inhabited his role as the voice of Queen, they were dispelled nine tunes into the show when he sashayed down the catwalk, which was shaped like the neck of a guitar, and climbed atop a pink bicycle strewn with roses to perform the sinuous, R&B-inflected "Bicycle Race," luxuriating in the moment like a cat lounging in a patch of sunlight.
This number was bookended by a pair of showstoppers: a locomotive "Don't Stop Me Now," which registered as a master class in vocal harmonies, and a libidinous "Get Down, Make Love," where Lambert engaged in a sort vocal striptease, letting his words linger on his tongue as if savoring their taste.
Queen's current tour coincides with the 40th anniversary of the band's sixth record, "News of the World," an album that was released when Lambert was "negative 5" as he noted from the stage prior to kick-starting headlong rocker "It's Late," one of five tunes the band performed from the album in question. This would prove to be one of the evening's most thunderous moments, right up there with a seismic "Stone Cold Crazy" and a drum battle between Taylor and percussionist Tyler Warren.
Offering a break from all the bombast, May took a seat at the end of the catwalk for a beatific acoustic version of "Love of My Life" midway through the show. As the song approached its climax, he was joined by Mercury himself, who sang the tune's final refrains from the massive, circular video screen hovering above the stage. Eventually, May and Mercury were presented side by side on the screen.
Shortly thereafter, as the band segued into "Somebody to Love," May found himself at the lip of the stage with Lambert.
Shoulder to shoulder, the two strutted down the catwalk together, right next to each other, like we had just seen May and Mercury.
It was a moment that encapsulated the spirit of the evening, a hint of the familiar blossoming into something new.
Contact Jason Bracelin at jbracelin@reviewjournal.com or 702-383-0476. Follow @JasonBracelin on Twitter.
Review
Who: Queen + Adam Lambert
When: Saturday
Where: T-Mobile Arena
Grade: A