The Rhyolite Sound becomes one of Las Vegas' best country acts
October 24, 2017 - 11:36 am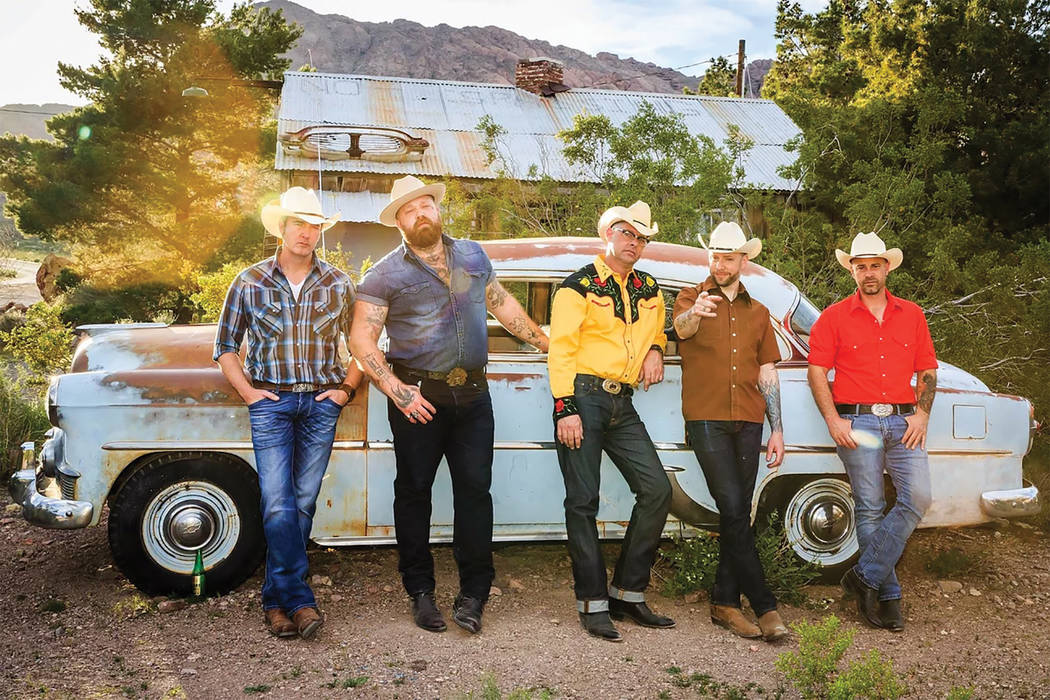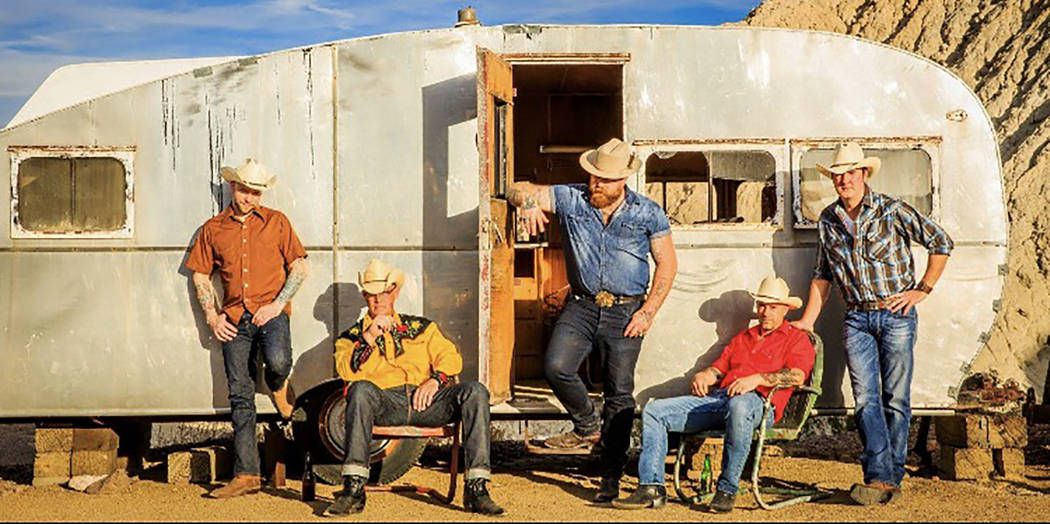 In the shadow of a massive moose head mounted on a back wall, the salon's equally sizable proprietor rests in a barber's chair.
"If I ain't drinkin,' I ain't havin' fun," announces Larry Reha, the defensive tackle-sized man in question, in song on his band's latest record.
He has a tallboy in hand on this weekday night.
And so the mood is suitably light at Makeshift Union Cutting &Grooming, tucked on the fringes of the arts district, with a rustic-chic decor of animal hide rugs and a motorcycle doubling as a table, as Reha and his Rhyolite Sound bandmates talk up their debut record, "Desert Honky Tonk."
It's a damn good country album capable of resonating with those who don't think they give a damn about country music.
"At every show, somebody says, 'Man, I hate country music, but that was awesome,' " grins Reha, clad in a sleeveless Iron Maiden T-shirt. "We hear that all the time."
The likely reason: "A well-written song is a well-written song," singer/guitarist Erik Alesi explains simply enough.
With Reha and Alesi taking turns on the mic, the former's voice big and burly with a touch of grit, the latter's smooth and melodious, the burgeoning Rhyolite Sound songbook is all about having good times with bad girls, the freedom of the open road and what it means to be a country band in the middle of the Mojave Desert.
This bunch unearths the roots of the genre, back when there weren't a lot of hard and fast distinctions between country, rockabilly and the blues, all of which figure into "Desert Honky Tonk" — check out the Jerry Lee Lewis-worthy "Next Drink," for instance, where guest musician Frankie Moreno pounds his piano hard enough to reduce it to kindling.
Back it all up with a knock-you-on-your-heels live show, and The Rhyolite Sound is one of the few acts of its ilk that can play the Life is Beautiful festival, as the group did in September, the indie rock-centric Bunkhouse and also get country traditionalists two-steppin' at Saddle N' Spurs Saloon.
If they can play all these different places it's because they all come from different places, musically speaking: All of these guys have different entry points into country.
"The country music that Larry heard as a kid was probably not the country music me and Erik heard as a kid," notes bassist Chris Davis.
For him, country is practically his birthright, even though he cut his teeth in the rockabilly scene.
"My dad was very proud of it," Davis says of the country identity. "He had a belt buckle that said, 'If you ain't country, you ain't (expletive).' They would hang out in my grandmother's kitchen, sittin' around a CB, drinking beer and talking to the truckers. I was living like an agoraphobic 'Smokey and the Bandit' lifestyle."
Contrast that with a guy like guitarist Wade Braggs, clad on this day in a sweet T-shirt from metallers High on Fire.
"I rejected it as a kid," Braggs says of the sound he now performs regularly. "This is my first time ever playing country music."
Pretty much all these guys have pedigrees in different styles of music: Davis and Reha played with late, great Vegas rockers The Black Jetts; Braggs and Reha were once members of the rootsy The Lucky Cheats; Alesi and Reha had a short-lived Johnny Cash tribute project.
"Vegas is a melting pot anyway," Reha says, "So it makes sense that it's a combination of all these different backgrounds."
When they all get together, rounded out by drummer A.J. Palluck, the range in their sound is inherent.
"We come about it honestly," Alesi notes.
And so while they may think too much when they drink too much, as the closing track of "Desert Honky Tonk" asserts, the opposite is true when they're penning tunes.
"The only thing we ever really set out to do on purpose," Davis smiles, "was put together a good show."
Contact Jason Bracelin at jbracelin@reviewjournal.com or 702-383-0476. Follow @JasonBracelin on Twitter.