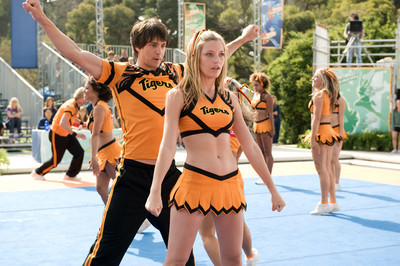 To be fair, "Fired Up" does have its moments.
Just not enough of them to make it worthwhile for anybody who doesn't think the movie's initials ("F.U." — in case you hadn't noticed) qualify as a laff riot.
Think "Wedding Crashers" at cheerleader camp.
Or, better yet, don't think. You'll have a better time that way.
And, after all, having a better time is the major motivation for our two camp-crashing protagonists.
High school studs (at least in their minds) who can't quite face another summer at football camp, Nick ("Dumb and Dumberer's" Eric Christian Olsen) and Shawn ("Heroes' " Nicholas D'Agosto) wonder where they can spend more of their time scoring — off the football field.
Inspiration strikes as they ponder the hotties cheering their hearts out on the sidelines, prompting them to approach conniving little sister Poppy (ace smarty-pants Juliette Goglia) to help get them into cheer camp as the only two males on the school's cheer squad.
Naturally, it doesn't stop Carly ("Disturbia's" feisty Sarah Roemer), the school's head cheerleader, from expressing her suspicions — or her hostility.
Yet Carly's the first to admit that their school's pathetic, perennial last-place cheer team could use some testosterone-fueled brawn, if only to better compete with their arrogant cross-state rivals.
Coach Keith (John Michael Higgins), who runs cheer camp the way Gen. George S. Patton might, has his doubts about these philandering newcomers — as well he might, considering Nick's instant attraction to the coach's "ancient," yet still smokin' hot, wife Diora (played by "Las Vegas' " Molly Sims).
Shawn, meanwhile, has inevitably started yearning for Carly — especially after he encounters her boyfriend, a college freshman (David Walton) who's even more obnoxious and repellent than he and Nick are. (As if we didn't know that already.)
During their time at cheer camp, Shawn and Nick show ominous signs of embryonic maturity, progressing from brain-dead to merely sophomoric as "Fired Up" trots out plot twists so ancient they've lost whatever kinks they once had. (To say nothing of the equally tired stereotypes that turn up.)
Yet, every so often, for a second or two, "Fired Up" manages to live up to its title, striking fleeting comedic sparks.
One of them involves that holy grail of cheerleader movies, "Bring It On," as the entire camp watches a screening, reciting the movie's dialogue along with Kirsten Dunst and Co. Spirit fingers!
It's not very likely that anyone will be reciting "Fired Up's" tired lines anytime soon — although the script, credited to one "Freedom Jones," does display a definite knack for colorful PG-13 euphemisms. If only "Fired Up's" makers had expended as much energy and imagination on the story line and characters.
But that's not really what movies like "Fired Up" are all about. They're an excuse to go through the same old same old, inviting audiences to wallow in the familiarity of it all.
Still, there's good familiar, and bad familiar, and "Fired Up" definitely falls on the lesser side of the dividing line.
In his directorial debut, Will Gluck (whose TV-producing credits including "Andy Richter Controls the Universe" and "The Loop") takes a scattershot, over-the-top approach, reasoning that if he treats every joke in hysterical fashion, the audience will react in hysterical fashion, too. He's right — but not often enough.
As you might expect, the performances follow in the same vein, with such reliable veterans as Higgins (a veteran of numerous Christopher Guest-directed spoofs) and "The Loop's" Philip Baker Hall (as our heroes' dyspeptic, potty-mouthed football coach) doing their best to overcompensate for underwritten material.
In the grand tradition of Hollywood teen movies, Olsen (another "Loop" co-star) and D'Agosto (who starred in a good teen movie, 2007's "Rocket Science") are both waaaaaay too old to be playing high schoolers.
But at least D'Agosto (who turns 29 in April) convincingly conveys his character's youthful longings. That's more than we can say for the over-the-top Olsen (he's 31), who vacillates between goofball Owen Wilson and Jim Carrey imitations. (It almost makes sense when you consider "Fired Up's" debt to "Wedding Crashers" — and Olsen's debt to Carrey, who originated the role Olsen assumed in "Dumb and Dumberer.")
Then again, almost making sense is about the best you can expect from the likes of "Fired Up."
Contact movie critic Carol Cling at ccling@reviewjournal.com or 702-383-0272.
Carol Cling's Movie Minute
Review
"Fired Up"
94 minutes
PG-13; crude and sexual content, partial nudity, profanity, teen partying
Grade: C-
at multiple locations
Deja View
Talk about old school — here are a few egregious examples of Hollywood's habit of casting overage actors as teens:
"Romeo and Juliet" (1936)
Leslie Howard (who was 43) and Norma Shearer (36) play William Shakespeare's star-crossed lovers.
"Almost Summer" (1978)
Watergate-style dirty tricks hit a high-school election involving, among others, Tim Matheson (31), Bruno Kirby (29) and Didi Conn (27).
"Grease" (1978)
The hit high school musical's cast includes Stockard Channing (34), Olivia Newton-John (30) and Jeff Conaway (28), but leading man John Travolta's only 24.
"Some Kind of Wonderful" (1987)
In this John Hughes-produced take on teen angst, 26-year-olds Eric Stoltz and Lea Thompson play high schoolers alongside 20-year-old Mary Stuart Masterson.
"Napoleon Dynamite" (2004)
Jon Heder was 27 when he played the title high school misfit, who helps his new pal Pedro (over-30 Efren Ramirez) run for class president.
— By CAROL CLING