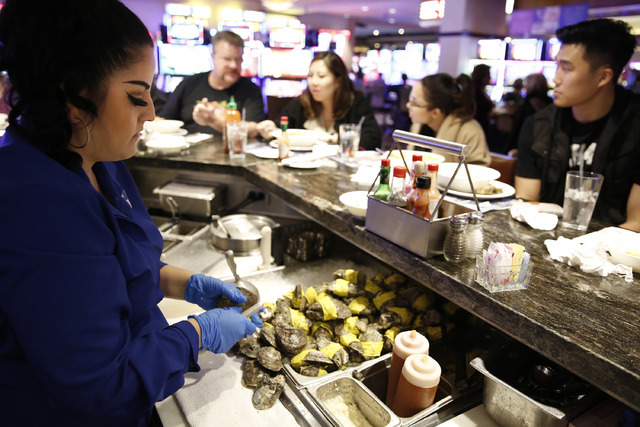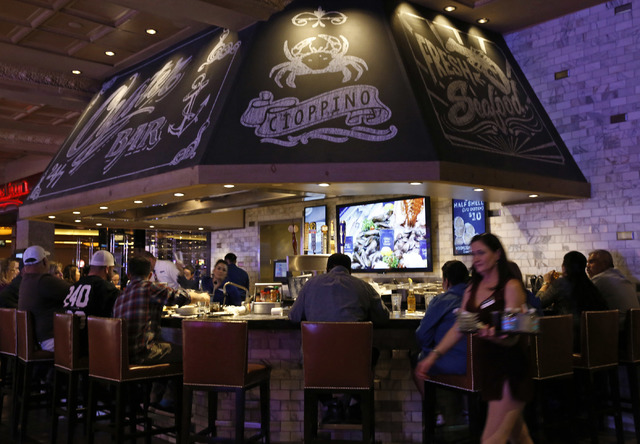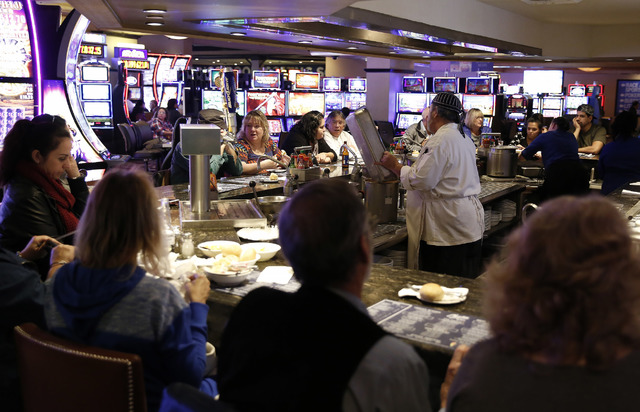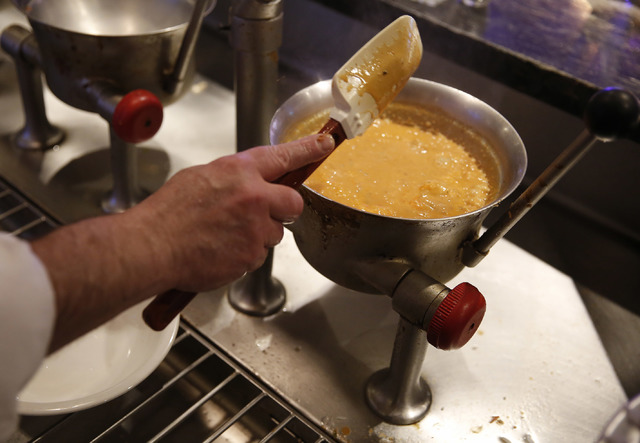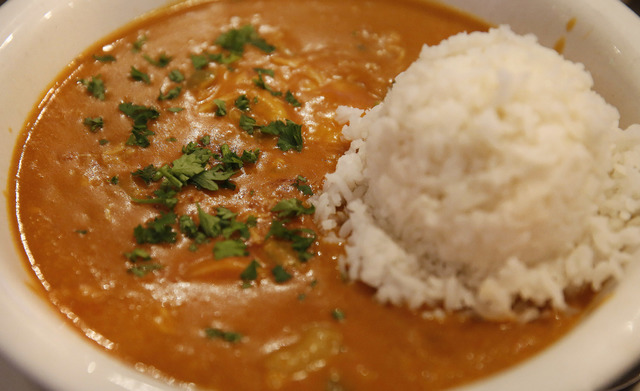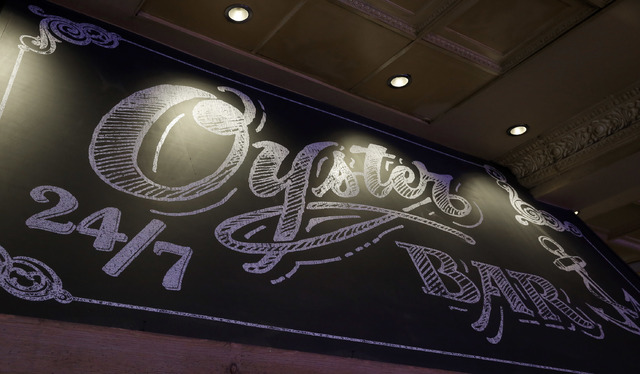 Jonathan Swift once mused, "He was a bold man who first ate an oyster." And even today many wince at the idea of consuming the mollusk's gooey raw flesh straight from its mother of pearl-lined shell.
But over the centuries, these seafood delicacies have found a dedicated and diverse following, and Las Vegas is no exception. Raw on the half shell, you'll find them everywhere from working-class, shuck-and-slurp bars to ornate dining rooms. Devotees wash them down with everything from cheap beer to extravagant Champagne. Bargain hunters search out places where they can be found for as little as a dollar, while high-rollers will gladly pay five times that price.
And yet, the basic experience of eating one varies little.
CHANGING TIMES
The local oyster scene is in a state of flux, as DB Brasserie, which had long delighted bargain hunters with $1 West Coast oysters in a fine French atmosphere during its daily happy hour, closed this month. At the same time, the Hard Rock Hotel announced late last year it would add an oyster bar to its HRH tower. While its planned mid-January opening has come and gone, a casino representative promises that chefs will be shucking by next month.
On Friday, the Oyster Bar at Santa Fe Station will celebrate a successful first year with an anniversary special of 25-cent Gold Band oysters and $3 draft beers from 4 p.m. to midnight. (Gold Bands are a relatively new "pre-shucked" oyster variety. They're processed with high pressure to remove the meat from the shell and kill harmful bacteria before they're shipped from Louisiana.)
In addition to Santa Fe's one-day special, several locales are vying for DB Brasserie's former crown as the bargain oyster hotspot. Still others are trying to make their mark with more varieties.
THE INSTITUTION
One local oyster bed that seems immune to changing tides, however, is the Oyster Bar at Palace Station. Open for 21 years, the restaurant at Sahara Avenue and I-15 serves up oysters on the half shell, as well as treats such as pan roasts, 24 hours a day. With just 18 seats and one of the most zealous fan bases in town, the place often has a long line of people waiting to eat. But locals and tourists alike are happy to put in the time for a meal at this Las Vegas institution.
"We got to Vegas yesterday and it's a tradition. Every time we come to Vegas this is where we eat, at least one meal," said David Garcia of Whittier, California, on a recent Saturday night. By 7:30 p.m., he and his party of four had been in line for two hours, although one member of the group dismissed that as nothing, saying she'd gladly wait as long as five.
"I think it's the way it's set up, where it's a small area where everybody eats," Whittier explained of their patience and excitement. "You have to wait for it. It kind of makes you hungrier, and you want (it) more."
Farther back in the line, fellow Californian Michael Prince had put in only 30 to 45 minutes waiting so far. But coming about five times a year, he said two-hour waits are not unusual. To kill the time, he said, "I stand in line and my wife gambles." As for why he endures the wait with so many other oyster spots available, he said simply, "the food is authentic."
PRICE VERSUS VARIETY
While Palace Station's oyster devotees are among the most dedicated in town, our valley's desert dining scene has more places to enjoy these briny delights than many beach towns.
While DB Brasserie's loss left the Strip without a stunning oyster bargain, happy hours have emerged in various valley neighborhoods, offering equally enticing deals. But for many oyster lovers, variety is a much more important factor than price when choosing a restaurant.
While most scientists recognize only four or five genetic species of oysters that are harvested for eating, there are dozens of varieties on the market. That's because oysters, which do little more than take in and discharge water all day, get the vast majority of their flavor from that water. So where and how they live is the most important factor in how they taste. As a result, small oyster farmers are becoming akin to the craft brewers of our day.
"The oyster has become so popular, and has so many different names and varieties, when you go shopping you'll see all these cool little names for oysters now, like Little Hoodlums — it's not just the standards like Blue Point and Malpeque anymore," says Geno Bernardo, corporate chef de cuisine for the Herringbone chain, whose Aria outpost boasts between five and nine varieties on any given day. "These little oyster farmers are popping up all over the country and the world."
Other spots to check out if you're looking for variety include Emeril's New Orleans Fish House at MGM Grand, where there are always four varieties on the menu, but chef Jean Paul Labadie usually has a few more on reserve in the back that he'll happily bring out if requested. And western valley favorite Other Mama, on Durango Drive and Twain Avenue, offers between four and six varieties daily.
Whatever you're looking for in an oyster, you're sure to find it somewhere in town. And since the bivalves serve as a natural filtration system for the waters in which they live, supporting their farming is good for the environment. So order another dozen for Mother Earth.
Contact Al Mancini at amancini@reviewjournal.com. Find @AlManciniVegas on Twitter.
Oyster Bargains
Oyster prices fluctuate greatly, but if you look hard, there are plenty of bargains to be had — especially during happy hour. Here are a few of the best.
Andiron Steak & Sea (Downtown Summerlin): 4 to 7 p.m. daily, Kumiai oysters are $1 each.
District One (3400 S. Jones Blvd.): 5 to 7 p.m. and midnight to 2 a.m. Monday through Friday, Blue Points for $1 apiece.
Le Pho Vietnamese Kitchen (inside Juhl, 353 E. Bonneville Ave.): 4 to 7 p.m. daily, a chef's selection for $1 each, minimum of six.
Other Mama (3655 S. Durango Drive): 5 to 6 p.m. daily, a variety selected by chef Dan Krohmer is offered for $1 apiece.
Rockin' Crawfish (4025 S. Maryland Parkway): 5 to 7 p.m. Monday, Wednesday and Thursday, and all day Tuesday, Blue Points and other selections for $1 each.