Ramsay expects perfection from himself, his staff and his food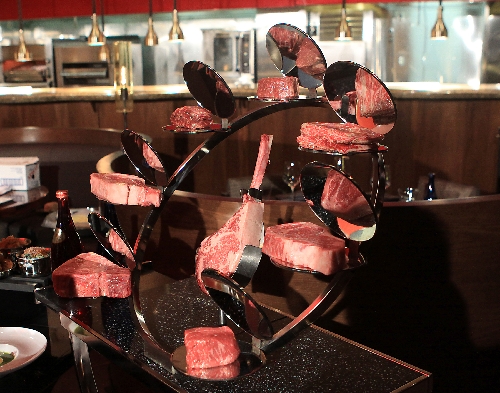 In person, Gordon Ramsay looks a lot like the soccer player he once was.
Only the soccer player who comes to mind isn't one on the level of David Beckham, but more like the little kid down the street who kicks the ball around on weekends. There's the rogue lock of blond hair spilling onto his forehead, the earnest expression and quiet charm – all of which belie a man of 45 who has 27 restaurants around the world and 11 Michelin stars.
And then there's that all-over-the-TV thing, including the American shows "Hell's Kitchen," "Kitchen Nightmares" and "MasterChef" as well as a few in his native United Kingdom. And, well, the notoriety in addition to the fame, the former for frequent F-bombs and rather enthusiastic ranting tirades at less-than-competent subordinates.
So which is the real Ramsay? All of the above, it seems.
In an interview last week that coincided with the opening of Gordon Ramsay Steak at Paris Las Vegas, Ramsay said his public persona reflects childhood admonishments by his mother to be truthful about who he is. One doesn't rack up Michelin stars without being a perfectionist and demanding the same from the staff. And because he does it in a public forum, the inevitable tense moments – which he maintains are part of the style of any hypersuccessful chef – become very public.
"I'm not fake in that sense," Ramsay said.
Besides, he has a reputation to uphold.
"The minute I'm seen to send a mistake out" from the kitchen, he said, "my reputation is damaged."
Knowing the world may think he's a raging egomaniac doesn't keep him awake at night, because those 27 restaurants are kept humming with the help of a loyal cadre that Ramsay keeps close.
"If I was that much of an ass, I don't think they would be with me today," he said.
If that sounds like a man with few regrets, it sounds right.
"I wouldn't change it for the world," Ramsay said of his life to date. "There are no rehearsals."
When Ramsay introduced himself and his restaurant last week to an audience representing local and national press and media from Europe and Asia, he did it by way of a cooking demonstration, explaining his takes on Caesar salad, beef Wellington and sticky toffee pudding – which were unlike Caesar salad, beef Wellington or sticky toffee pudding anyone in attendance had tasted, unless they'd experienced one of his other restaurants. (As an example, the salad was graced with Ramsay's version of the classic Scotch egg, in this case a soft-yolked quail egg wrapped in seasoned minced pork.)
"I like to engage with my guests," Ramsay said afterward, adding that he enjoys describing the process that led to the creation and execution of each dish.
The restaurant itself, designed by EDG Interior Architectural + Design, is as larger-than-life as Ramsay's TV persona. It's marked by a red, narrow, vertical sign that stretches nearly to the casino ceiling. The entry to the restaurant is through a silver-colored tunnel that Jeffrey Fredrick, vice president of food and beverage for Paris Las Vegas, said is meant to evoke the Chunnel that links England and France, bringing people from France – or, at least, Paris Las Vegas – to Ramsay's outpost of the U.K.
Reinforcing that image is the 65-foot-wide Union Jack on the second-story ceiling high above the dining room, from which dangles a huge red squiggle of neon – 250 feet of hand-blown neon, Fredrick said – that reflects a study of Ramsay's hand motions as he creates his beef Wellington.
The open kitchen extends across the width of the dining room, and cuts of meat are displayed on a rolling trolley for easy customer inspection.
The press event also included a fashion show of sorts, where it was clear that the uniforms worn by hostesses and food and cocktail servers are primarily black and comparatively modest by Las Vegas standards, with subtle red vertical accents that may take the form of a red zipper or a high red heel on a black shoe.
Ramsay said the menu has been two years in the making.
Why a steakhouse?
"I've been dying to do a steakhouse," he said.
And, on a more pragmatic note, "with my reputation and following and instant demand, I didn't want to put my neck in a noose." He said he didn't think the current economic climate was conducive to a fine-dining restaurant, and acknowledged a public love of steakhouses not only in Las Vegas but across the country.
Ramsay said he has been coming to Las Vegas regularly for about five years and got a taste of the suburbs by taking his family for a two-week stay at Red Rock Resort, where "they had the most amazing time."
He plans to commute here periodically from his home in Southern California.
Ramsay – who counts among his mentors Guy Savoy and Joel Robuchon, both of whom have restaurants in Las Vegas – said he's had offers over the years to open here, and realizes he's "late to the party."
"Vegas is one of the most dynamic, sought-after cities for food in the world," he said, and admitted to a slight case of the nerves.
"I don't think Vegas is a walk in the park," he said. "I take nothing for granted."
Contact reporter Heidi Knapp Rinella at
hrinella@reviewjournal.com or 702-383-0474.