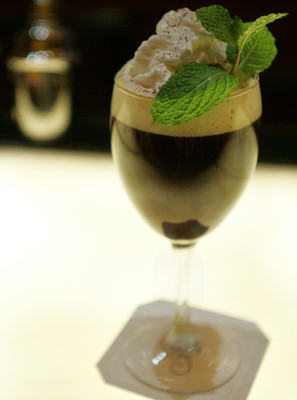 The origins of the hot toddy have been traced to 18th century Scotland, where it no doubt was a source of warming comfort for those poor souls shivering in drafty houses on the windswept moors.
Winter weather in Las Vegas usually is better than that, but local bartenders say the legion of hot alcoholic beverages that have been created in the same spirit as the toddy have a following here.
Patricia Richards, mixologist at Wynn Las Vegas (and the new Encore), said hot alcoholic beverages are desired in the resort's bars in the evenings all year, and at any time of day in the winter.
"You always have the classic Irish coffee, that gets requested a lot," Richards said. "And you get an occasional hot toddy — VSOP cognac with a little lemon and honey, a little cinnamon stick if you want to put that in there. And Bailey's and coffee."
Mark Thomas, director of beverage at The Mirage, said hot drinks tend to be more popular in places at the resort where customers "can kind of curl up and relax."
Thomas said the resort's bartenders "can make anything they know of and look up anything they don't," but that coffee drinks are the most popular, followed by hot buttered rum.
"And hot toddies, because people know them," he said.
Toddies, he added, also lend themselves to many variations, using different liquors, adding brandy (apple or other), using another acid instead of lemon and garnishing with fruit.
Among the coffee-based drinks, customers usually want a Bailey's or a cream-based liqueur mixed into that, Thomas noted. "Bailey's has got a lot of new flavors out, too." The Mirage employs one of them in a featured drink of coffee and Bailey's Mint in its Caribe Cafe.
Bellagio mixologist Ray Srp said while he doesn't notice a lot of people coming in and requesting hot drinks, the resort's bars do sell quite a few of them because they feature a selection.
"If they want hot, they really don't know what they want," Srp said. "They kind of stick to Kahlua and coffee or maybe brandy and coffee. But there are a lot of cool things out there."
One of which would be Bellagio's take on hot buttered rum, which the resort has featured since it opened 10 years ago. The drink is made with a batter of brown sugar, butter and spices that's created in-house. Last year, Srp started with 100 pounds and ended up having to make 50 pounds more to meet demand for the drink that's featured from Thanksgiving until Jan. 1.
Another Bellagio favorite is the Hazelnusse Moose, coffee with Kahlua Hazelnut and cognac topped with whipped cream, dusted with cocoa powder and garnished with a mint sprig.
Then there's Blueberry Tea, which is standard orange pekoe tea with equal parts of Amaretto and Grand Marnier.
"When you drink it, it tastes like a hot blueberry drink," Srp said.
Adult hot chocolates are always popular. Srp said many cordials work well with chocolate, including Navan, which is a vanilla-infused cognac; Nocello, which has a walnut flavor; Amaretto, which is almond; Chambord, for a hint of black raspberry; "and of course Kahlua."
Mulled wines are popular, too, he said. "You can pretty much use your favorite red wine; Cabernet would work really well," Srp said. Heat the wine in a slow cooker or over a very low flame and be sure not to boil it. Add your own blend of spices, which might include orange peel, cinnamon stick, cloves and nutmeg.
"Drop that all in there and let it just kind of simmer," he said. "After a couple of hours you pull all of that out. Sweeten it with brown sugar if you like, or you can add a shot of brandy to kick it up a bit."
But the classic hot toddy, Srp said, has yet another appeal.
"I've often served that as not the cure for the common cold, but a little relief from cold symptoms," he said. "Have one of those before you go to bed, throw on about three blankets and you'll feel better in the morning."
HOT TODDY
1 to 11/2 ounces bourbon or cognac
Squeeze of lemon
1/2 ounce simple syrup or 1 teaspoon honey
Whole clove, for garnish
Lemon twist, for garnish (optional)
Mix bourbon, lemon juice and simple syrup or honey in a coffee mug and fill with hot water. Garnish with clove and lemon twist, if desired.
— Recipe from Mark Thomas, The Mirage
HOT APPLE PIE
6 ounces hot apple cider
11/2 ounces Tuaca
Cinnamon stick, for garnish
Mix cider and Tuaca and garnish with a cinnamon stick.
— Recipe from Mark Thomas, The Mirage
HOT BUTTERED RUM
2 heaping bar spoons of batter (recipe follows)
Hot water
Full shot of rum
Add batter to hot water, add rum and give it a good stir.
For batter: Mix 1 pound brown sugar, 1/2 pound butter, 2 teaspoons ground cinnamon, 2 teaspoons ground nugmet, 1/2 teaspoon ground allspice and 1 teaspoon vanilla extract.
— Recipe from Ray Srp, Bellagio
IRISH CREME CAFE
1 ounce Jameson Irish whiskey
11/4 ounces Bailey's mint chocolate
1/4 ounce peppermint schnapps
2 sugar cubes
9 ounces coffee
Mint cream (recipe follows)
Grated dark chocolate, for garnish
Pour all ingredients except mint cream into a heavy 22-ounce snifter. Top with about 1/2 inch of mint cream.
To make mint cream: Fill a 32-ounce container two-thirds full with ultrapasteurized heavy whipping cream. Add 3 ounces green creme de menthe and 6 bar spoons of fine bar sugar; shake vigorously for 2 minutes, or until the cream becomes thick, but you can still pour it.
— Recipe from Patricia Richards, Wynn Las Vegas and Encore
CHOCOLATE COFFEE KISS
3/4 ounce coffee liqueur
3/4 ounce Irish cream liqueur
1 splash brown creme de cocoa
1 splash Mandarine Napoleon
11/2 ounces chocolate syrup
Hot coffee
Whipped cream
Shaved chocolate, for garnish
Maraschino cherry, for garnish
Combine first five ingredients in an Irish coffee glass, then fill with coffee. Top with whipped cream and garnish with shaved chocolate and a maraschino cherry.
— Recipe from "Mr. Boston All-New Official Bartender's and Party Guide"
Contact reporter Heidi Knapp Rinella at hrinella@reviewjournal.com or 702-383-0474.