Think outside the kitchen this year by grilling the turkey
November 23, 2015 - 1:21 pm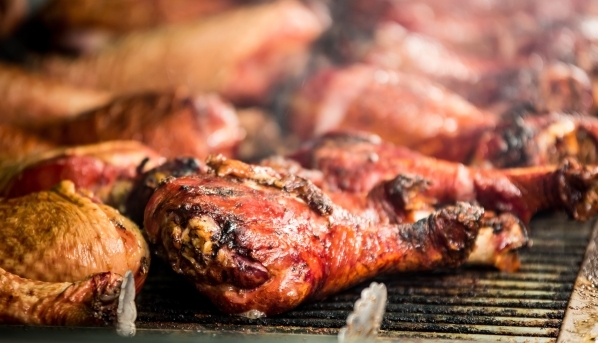 Sam Marvin and Robert Jones know the joy of taking a Thanksgiving turkey away from the oven and into the great outdoors.
"It's so nice outside," said Marvin, chef/owner of Echo & Rig at Tivoli Village. "It's not like there's snow out there. And it's interactive; people are around when you're grilling it, and it adds to the festivities."
"There's less clutter and cleanup in the kitchen," adds Jones, sous chef of the Festival Buffet at Fiesta Rancho. "You're enjoying the outdoor experience with your family and friends. And most importantly, it keeps my home cool and comfortable for my guests."
Heresy, you say? That turkey should be roasted in the oven, in the house? Not according to chefs who say you can prepare the entire meal outdoors.
And it doesn't require any special equipment, or even specific equipment. Jones said he has a grill with a rotisserie and side burner, while Bryan Forgione, executive chef of Buddy V's at the Grand Canal Shoppes, uses his outdoor fire pit.
"We took all of our grates from our gas grills and laid them over the fire pit," Forgione said.
Marvin is a big proponent of spatchcocking the turkey, which means cutting out the turkey's backbone, then nicking the cartilage in the breast bone and pressing to flatten the bird.
"Turkey's a big bird," Marvin said. "You just push on it."
He suggests using a dry rub, because marinades or wet rubs will cause grill flame-ups. Put the turkey, skin side down, on a clean and well-oiled grill over medium heat.
"Once you have these nice marks on the skin side, flip it over to the bone side," he said, figuring, for a 12-pound turkey, about 10 minutes before flipping and 20 minutes after, then about 45 minutes over indirect heat.
"And then you get your temperature in the leg, 140, 145," he said, "and we know it's cooked nice and juicy and it's cooked all the way through."
He suggests grilling vegetables such as asparagus, and cooking sweet potatoes on the side.
"Make these little packets out of aluminum foil, put in a sweet potato, butter, molasses and brown sugar," he said. "You know those are going to cook in the time that you have your turkey on there."
And get ready, Marvin said, for a taste experience.
"This one's going to be like barbecued," he said. "It's a different flavor profile. I love a grilled piece of poultry."
Jones likes to cook a whole turkey on his rotisserie. He brines it for 24 to 48 hours in a zipper-closed bag in a mixture with a ratio of 1 gallon of water, ¼ cup salt, ¼ cup sugar, 5 sprigs of fresh thyme and 6 whole garlic cloves, crushed. After brining, he rinses the turkey well to wash away the salt, then seasons with salt and pepper inside and out and drizzles with cannola or another vegetable oil to promote browning.
"I always stuff the cavity with fresh thyme, whole garlic cloves and a couple of lemon wedges," Jones said. "Put it on the rotisserie and let it go." He cooks it about 15 minutes per pound, until the internal temperature between the leg and breast is about 165 degrees.
Jones suggests putting a foil pan under the turkey, with a little water in it to prevent burning, to catch the drippings for gravy.
He makes his side dishes on the grill, too, prepping them ahead to reduce work on the big day. He'll scrub and parboil fingerling potatoes, cut them in half lengthwise and put them in a bowl with salt, pepper, garlic and melted butter.
"If you do it while they're hot, they'll suck in those seasonings," Jones said. "When you're ready to grill, toss them with a little olive oil and put them directly on the grill. They don't take that long to cook — maybe 10 minutes, just to get them warm."
He also grills corn on the cob, using a compound butter made with 1 stick butter; 2 cloves of garlic, minced; 3 sprigs of fresh thyme, chopped; and 3 sprigs of fresh oregano, chopped. Mix and roll in plastic wrap to form a log. When you're ready to cook the corn, peel back the husks but don't remove them, put slices of compound butter between the corn and the husks, pull up the husks and grill them until the corn is soft when squeezed.
Jones said he asks family and friends to bring compound salads to supplement the grilled foods. And if he has a small group, he'll make a turkey breast, brining it, pounding it to about ½ inch thick, spreading it with a mixture of baby spinach, dried cranberries, diced mushrooms and diced onions (sauteed until the onions are translucent), then rolling, tying and grilling.
"If I do direct heat, I'll just sear all sides and then move it to indirect heat and let it cook like an oven would," he said. "Or you can put it on the rotisserie." Once it reaches 165 degrees, let it rest for 15 minutes and slice.
"Desserts are my favorite," Jones said. After the meal, he'll gather his guests to grill apple slices dredged in sugar until they caramelize and then drizzle them with caramel, or grill pear slices with melted brie.
Alex Barnett, a partner in Cut and Taste catering, likes to break the turkey down into pieces — breast, thighs and wings — before grilling, so some pieces don't overcook. And he suggests brining to lock in the flavor, plus a marinade or rub.
"I kind of like to use chipotle, apricot jam, garlic, extra-virgin olive oil, red wine vinegar and rosemary," Barnett said. "Just puree that all up into a nice paste, rub the bird down, keep turning the bird over and put more of the paste on there. It gives it a nice caramelized char."
He also likes to grill corn on the cob, with the husk on for "more of a rustic, outdoorsy feel." Soak it in melted butter, water and seasoning and grill until cooked.
If you have a fire pit, Barnett suggests lighting a fire and letting the embers burn down. Then wrap sweet potatoes in foil and tuck them between the embers for 30 to 45 minutes.
"Most of these things for Thanksgiving are very heavy and sweet," Barnett said. "Doing a seasonal salad with some arugula, toasted walnuts and cranberry-lime vinaigrette, that would really cut down on the sweetness."
As for Forgione, he almost didn't make turkey last Thanksgiving. He was preparing dinner with his brother, fellow chef Marc Forgione. Marc Forgione was doing "Iron Chef America," Bryan said, and had researched Thanksgiving.
"On the first Thanksgiving, turkey wasn't the main ingredient; it was seafood — clams, lobster," Bryan Forgione said. "That inspired it. We took it a step further, because the way they cooked back then was over an open fire. We just wanted to be very traditional about the whole thing."
They cooked some antelope, which came from a friend.
"Lobster, carrots, parsnips, Brussels sprouts — we just did everything roasted over the fire," he said. "Everything had that nice, natural kind of smoky flavor to it. Everybody was able to sit around the fire while we were cooking and just hang out. The whole experience, and the flavors — it's just so unique when you're able to cook in that fashion."
But Mom wasn't happy, because turkey wasn't on the menu. So the brothers took inspiration from a churrascaria the family had frequented in New York. They brined a turkey breast overnight, cut it in 2-inch chunks, wrapped it in thick applewood-smoked bacon and skewered it before cooking over the fire.
"It was a special Thanksgiving," Forgione said. "We made it a tradition."
Contact Heidi Knapp Rinella at Hrinella@reviewjournal.com. Find more of her stories at www.reviewjournal.com, and follow @HKRinella on Twitter.