Las Vegas mini golf built around 'Twilight Zone' — VIDEO
December 11, 2017 - 9:59 pm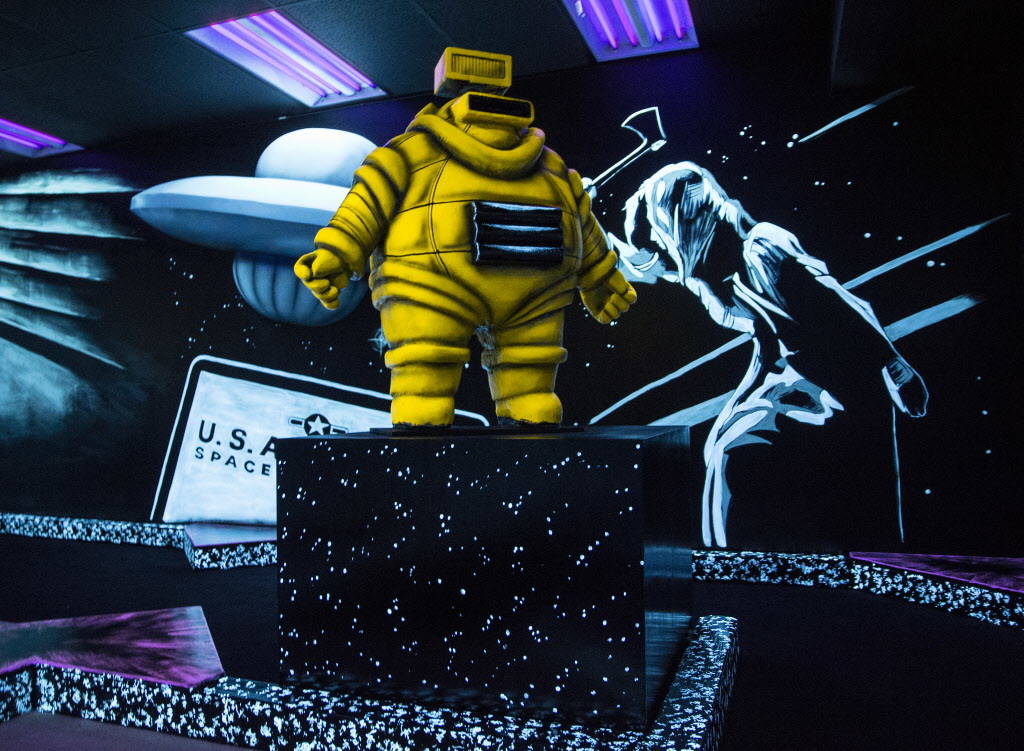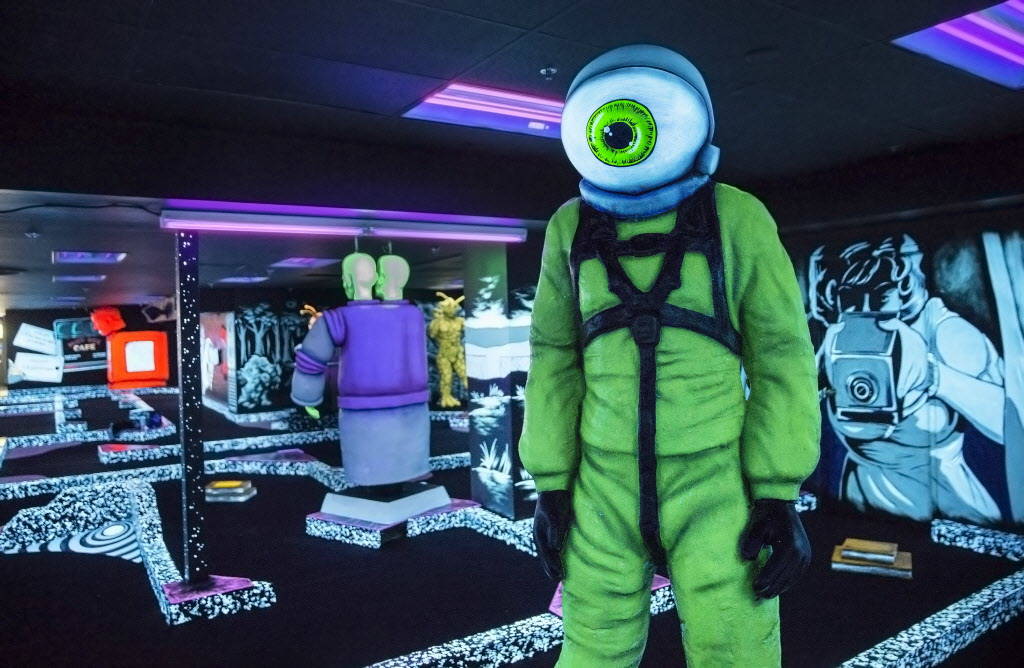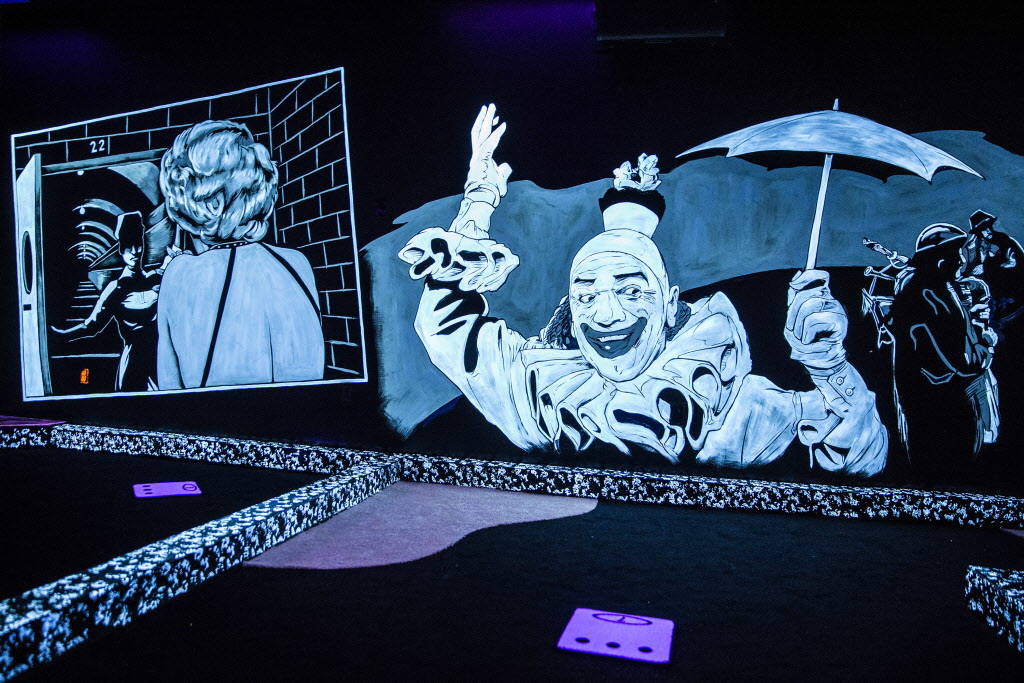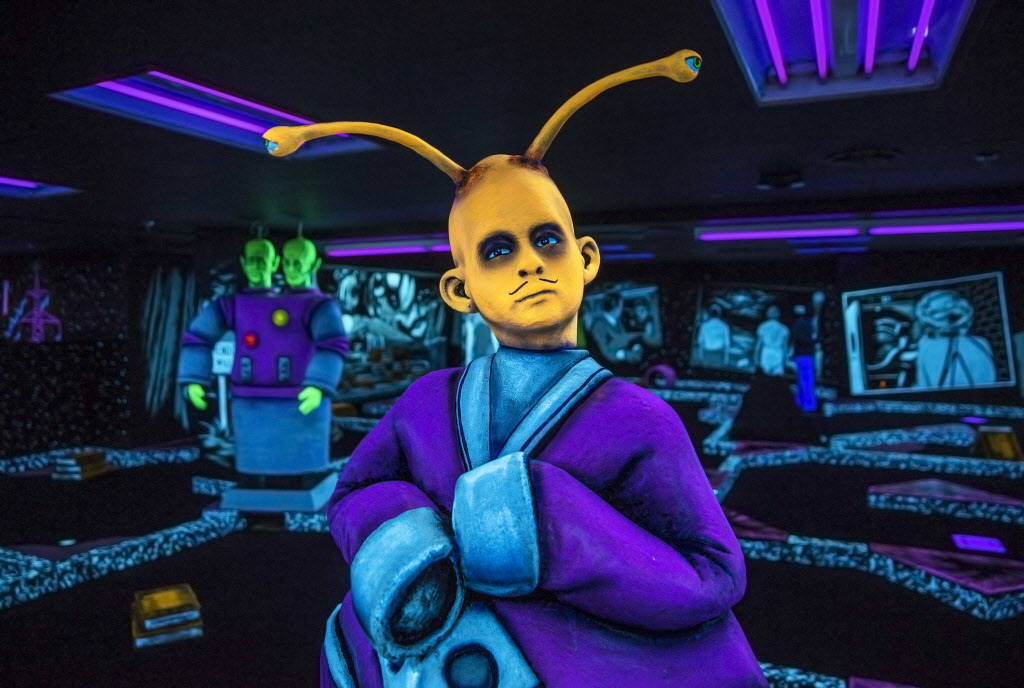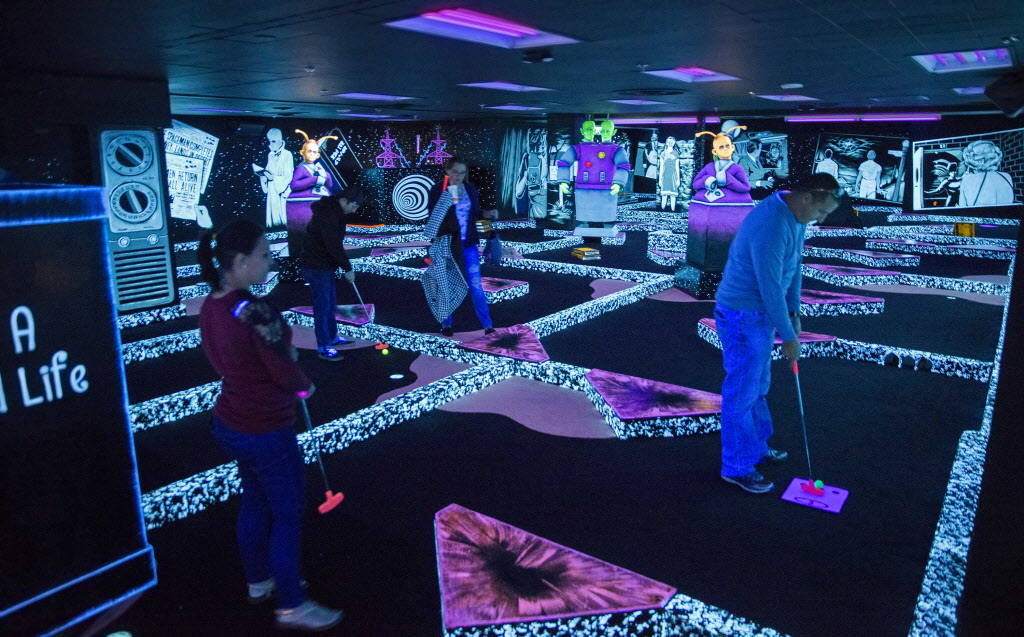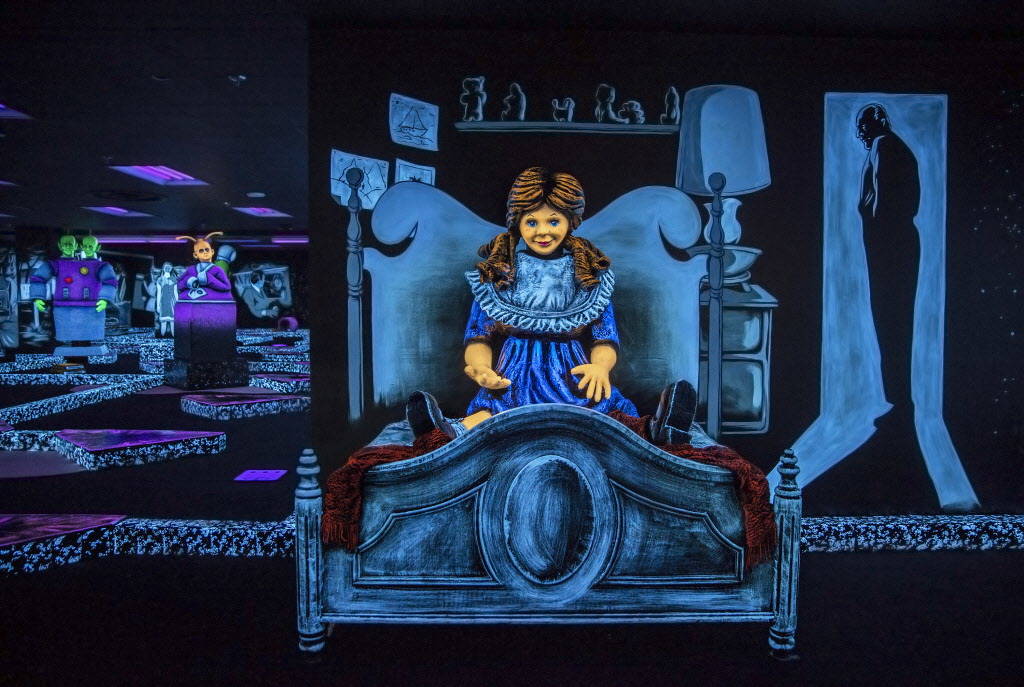 Ever hear about the guy who tried to relax with a round of miniature golf after a talking doll told him she wanted to kill him, but a mean little kid threatened to wish him into the cornfield and he broke his glasses and a big alien guy finally ate him?
It's be just the sort of day a hapless golfer would have at The Twilight Zone by Monster Mini Golf, a just-opened game center at Bally's built around the classic Rod Serling TV series.
The 10,000-square-foot attraction features an event room, a gift shop, a wedding chapel, arcade games and four bowling lanes, but it's the "Twilight Zone" props and scenes painted on the walls in glorious black-light black-and-white that'll most vividly jog fans' memories.
The Kanamit from "To Serve Man." The unlucky bibliophile from "Time Enough at Last." The hitchhiker from "The Hitch-Hiker." The aliens who plagued the country lady in "The Invaders," not to mention the unfortunate jack-in-the-box neighbor from "It's a Good Life" or the frantic guy in the window seat from "Nightmare at 20,000 Feet."
A natural
Monster Mini Golf, the Las Vegas-based company behind the attraction, also operates KISS Monster Mini Golf at the Rio. Christina Vitagliano, founder of Monster Mini Golf, says that when casting about for a theme for the new course at Bally's, "The Twilight Zone" seemed a natural.
But doesn't the demo for miniature golf skew younger, to a generation that's not familiar with the 1959-1964 TV show? Not at all, she says, because the original series — there were two TV updates and a movie, too — remains popular in reruns, beloved by fans of creative storytelling, O. Henryesque plot twists and episode-concluding morality lessons.
The Syfy channel's " Twilight Zone" marathons also have created a new generation of fans, she says, and CBS recently announced that a new incarnation of the show is to appear on its subscription service.
"There's just something about the unknown that's always going to be appealing to everybody," says Vitagliano.
Big props
The attraction is designed to be interactive. Golfers can, for instance, take a seat in bed next to Talky Tina or take Burgess Meredith's place among stacks of books post-apocalypse, take a photo and then send it out via social media.
"We want people to take their time and have some fun," Vitagliano says.
Of course, there's also the appeal of miniature golf which, she says, remains a popular pastime.
"I think one of the reasons is, it's affordable," she says. "There aren't too many things that (cost) less than movies, especially in Vegas. For 10 bucks you can play a round of miniature golf and you're here for an hour.
"I think the other thing is, it's multigenerational. So you can go with your children and their children, and you can all play the same game. Technology has eliminated that. So we took the simplicity of (miniature golf) and gave it a twist. We've got something nobody else has."
'There is a fifth dimension … '
Golfers begin the course by walking through the opening-credits door, which Serling's narration notes, is unlocked with "the key of imagination." Golfers then progress along each hole and its themed episode. The last hole features the fortune-telling machine from "Nick of Time" at which each player will receive a fortune.
Kim and Scott Bass, vacationing from Sabetha, Kansas, remember the show well. They also like miniature golf and enjoyed the chance to combine the two.
"We walked by the other day from the Monorail," Kim says. "We came back today to have some fun."
"I love it. I Love this glow-in-the-dark stuff," she says.
Vitagliano said the attraction, located near the Bally's food court and sports book, cost about $1 million to create. Work on it began in July and the course had a Dec. 1 soft opening. The grand opening is scheduled for Thursday.
Patrick Deloriea, 25, and Rebecca Hahn, 25, both of Las Vegas, stopped in on their day off.
"I saw it on Facebook," says Hahn, who remembers "a little bit" of the series but knows "The Twilight Zone" mostly from the now-closed Disney ride.
Deloriea has watched the show on Netflix, however, and counts among his favorite episodes the one about "the last guy on Earth who breaks his glasses."
Contact John Przybys at reviewjournal.com or 702-383-0280. Follow @JJPrzybys on Twitter.
Where's Rod?
While the vibe of Rod Serling's iconic TV show can be felt everywhere at The Twilight Zone by Monster Mini Golf, visitors won't see the program's creator there.
That is because the company's licensing deal doesn't include Serling or his likeness. Nor does it include the likenesses of actors who appeared in episodes that the attraction references.
So, those silhouettes on the walls aren't really William Shatner in the tableau from "Nightmare at 20,000 Feet" or Telly Savalas staring pensively at Talky Tina from "Living Doll."
CBS owns and licenses images from the show, says Christina Vitagliano, founder of Monster Mini Golf. "So 'Twilight Zone' is our license, but Rod Serling is not," she says.
Vitagliano hopes that representatives of Serling's estate may one day stop by, like what Vitagliano has done with the place, and agree to allow Serling's image to be used. Even better, she says, would be if they'd offer a few of Serling's mementos for display.
That, she says, "would be great."
If you go
Twilight Zone by Monster Mini Golf at Ballys hotel is open daily from 10 a.m. to midnight (special hours Christmas Eve, Christmas, New Year's Eve and New Year's Day). Cost is $11.95, or $9.95 for locals, for 18 holes of golf. 702-333-2121, syfyminigolf.com