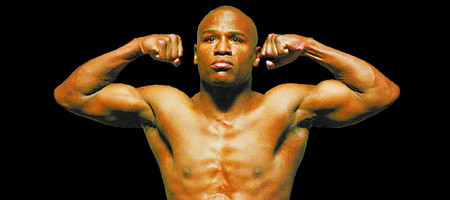 Las Vegas' own Floyd Mayweather says he's thought about opening a strip club in Vegas. He's a big fan of Oscar Goodman, lawyers and judges in town. And in a wide ranging interview, he shares his picks for best strip club and best show on the Strip (just before he boxes Juan Manuel Marquez Saturday at the MGM Grand Garden arena).
I brought up strip clubs in my interview, because others in the media have criticized him for being a frequent customer at strip clubs — but to me and many other Las Vegans, it seems ridiculous to single out Mayweather since, uh, this is Las Vegas?
And as Mayweather says, he's seen critics of his in the same strip clubs, the hypocrites.
"I see 'em in there all the time, and I don't say nothing," he says.
Best strip club?
"I think the best one, of course, is the Spearmint Rhino. But then you've got Sapphire. And the list goes on and on. But the (defunct) Crazy Horse II — you can never forget about that. That was the best one."
Has Mayweather thought about opening a strip club?
"Absolutely. We've thought about it. It would be nice to own a club in Las Vegas," he says. "Some people think of it as a bad (thing). But you gotta realize this: We were all born without clothes on. The body is a beautiful thing."
Mayweather goes to the movies "a lot" and plays slots and blackjack "here and there."
"But the main thing is training and spending time at home," he says.
"Basically when I'm not training, I play a little bit high — sometimes $1,000, $2,000 a hand, $5,000 a hand. But when I'm in training – $100 to $200 a hand. Just enjoying life.
"Boxing is my job. And, of course, I love my job. And I do my job to the fullest. But also, there's real life, and you gotta do things that are fun."
When out-of-towners ask him what to do in Vegas, he points them many places, but he starts with his favorite, Lance Burton, who he's seen 11 or 12 times. He doesn't even go backstage to say hello. He just slips in and slips out.
"I love magic. I don't know why," he says. "I've been obsessed with magic since I was a little kid. … I do a couple of card tricks. I'm not Lance Burton or David Copperfield, but I do a little bit for friends around me."
Vegas has the best entertainment in the world, he says.
"You really can't go wrong going to a show in Las Vegas. You've got the roller coaster ride at the top of the Stratosphere. … Cirque du Soleil has great shows all down the Strip."
He likes eating at N9NE steakhouse at the Palms, and he digs the Palms itself.
"You know whose got the best room service and the quickest? The Palms. The food is quick and good."
He's close with George Maloof and others at the Palms.
"What they do is: Out with the old, and in with the new. That's why everybody at the Palms is young," he says. "The young people are spending the money now. They're the ones you must cater to."
He loves this town.
"Anybody can become a millionaire at any given time."
I asked him how he would change Vegas for the better if he were king of Las Vegas.
"I'm already the king of Vegas!" he said. "But once I get my club and my hotel, I'm gonna be a big king."
But he wouldn't change a thing about Vegas.
"Vegas already has everything. You've got late shopping. Nice jewelry stores stay open late. Nice people. Very, very clean city. We got the best everything. We got all the best lawyers, all the best judges, the best real estate. So Vegas has got everything.
"The thing about Vegas is, if you got any problems, no matter where you're from, everybody gets a fair shake."
Does he have political aspirations, like, would he run for mayor someday?
"Ah, you know who the mayor is," he says.
I know, but Oscar Goodman won't be mayor forever.
"I want him to stay mayor forever," he says. "Oscar Goodman is the best mayor ever. The town loves him. If it was up to me, he'd be mayor of every city in America."
Oscar stays positive, just like Harry Reid and President Obama, he says.
"We should all stand behind each other and support one another."
Is there anything people don't know about Mayweather? One thing, he says:
"I've probably gone for four or five walks – gone walking – in like 13 years or 14 years," he says. "I want to take more walks, but I don't get a chance to. I'm always driving!"
Doug Elfman's column appears Sundays, Mondays, Tuesdays and Fridays. E-mail delfman@reviewjournal.com. The blog's at reviewjournal.com/elfman.
Preview
Floyd Mayweather vs. Juan Manuel Marquez
Doors open at 3 p.m. Saturday
MGM Grand Garden arena, 3799 Las Vegas Blvd. South
$150-$1,000 (800-745-3000)