Made.LV is open and ready for business
August 26, 2014 - 9:14 pm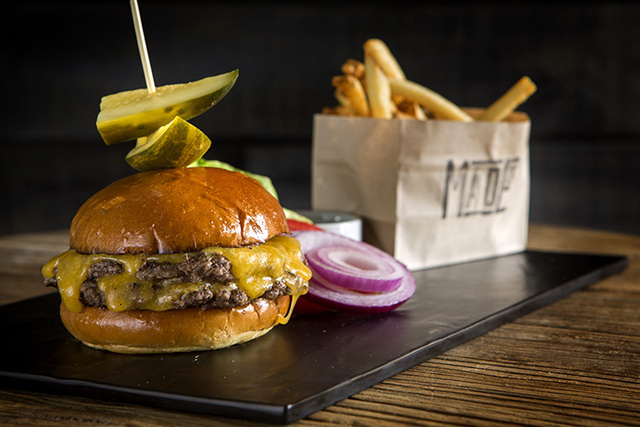 DINING OUT
MADE.LV, TIVOLI VILLAGE, 420 S. RAMPART BLVD.
Made.LV, from the husband-and-wife team of restaurant developer Elizabeth Blau and chef Kim Canteenwalla, opened last week near the Alta Drive entrance to Tivoli Village in a space formerly occupied by Hops &Harvest. Blau and Canteenwalla operate the local favorite Honey Salt and also have been involved in several restaurant ventures on the Strip, including, in Blau's case, the restaurants that opened with Bellagio and Wynn Las Vegas. Made.LV, which has a subtext of "American tavern," has a menu of Canteenwalla's updated comfort foods with Blau's healthful spin, including such signature dishes as butcher-style chicken wings, Tivoli Market Salad and pulled barbecued pork with Carolina Tavern slaw, butter pickles and sweet-potato fries. The chef is Daniel Boling, formerly of The Lodge at Torrey Pines in San Diego. Here's a sample of the menu:
Breads, jars, small plates and somewhere in between: Cheesy garlic toast, $4.75; bacon cheddar biscuits, $4.75; smoked onion dip, $5.25; pimento cheese, $5.25; chopped chicken liver, $6.25; Madame's Crab Cake, $13.25; butcher-style chicken wings, $9.50; Country House pate, $9; East &West Coast oysters, $9 (3), $18 (6) or $35 (12).
Greens and sandwiches: Tivoli Market Salad, $12; Caesar salad, $9; Chinese chicken salad, $14; eggplant "pastrami" sandwich, $10; Nueske hot dog, $9.75; Double Stacked Burger Meister, $12; pulled barbecued pork sandwich, $13.
Hearty plates and main dishes: Dirty Mac &Cheese, $7; breakfast poutine, $9.25; brook trout, $22; pulled barbecued pork, $13; beer-steamed clams, $19; barbecued chicken, $21; Wagyu skirt steak, $27; charred 10-ounce rib-eye, $28.75.
Hours are from 11 a.m. to 11 p.m. Wednesdays through Sundays, 4 to 11 p.m. Mondays and Tuesdays. Call 702-722-2000.
NEW BOOKS FOR COOKS
STICKY BANANA TARTE TATIN
2 tablespoons unsalted butter
1/3 cup maple syrup
3 to 4 bananas, sliced
1 pound store-bought puff pastry
Flour, for dusting
Plain yogurt (optional)
Preheat oven to 400 degrees.
Melt the butter in a sturdy, ovenproof skillet measuring about 9½ inches in diameter. Stir in the maple syrup, then remove the pan from the heat. (Alternatively, pour the melted butter and maple syrup into a shallow flameproof baking pan and continue with the remaining steps, using the baking pan instead of a skillet.)
Arrange the bananas in an even layer in the pan, ½ inch in from the edges.
Roll out the pastry on a lightly floured surface until it is at least ¾ inch larger than the pan. Using an upturned plate or bowl as a guide, cut out a circle of pastry and lift it over the pan, then tuck the edges down around the bananas.
Bake the tarte tatin in the oven for 25-30 minutes, until the pastry is risen and golden. Place a plate over the pan and carefully invert the tarte tatin onto it. Serve warm in wedges with spoonfuls of plain yogurt.
Serves 6-8.
Recipe from "Ella's Kitchen The Big Baking Book: 100 Healthier Savory + Sweet Recipes for Big + Little Bakers" (Octopus Publishing; $19.99)
— Heidi Knapp Rinella