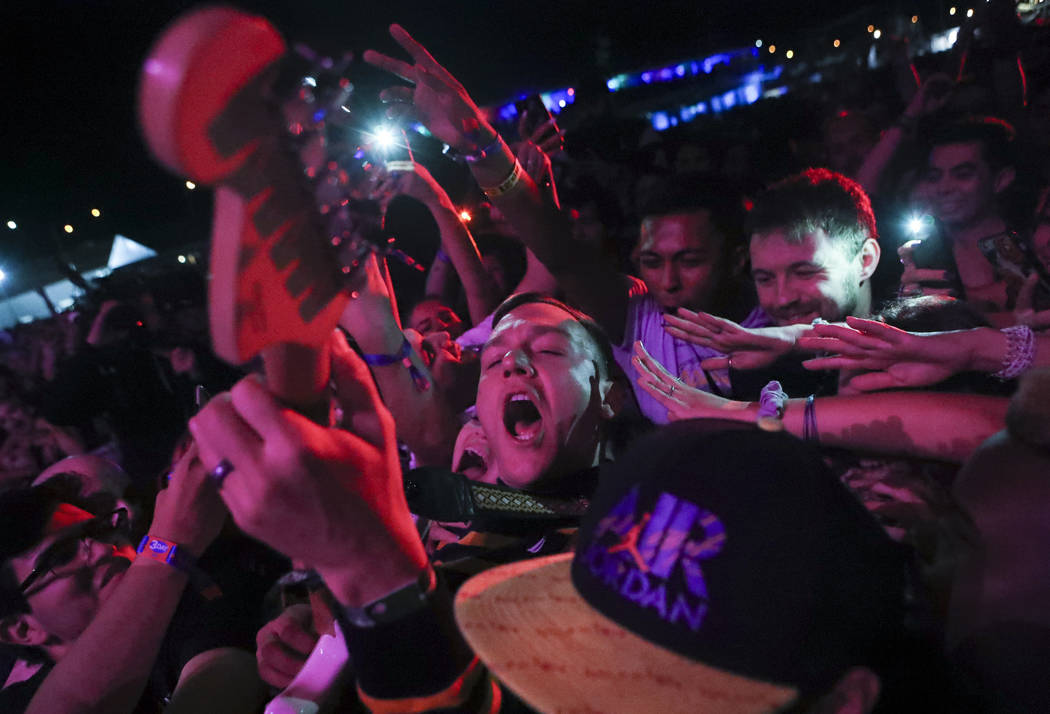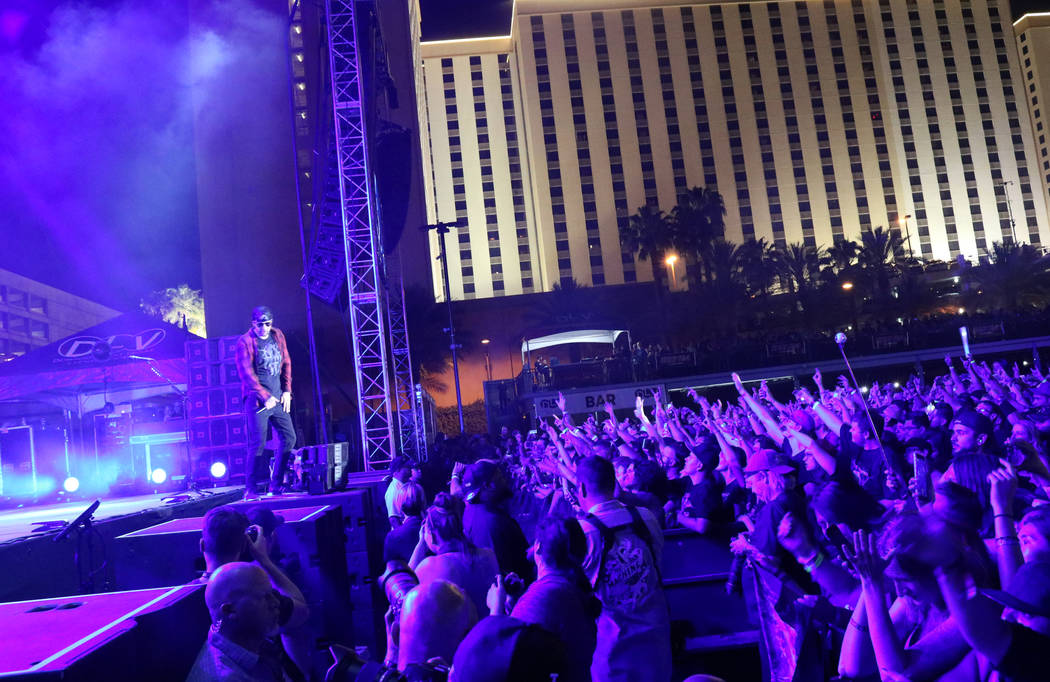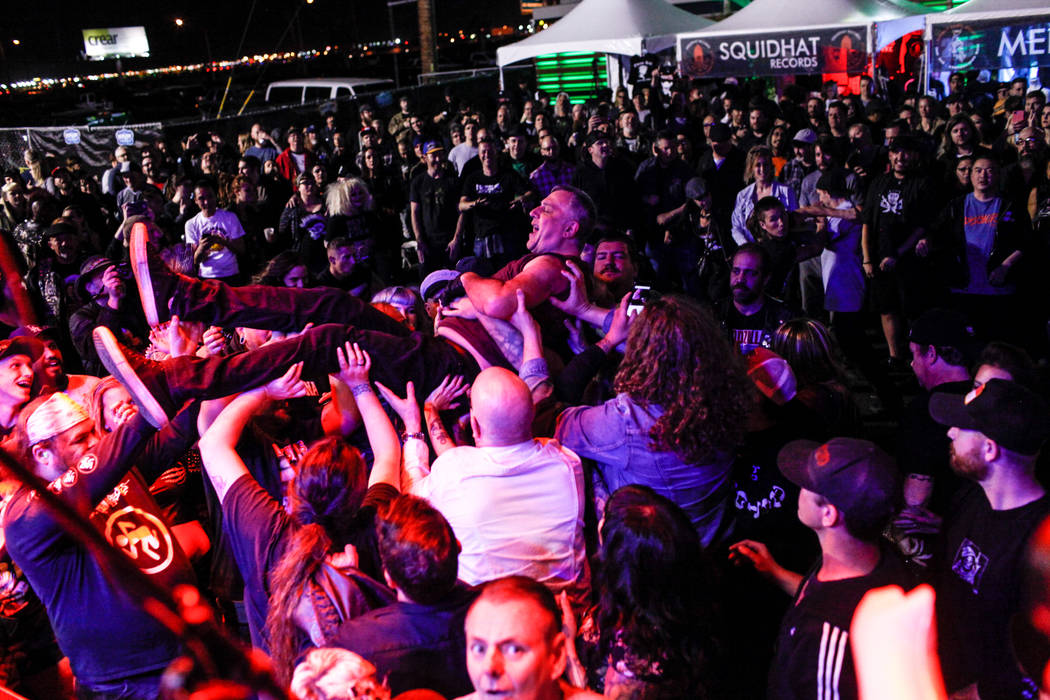 It's a truism, a cliche and a thing of real beauty all at once.
Music brings people together.
A sentiment like that can border on the trite at times.
But 2017 was not among them.
Over the past 12 months, we saw how music can unify us in times of tragedy and triumph alike.
Of course, the Route 91 Harvest massacre cast a shadow over everything.
But there were plenty of rays of light illuminating even the darkest of times.
Here are 10 of the brightest:
1. Route 91 aftermath, tribute shows and compilation records
Music scenes of all stripes united in the wake of the 1 October tragedy, with country stars headlining a tribute show at The Orleans in October, The Killers, Imagine Dragons and others teaming up for a benefit concert of their own at T-Mobile Arena in December and local music mainstays 11th Street Records and the Punks in Vegas website putting together compilation albums with proceeds donated to aid survivors. In the face of horrific events, the Vegas music community demonstrated that it's a community in far more than name alone.
2. The Killers get their first No. 1 album
Though The Killers didn't post their biggest opening-week sales with new album "Wonderful Wonderful" in September — that mark was set with the 2006 release of "Sam's Town," which opened with 315,000 units sold, good for a No. 2 debut on the Billboard Top 200 — they did score something more elusive: Their first No. 1 album here in the States, with 118,000 equivalent album units earned.
3. Imagine Dragons' "Believer" becomes one of their biggest hits
After topping the Billboard Hot Rock Songs chart for a whopping 23 weeks with their breakout hit "Radioactive" in 2013, Imagine Dragons bested that impressive mark with "Believer," the first single from latest "Evolve," which spent 29 weeks at No. 1, the second-longest run in the history of said chart.
4. Las Rageous debuts downtown
Bringing the decibels and devil horns to downtown, the Las Rageous hard rock and metal fest got off to a strong start in April, with headliners Godsmack and Avenged Sevenfold luring thousands to the Downtown Las Vegas Events Center. The fest has announced its 2018 line-up, topped by A Perfect Circle and Five Finger Death Punch.
5. Life is Beautiful sells out in advance
It was a make-or-break year for this three-day downtown music fest in 2016, and things broke Life is Beautiful's way, catalyzing a banner 2017 edition of the fest, which sold out in advance for the first time with headliners Chance the Rapper, Muse and Gorillaz, solidifying its once-murky future.
6. Double Down turns 25
The little dive bar that could put on one huge birthday blowout in its parking lot, when punk luminaries The Dickies, the Dwarves and more came together to celebrate the 25th anniversary of a Vegas institution. The only thing bigger was next morning's hangover.
7. New Emerge music conference
In a bid for developing a Vegas version of the influential South by Southwest music conference and the now-defunct CMJ Music Marathon, an impressive assemblage of music industry notables both local and national announced the launch of this new multi-day music gathering, which was initially scheduled for November, but instead will Emerge in the spring.
8. Reunited Misfits play at MGM Grand
The punk rock equivalent of Guns N' Roses' "Not in This Lifetime Tour" took place at the MGM Grand Garden in late December, when horror punk icons the Misfits, featuring a once-unthinkable reunion of founding members Glenn Danzig and Jerry Only, played their first show of 2017 and one of only four announced in the past two years.
9. The Pearl at the Palms closes for renovation
After The Killers said hello and goodbye to The Pearl in December, playing their first show there and the last before the venue was shuttered for renovations until March, the 2,500-capacity venue will reopen with a new look and an emphasis on re-establishing it as one of Vegas' top concert halls.
10. Drake sets Billboard awards record
Drake's been hitting the gym hard in recent years, but even with all the added beef, I'm not sure if it gave him the strength to cart home all the trophies he earned at the Billboard Music Awards in May, when he set a new record with 13 wins. Adele, you've been served.