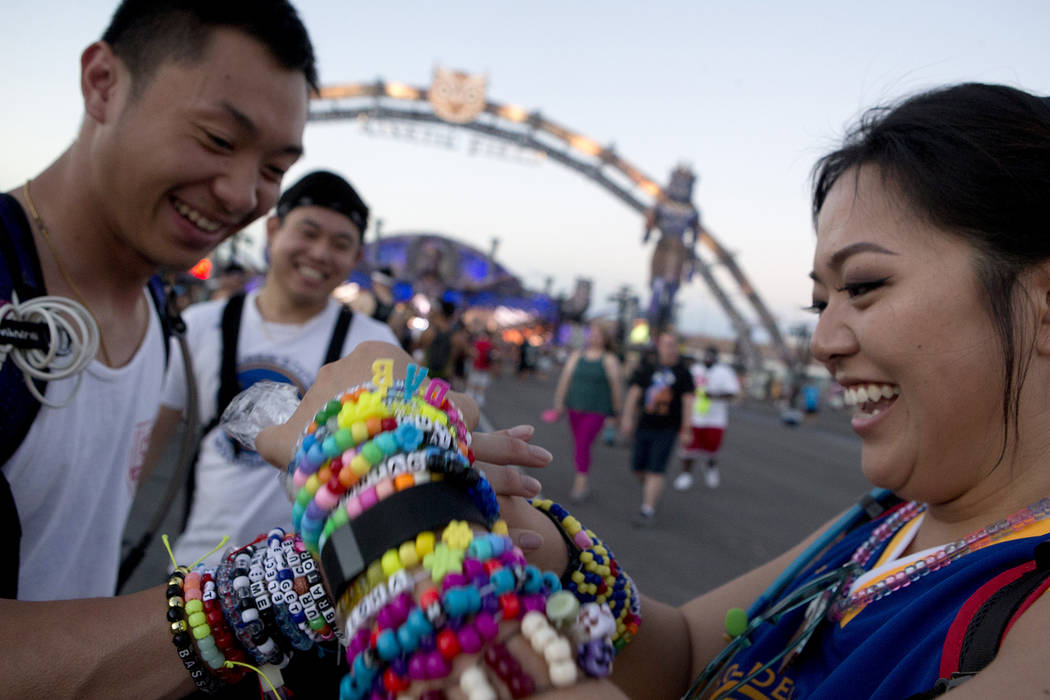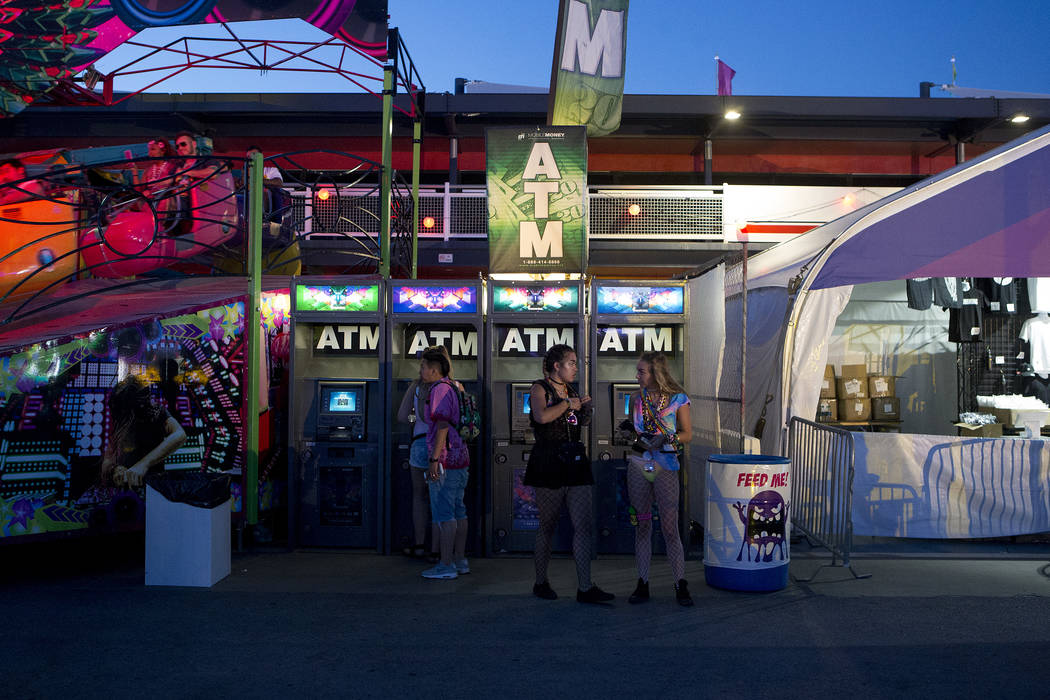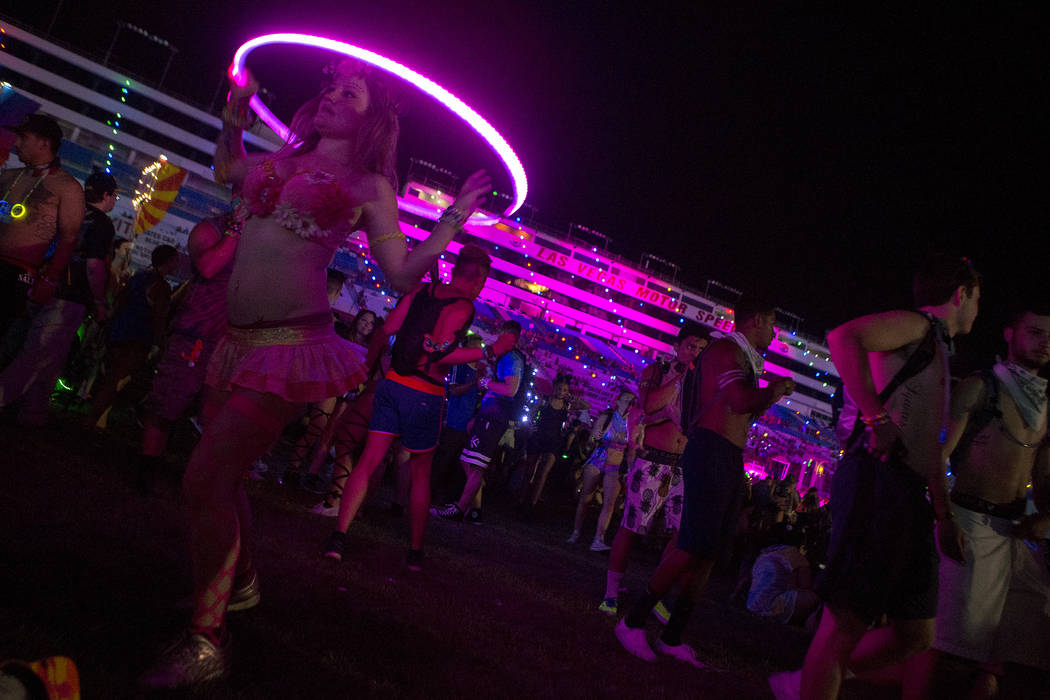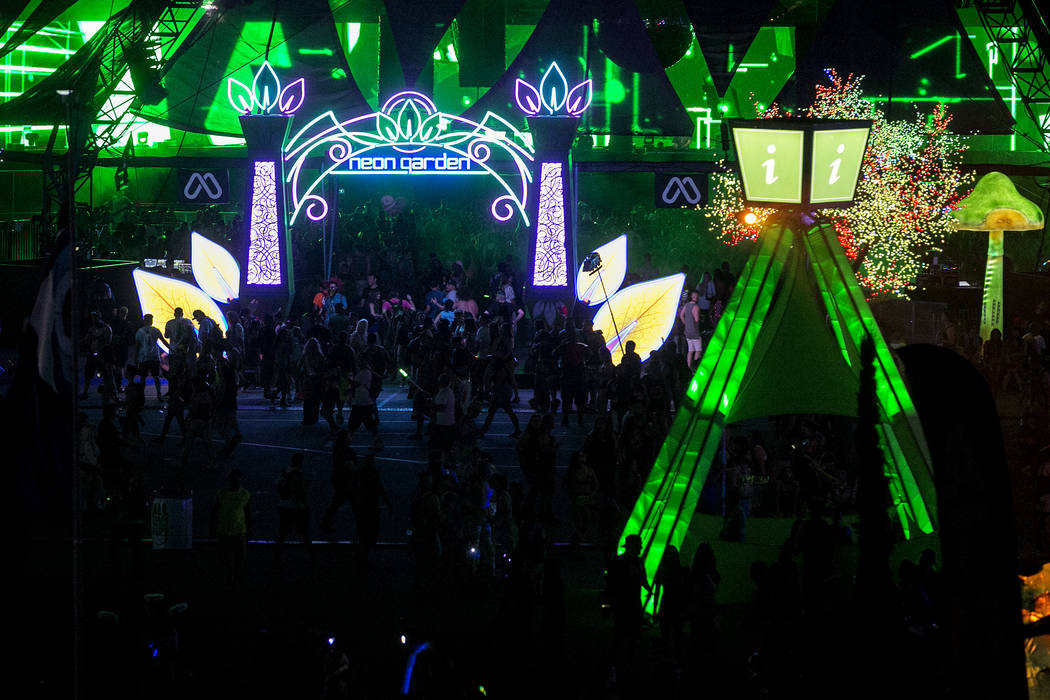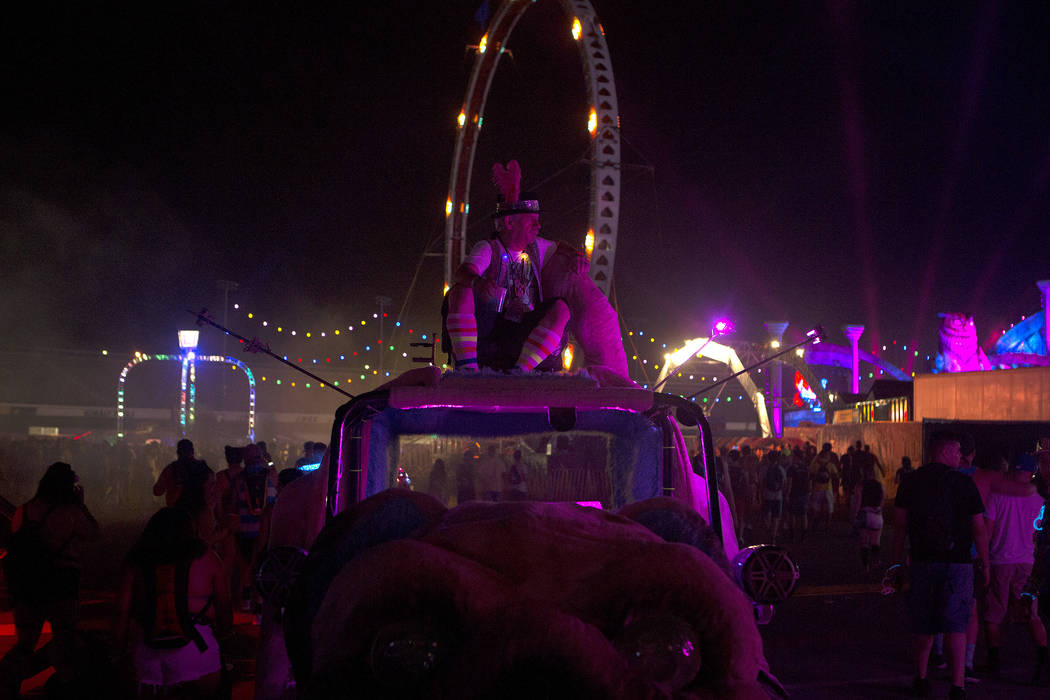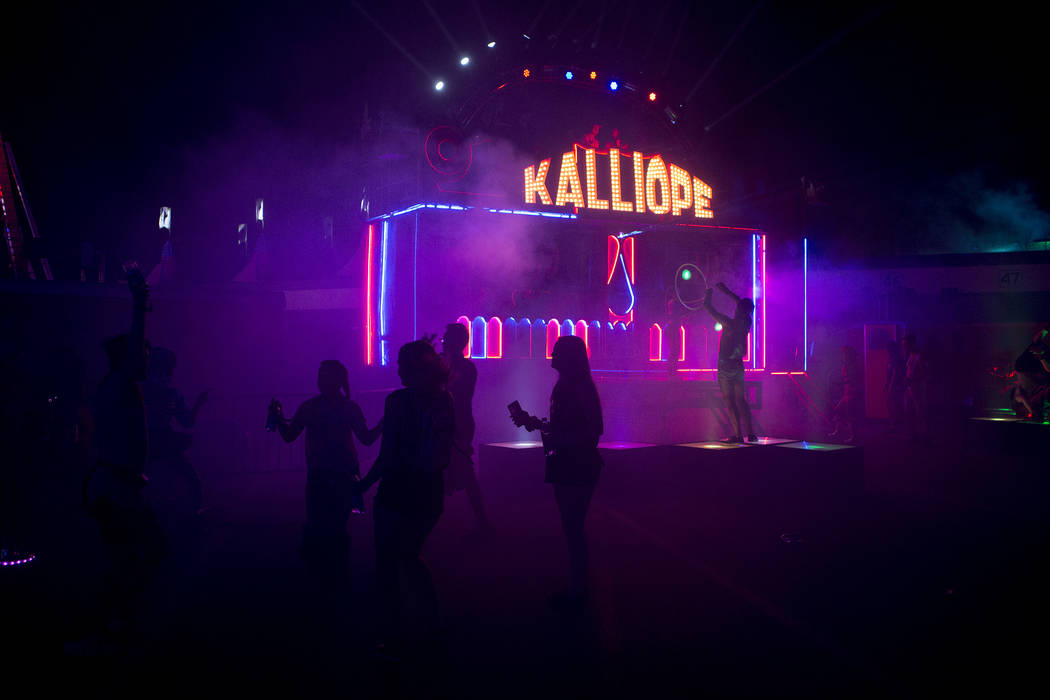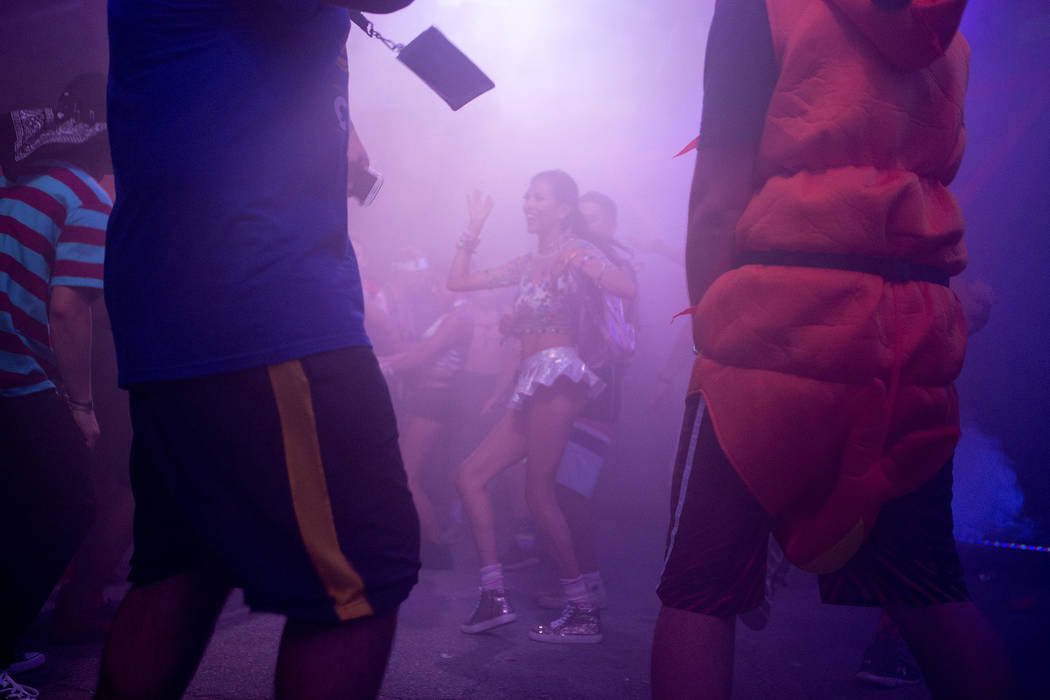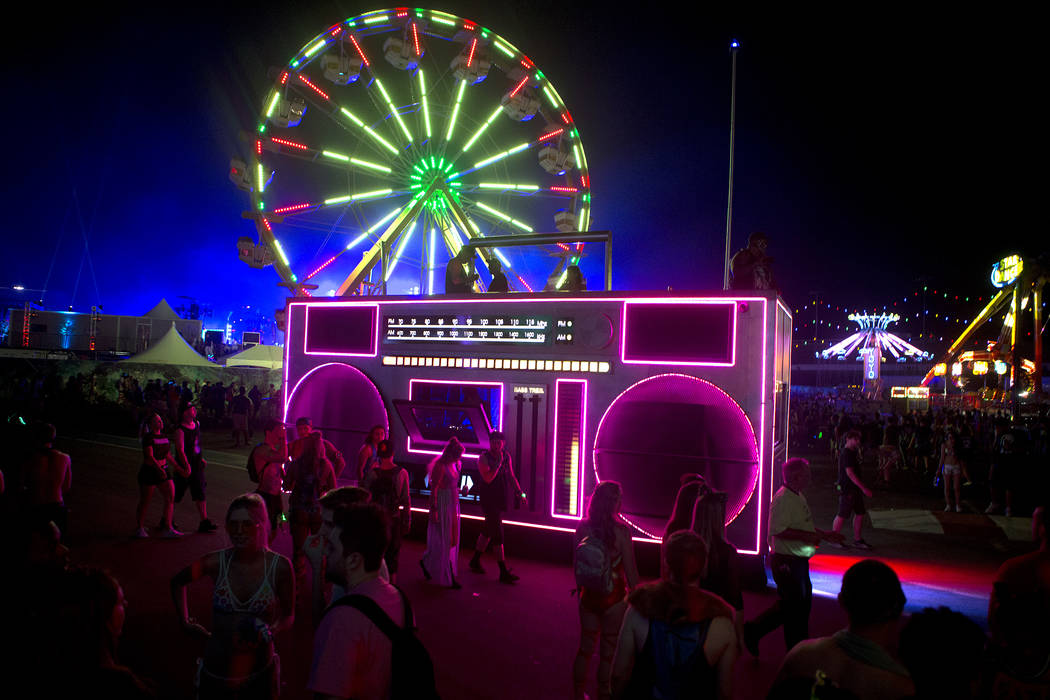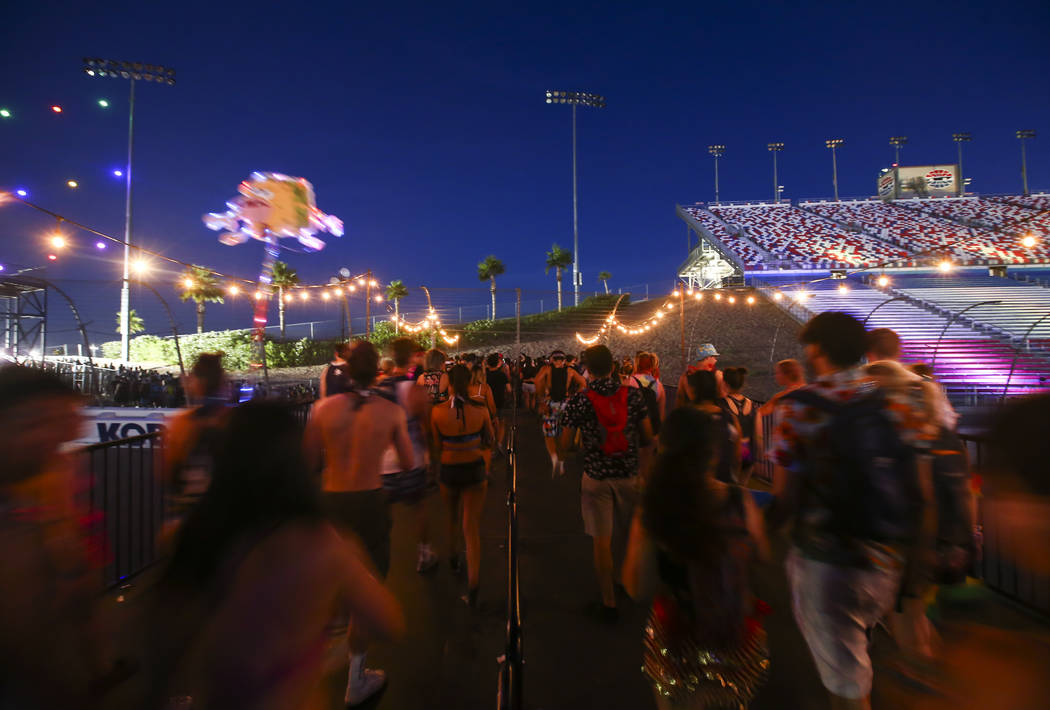 Traffic is a barely moving snake of cars slithering down Las Vegas Boulevard North as if the road were paved with flypaper. The party has already begun in gridlock, painted faces poking out of sunroofs, cars vibrating from the overworked subwoofers within.
It's a quarter to 7 on Friday evening, Electric Daisy Carnival hasn't officially started yet, and already the parking lot staff looks as exasperated as if they were chaperoning a bunch of kindergartners on a field trip to a chocolate factory.
And in a way, they kind of are: For the next eight hours, 130,000 or so shirtless dudes, 20-somethings in swimwear and at least one fellow costumed as a DayGlo squid will wander the Las Vegas Motor Speedway grounds with childlike abandon, riding Ferris wheels, dancing till it hurts, queuing up for carnival games where they attempt to win stuffed Smurf dolls at 4 in the morning.
The party won't stop until the sun comes up, and even then, it'll merely relocate elsewhere, in plenty of instances.
Here's what it's like to go from dusk till dawn at the Super Bowl of electronic dance music:
8:03 p.m.: As the sun goes down, the speedway lights up. Everything seems to glow in the dark here. It's like bear-hugging an anvil and plunging to the bottom of the ocean where all the bioluminescent creatures live — along with dudes costumed as Jesus.
8:15 p.m.: Underwear has officially become outerwear here. It's lingerie, manties and thongs as far as the eye can see. What are manties, exactly? Cherish every sugar-sweet moment of your life that you can't answer that one.
8:23 p.m.: Indian DJ Nucleya underscores EDM's international reach by leavening dubstep's low-frequency pummel with the bright, sharp tones of instrumentation indigenous to his homeland. Taking in his set while standing in the center of the CircuitGrounds, surrounded by 11 massive video screens that form a horseshoe of light and sound, approximates the sensation of being a gnat trapped inside a Lite-Brite.
10:08 p.m.: "This is the place where we all share our dreams. A place to escape everyday life," a woman's disembodied voice intones during the opening ceremony at the massive Kinetic Field, whose entrance is guarded by a pair of three-story tall sentries with owl heads. Fountains and flames burst up from the stage, fireworks light up the sky. "Welcome to your future," the voice says. Spoiler alert: It's sweaty.
10:21 p.m.: Time to clamber aboard the Parliament Artcar, a roving party float hosted on this night by L.A.'s Brownies & Lemonade. Bodies are packed in mosh-pit tight, radiating heat like human charcoal briquettes next to a boogieing, boulder-sized animatronic owl. DJs Dr. Fresch and Trevor Bones guzzle Coors Light and conjure beats that make the floor hiccup fitfully beneath our feet. These are some of EDC's best moments, where the outsize gives way to the intimate.
10:33 p.m.: Beneath a large black tent pulses the Quantum Valley, a new stage this year. The focus here is trance music, melodic and immersive. John Askew is on the decks, his set propelled by darting synth lines and beats that thump as rapidly as your heart after running up a couple of dozen flights of stairs in disco boots.
11:45 p.m.: A sampling of the wares at the EDC vendor village: male onesies, LED shoes, short-shorts emblazoned with the slogan "You suck more than I do," colored contact lenses that make your eyeballs look like Lemon Drops. Yes, yes, yes and more yes.
1:39 a.m.: A massive swell of humanity turns into an impromptu aerobics class when Major Lazer enjoins the gigantic crowd at the CosmicMeadow to do jumping jacks in unison. The trio's raucous, eruptive sound occasionally borrows from dancehall and reggae, what with all the good vibes and playful toasting, but ramps up any leisurely paced rhythms as if they'd been fired through a particle accelerator. Their set is a full-on hit parade, remixing the likes of Twenty One Pilots, Yeah Yeah Yeahs and Drake into a puree of bass.
1:55 a.m.: Canyon-deep grooves are being cultivated at the NeonGarden. Nicole Moudaber and Chris Liebing provide a respite from the rapid-fire EDM that surrounds them on pretty much all sides by wringing the most out of the seismic rhythms they conjure, letting them sink into the bone, embellishing them with carefully placed stabs of melody, crafting a sound that engulfs rather than jolts.
2:43 a.m.: Complaints are lodged at the energy drink stand for failing to offer a Red Bull IV drip. Obvious oversight.
3:55 a.m.: You know that scene in "Happy Gilmore" where the titular man-child hits the batting cage and takes a couple of fastballs to the chest to prepare himself for the upcoming hockey season? This is what it's like watching the hockey-mask-clad Angerfist perform at the Wastelands stage: total dance music masochism. You don't bust moves here, you just vibrate in place like a glob of goo straddling an agitated fault line.
4:25 a.m.: Dozens are crashed out on the beanbags and oversized pillows in the Carnival Square. Dawn is starting to break. For the thousands still going strong, though, sleep and pants are one in the same: not an option.
5:14 a.m.: Daylight is upon us, and it's a bit disorienting, kind of like having the lights suddenly switched on by your parents at a teenage basement party. Plenty of awkward glances to go around. A massive bottleneck of humanity clogs a staircase leading to an exit on the venue's south side. One unlucky fellow is tasked with huffing home a huge duck-shaped life raft. Unluckier still is a woman throwing up into a cardboard box beneath the stairs. "Are y'all ready for tomorrow?" a beefy guy in a tank top yells way too loudly.
It's already here, man.
Contact Jason Bracelin at jbracelin@reviewjournal.com or 702-383-0476. Follow @JasonBracelin on Twitter.