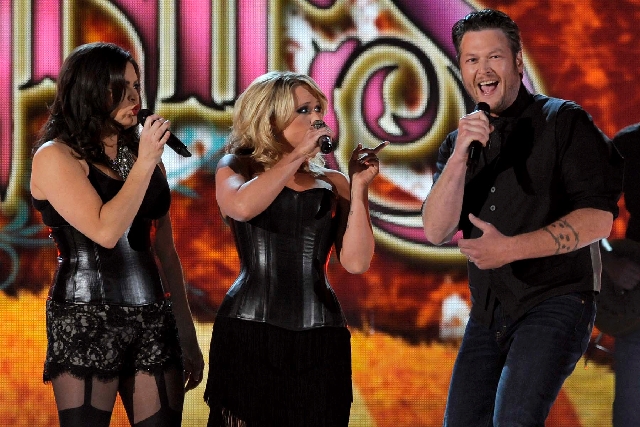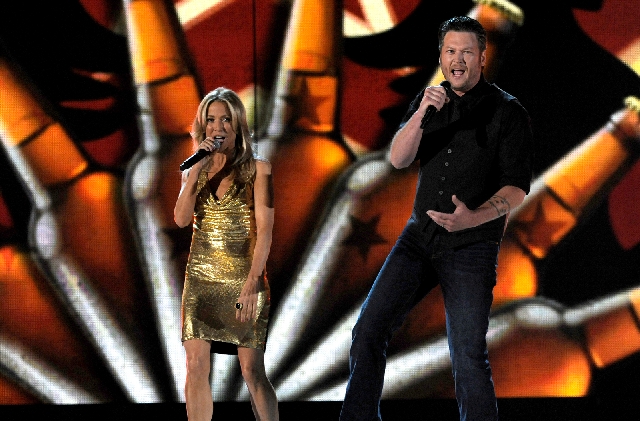 The evening began with a song about being country that didn't sound much like country – at least not the kind favored by the man being name-checked.
"Well the boys 'round here don't listen to The Beatles / Run ol' Bocephus through a jukebox needle / At a honky tonk, where their boots stomp," Blake Shelton sang on "Boys 'Round Here," referencing Hank Williams Jr. while dismissing the band that Ringo Starr made famous.
"Well the boys 'round here, they're keeping it country / Ain't a damn one know how to do the Dougie," the tune later went, practically hocking a loogie at the popular hip-hop dance move.
But here's the thing, the verses were delivered in a near-rap cadence, and certainly didn't seem like anything that would get one's Ariats a stompin' at the aforementioned honky tonks.
Truth be told, a growing number of Shelton's fans these days probably do know how to do the Dougie.
Shelton played "Boys 'Round Here" with Luke Bryan, his co-host of the 48th annual Academy of Country Music Awards, as well as Sheryl Crow, the Pistol Annies and Brad Paisley, who ripped a mean guitar solo while walking through the crowd toward the stage at the MGM Grand Garden on Sunday.
Their performance underscored the theme of the night, and of much of contemporary country music in general: cross-pollination, with other genres (hip-hop, rock, the Jimmy Buffett catalog) and demographics (the teen pop hordes, urbanites, Blue Staters).
This isn't entirely a new development.
Charlie Daniels' 1979 standard "Devil Went Down to Georgia" could be seen as an early variation of rap, Nashville has frequently embraced a more polished pop sheen for a while now and the music is as popular in big cities as it is in the small, rural towns constantly referenced in its songs.
Still, this year's ACMs felt like a moment of change for country, a clear effort to broaden its base.
This was reflected in both the ACM winners and performances.
Veterans like Kenny Chesney and Brad Paisley may have played, but they weren't among the evening's top trophy collectors.
Instead, it was the likes of Bryan, who took home the evening's top award for entertainer of the year even though he only recently became a concert headliner; Miranda Lambert, who was named female vocalist of the year and won for song of the year and single record of the year; and Jason Aldean, who was named male vocalist of the year and won for vocal event of the year. Other winners included Thompson Square (vocal duo of the year), Little Big Town (vocal group of the year) and Florida Georgia Line (new artist of the year), who, after accepting their award, noted that at this time last year, they were at home watching the ACMs, eating pizza.
Throughout the show, the mood was kept light by its hosts, who continually busted one another's chops like a couple of tipsy frat brothers.
Shelton is a laddish, caddish, blustery good ol' boy with impish charm; Bryan is affable and easygoing, with an aw-shucks, dude-next-door demeanor and a smile so white, it's as if a snowstorm had barreled up from his tonsils.
"Do not look at this performer's teeth without eye protection," Shelton joked of his co-host by way of introducing Bryan's rendition of his new single "Crash My Party."
Upon introducing a performance by his wife, Miranda Lambert, Shelton quipped: "The coolest thing is this morning, I saw her naked."
As one of the judges on the popular NBC talent show "The Voice," Shelton has become one of country's biggest crossover stars, and in this spirit, there were plenty of moments during this year's ACMs that pushed against any perceived boundaries of the genre.
Popster Kelly Clarkson performed her breezy "Don't Rush," originally recorded with Vince Gill; Jewel played the hopeful "Hands" from the Orleans Arena, where a slew of acts also played for the ACM broadcast; Brad Paisley traded licks with John Mayer, who also sang a verse, on Paisley's "Beat This Summer."
Paisley and Mayer were introduced by rapper LL Cool J, who guests on Paisley's new record, while NFLer Colin Kaepernick and various sitcom stars from shows such as "The Big Bang Theory" and "Two Broke Girls" served as presenters.
Aside from all the fresh faces and outliers, there was room made for Music City's older guard, as well.
The venerable George Strait, looking regal in a black cowboy hat and matching sport coat, performed a wistful ballad "Give It All We Got Tonight" before returning to duet with Garth Brooks on "The Cowboy Rides Away" during a tribute to Dick Clark, who passed away last April.
Elsewhere, Tim McGraw sang the yearning ballad "Highway Don't Care" with Taylor Swift and Keith Urban on guitar, and John Fogerty made an appearance as a presenter.
Other throwback moments didn't look too far to years past.
Jason Aldean paid tribute to "1994" in the song of the same name, saluting Joe Diffie on its chorus as dancers in snug jean shorts undulated in the background.
Aldean ushered in a welcome burst of energy by some of Nashville's next-gen stars.
The Band Perry, all pumping fists and leg kicks, came with more flying limbs than a kung fu flick during a raucous "Done" as sparks rained down from the rafters.
Similarly spirited was Miranda Lambert literally growling through the bad girl cabaret of "Mama's Broken Heart," spinning herself in circles in a sparkly form-fitting dress.
"My mama came from a softer generation / Where you get a grip and bite your lip just to save a little face," she sang, choosing the opposite tack in getting revenge on a no-good ex.
Speaking of blondes with comeuppance in mind, Carrie Underwood performed her current hit "Two Black Cadillacs," another song about a loathsome cheater, after stepping from one of the song's namesake vehicles, dressed in black with bright red lipstick, looking like a femme fatale from a Humphrey Bogart flick.
Album of the year winner Eric Church sang his spare, tender ballad "Like Jesus Does" with his eyes closed, turning in one of the night's most stirring performances.
In the pressroom after his victory, Church spoke of his success both within country music circles and outside them.
"I think genres are gone in music," he noted. "There are no more genres."
Echoing this sentiment was a duet between baby-faced 21-year-old Hunter Hayes and R&B great Stevie Wonder for a spirited take on Wonder's "Sir Duke," complete with punchy horn section.
The song's message is a simple, timeworn one: music is a universal language.
And for a night, at least, everyone strove to demonstrate that they could speak in the same tongue.
Contact reporter Jason Bracelin at
jbracelin@reviewjournal.com or 702-383-0476.
AWARD WINNERS
Winners at the 48th Annual Academy of Country Music Awards at the MGM Grand on Sunday night:
Entertainer of the year: Luke Bryan
Male vocalist: Jason Aldean
Female vocalist: Miranda Lambert
Vocal group: Little Big Town
Vocal duo: Thompson Square
New artist: Florida Georgia Line
Album of the year: "Chief," Eric Church
Single record of the year: "Over You," Miranda Lambert
Song of the year: "Over you," Miranda Lambert, Blake Shelton
Video of the year: "Tornado," Little Big Town
Vocal event of the year: "The Only Way I Know," Eric Church, Luke Bryan and Jason Aldean