Celine Dion performs in local benefit show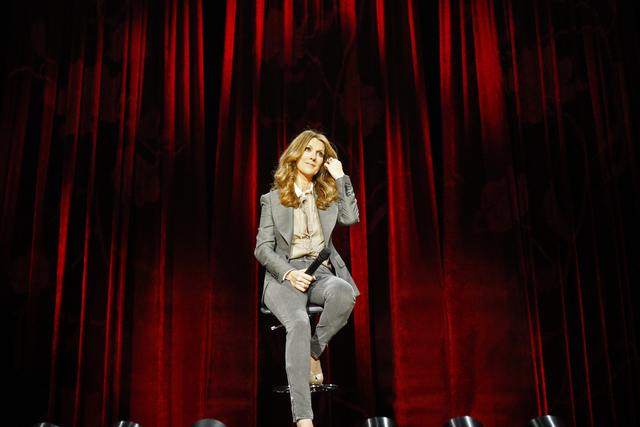 With all that's going on in Celine Dion's world, no one would have questioned her decision to bow out of the Keep Memory Alive "Power of Love" gala.
Larry Ruvo, the man behind what has become the biggest entertainment benefit in town, never doubted that Dion would make it.
"Celine is so much of a professional that if it did look iffy, she would never let anybody know," he said hours before the show on the red carpet.
During Saturday's rehearsal with Andrea Bocelli for their emotional duet, "The Prayer," it appeared that many in the MGM Grand Garden were aware of Dion's situation.
In March, she went public with the news that her husband and longtime manager, Rene Angelil, needed a feeding tube because of his throat cancer.
"A lot of people were crying," said Ruvo, when Dion and Bocelli rehearsed for the finale.
"I went through several tissues," Ruvo said.
"She says I'll be there and she was there. There was never an iffy moment. She's a consummate professional, and we're blessed to have her," Ruvo said.
Bocelli, during his red carpet appearance, described Dion as "a great perfectionist."
The duet, promised his wife, Veronica, "will be the funnest moment."
With my red carpet time running out, I got off one more question: What would qualify as his "funnest moment" in Las Vegas?
"Probably when I boxed with the world champion kickboxer," he said.
What?
"He won, too," his wife said proudly, as they walked away, leaving the story for another day.
Bocelli, who was born with poor eyesight, has been blind since 12 after being struck in the face while playing goalkeeper. He suffered a brain hemorrhage and never regained his vision.
The duet, by the way, was far beyond a "funnest moment." Many will rank it as one of the most memorable duets performed on Las Vegas Boulevard.
By the way, Dion returns to the Colosseum at Caesars Palace on Aug. 27 for the start a 40-performance engagement that runs through Jan. 17.
RANDOM ACTS OF KINDNESS
During a trip to Denver last week, I returned to a place near and dear to my heart.
Coors Field, home of the Colorado Rockies, is celebrating its 20th anniversary. Among the great joys in my career was covering the birth of the Rockies and the stadium.
When our foursome arrived at our seats Tuesday, we realized we were missing our host, David McReynolds.
Ten minutes later, he arrived with a story about "one of the classiest things I've seen in baseball."
On his way through a passage under Coors Field, McReynolds and other fans were held up as the umpiring crew exited their dressing room on their way to the field.
Umpire Tim Timmons suddenly stopped in front of a kid about 10 years old, who was among the group waiting to go to their seats.
Timmons reached in his pocket, pulled out a baseball, handed it to the boy and said, "Don't ever yell at an umpire, young man." Another umpire reached out and fist-bumped the boy.
And on the subject of people who take the time to perform a random act of kindness, I encountered one upon my return to McCarran International Airport.
I was at the valet window Friday night, picking up my car, when the attendant said, "That will be $93."
When I reached in my pocket for a credit card, it was missing. Did I have a driver's license? No, that was also missing, apparently left back in Denver in one of those white bowls that go through the TSA X-ray machines.
All I had was less than $50 to reclaim my car.
Someone behind me said, "I'll take care of his."
The man helping a stranger was Dr. Norton Roitman, a Las Vegas psychiatrist. His check is in the mail, accompanied by my eternal gratitude.
THE SCENE AND HEARD
Bernie Yuman's seven-year project is coming to fruition. He has been working as an executive co-producer of "On Your Feet!" the Broadway-bound musical about the life story of Gloria Estefan and her husband, Emilio Estefan. The show is running until July 5 at Chicago's Oriental Theatre. The Estefans attended the "Power of Love," which benefits the Cleveland Clinic Lou Ruvo Center for Brain Health. Gloria Estefan performed "Coming Out of the Dark" and added a duet with country star Martina McBride. They performed "In My Daughter's Eyes."
SIGHTINGS
George Clooney, dining at The Light Group's newly opened Hearthstone Kitchen at Red Rock Resort with business partner Rande Gerber and Stations Casino executive Frank Fertitta III, who co-owns Red Rock. … At the one-year anniversary of Drai's Beachclub (Cromwell) on Saturday: music legend Quincy Jones, Lamar Odom, Shaun Phillips, Phil Loadholt of the Minnesota Vikings and Quincy Pondexter of the New Orleans Pelicans. … Actor Channing Tatum, who starred as a male stripper in "Magic Mike," goaded into busting a move at "Absinthe" (Caesars Palace) on Thursday by the emcee, according to TMZ.com.
THE PUNCH LINE
"There's no better proof that our country is back than they're jamming hot dogs into the crust of pizza. That's a sign that we as a country cannot be defeated." — Conan O'Brien, on Pizza Hut's announcement it will be unveiling crust stuffed with hot dogs.
Norm Clarke's column appears Sunday, Monday, Wednesday and Friday. Reach him at 702-383-0244 or norm@reviewjournal.com. Find more at www.normclarke.com. Follow @Norm_Clarke on Twitter. He also appears on KTNV-Channel 13's "Morning Blend" on Thursdays.