Clinton plans to share more than a sample with hip-hop fans at Funk-A-Palooza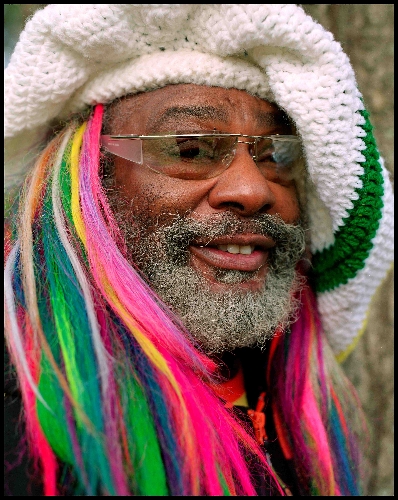 When George Clinton takes the Planet Hollywood Theatre stage on Saturday with his longtime funk collective, Parliament-Funkadelic, communication is not likely to be a problem. His music — a barrage of syncopated jazz chords delivered with rock 'n' roll aggression — ignores all barriers of language, culture and genre to link with the deepest synapses of the subconscious mind.
However, phoning the Review-Journal from a Houston recording studio last week, the 1997 Rock and Roll Hall of Fame inductee was only occasionally comprehensible.
"Zabba dabba dabba," Clinton said through a graveled-up larynx. "Dabba dabba zabba."
When asked to repeat himself, Clinton did: "Zabba dabba dabba."
Two days later, Clinton was on the phone again, explaining that his voice was shredded because of "singing and screaming and, you know."
We didn't. But Clinton is recording an album of Motown oldies performed by his collective, Parliament-Funkadelic, along with guest singers. And he still gives everything he has to every situation.
"Also, I'm 70 years old," he said, "so that might just be my natural voice now."
Parliament-Funkadelic (P-Funk for short) hit the R&B Top Ten 13 times between 1967 and 1983, and wowed live audiences with spectacle. Its marathon shows featured colorful costumes and climaxed with the descent of a model spacecraft, "the Mother Ship," from the rafters.
"But what I'm doing now is not nostalgia," Clinton said of the Funk-A-Palooza tour, headlined by P-Funk over fellow funk veterans Cameo, Zapp, Con-Funk-Shun and the Mary Jane Girls.
While Clinton said there are " '70s funky, funky things going on," he described it more as an "informative" experience catering to fans raised on the many hip-hop songs that have sampled P-Funk over the decades.
"They go, 'Oh, that's where that comes from,' " he said. "Funk is forever growing. It's not old or anything."
Clinton began his career in the '50s, leading New Jersey doo-wop group the Parliaments. As music currents shifted, so did the group's sound. By the '70s, Parliament was one of two groove-heavy bands Clinton found himself fronting (Funkadelic being the other).
Although he is considered a co-founder of what's now called funk ­– along with Sly Stone and James Brown — Clinton doesn't consider himself that.
"I don't think none of us invented it," he said. "It's been around since Muddy Waters. I mean, it's been around since the beginning of time."
Speaking of time, Clinton doesn't heed it. He pledges to continue — whether or not his voice is ready to follow.
"I'll just keep going," he said. "I'm never stopping."
The Mother Ship may even be back. The original is in Clinton's home studio in Tallahassee, Fla., being prepped for donation to the Smithsonian. But a new one is coming.
"It's a probability that it's gonna happen real soon," he said, although not soon enough for Saturday's show.
Clinton added: "Zabba dabba dabba."
Contact reporter Corey Levitan at clevitan@review journal.com or 702-383-0456.
Preview
What: Funk-A-Palooza featuring George Clinton and Parliament-Funkadelic with special guests
When: 8 p.m. Saturday
Where: Planet Hollywood Theatre for the Performing Arts, 3667 Las Vegas Blvd. South
Tickets: $39-$99 (800-745-3000)