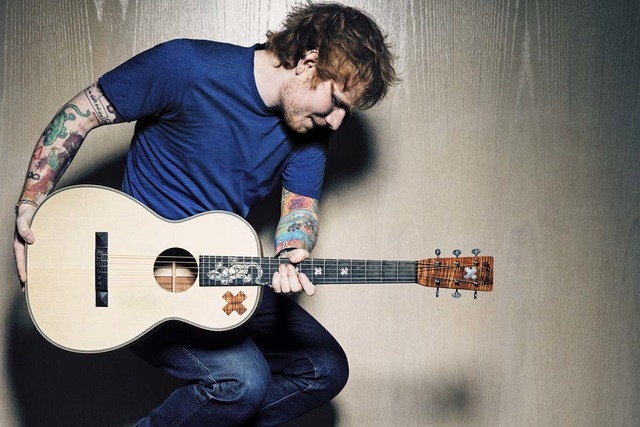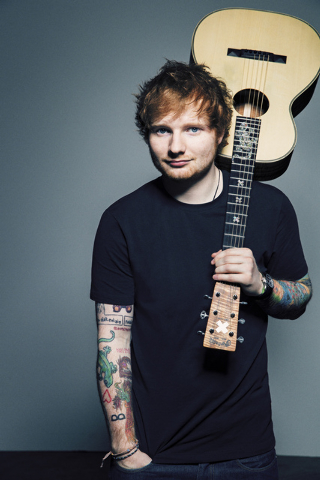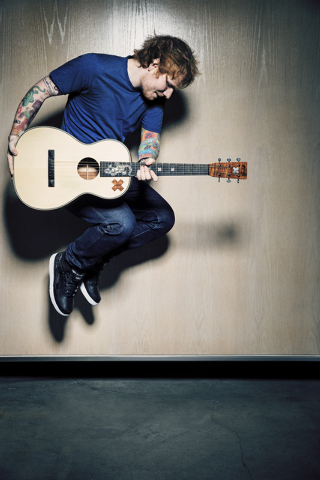 Ed Sheeran's singing of stumbling home drunk in the kind of voice that can make a woman's heart melt like a Hershey bar in the burning depths of hell.
"Just promise me, you'll always be a friend," he tells the object of his affection, his vocals as warm and inviting as a sweater made of kittens. " 'Cause you are the only one."
The song in question is "The One," the lead track of Sheeran's latest record, "X" (pronounced "multiply"), where he sings of coming to his senses while his senses are numbed by alcohol, hurling his heart at a woman who has swatted it away in the past like a tennis pro returning serve.
It's the kind of tender-as-a-fresh-bruise balladry that makes your girlfriend realize what a jerk you are by comparison.
This is what Sheeran does, throw off the curve for every other dude.
And it's made him a star.
The 23-year-old British singer-songwriter now sells out arenas with his confessional, torn-from-the-pages-of-his-diary lyrics and alternately pleading and impassioned singing voice.
It's not all sad bastard fare, though: There's dance-floor-friendly pop, bawdy R&B and hot-under-the-collar hip-hop flourishes on "X," and Sheeran has collaborated with rap prime movers like Pharrell Williams and Rick Ross in the past.
"X" is Sheeran's sophomore record after his 2011 full-length debut "+," which hit No. 1 in his native England on the strength of hit singles "The A Team" and "You Need Me, I Don't Need You."
Following the success of "+," Sheeran would pen hits for Taylor Swift and One Direction, as his own star continued to rise.
To wit, when "X" was released in June, it topped the charts in 12 countries, including the United States.
It's a relaxed, confident-sounding album.
"What I really wanted to do with this record was take the pressure off of myself," Sheeran explains from a tour stop in Seattle. "The second album is always the make or break (record). I just wanted to make an album that was full of good songs and it didn't really matter what the sound of it was."
Nevertheless, that sound was fine-tuned by uberproducer Rick Rubin, who has overseen hit albums by artists ranging from Johnny Cash to Metallica.
"It's based around different ideas of what he thinks that you can do rather than what you think you can do," Sheeran says. "I find that when someone else has ideas for you that they're always a bit more out of the box than the ideas that you could have.
"To a point with this album, I definitely think I spread my wings a bit more," he continues. "But when I first went in with Pharrell, for instance, he had all these ideas and I was very scared of doing them. So I think I had to get over that hill."
And then there's the challenge of singing deeply personal songs to huge crowds of strangers.
To hear Sheeran tell it, though, this isn't much of a challenge at all.
"I feel like the most personal songs are written towards the beginning of the album process, so by the time I was releasing the album, they had kind of been dulled anyways. I had listened to them so many times," he says. "With songs, they're deep and personal and belong to me up until the point that I release them, and then as soon as they get released, they belong to everyone else. They belong to specific people and their specific memories and therefore it kind of takes the deepness away from it."
Although he's only in his early 20s, Sheeran is already a music business veteran, having released his first EP nearly a decade ago.
He always knew he'd be making music, he says. He just never knew he'd make any money in the process.
"There's a difference between wanting to do it and actually doing it," he says. "It was always my dream to do it, but I didn't know that I'd be able to make a living out of it.
"That's where the surprise and happiness comes from, because I would be doing this even if I wasn't being paid. It's nice that it's now my job."
Contact reporter Jason Bracelin at jbracelin@reviewjournal.com or 702-383-0476. Follow on Twitter @JasonBracelin.
Preview
Ed Sheeran
8 p.m. Friday-Saturday
The Chelsea at The Cosmopolitan of Las Vegas, 3708 Las Vegas Blvd. South
$35-$75 (800-745-3000)