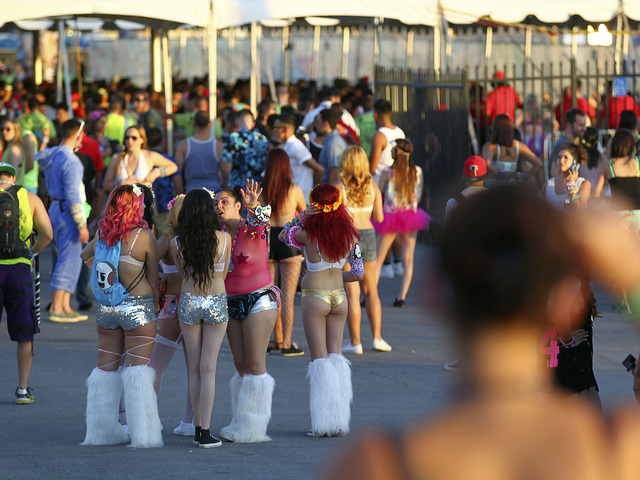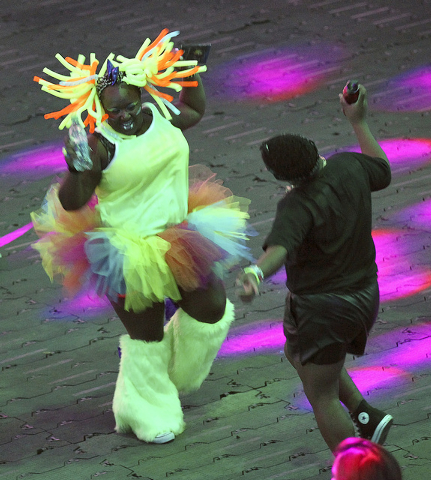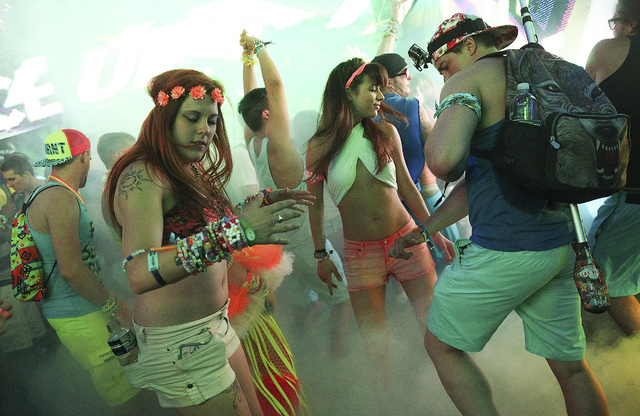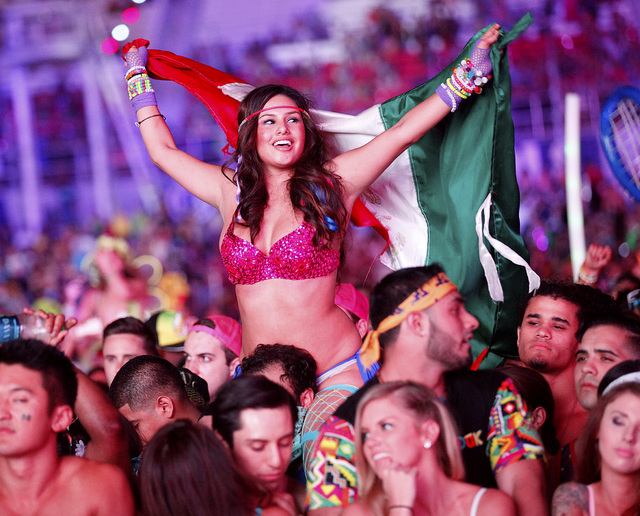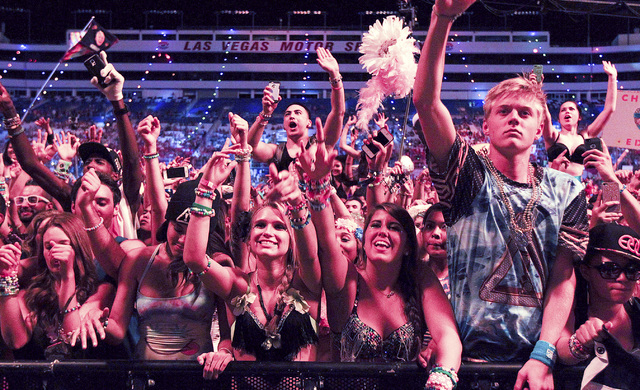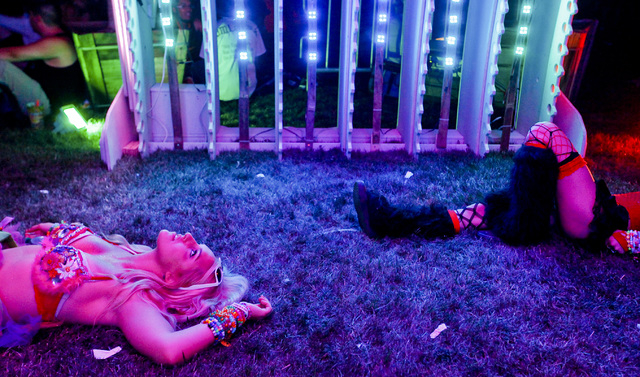 The sound roaring from the stage like a storm front of bass was pretty much indivisible from the scream-inducing drop tower nearby.
The former was there to provide an adrenaline kick to a bunch of giddy revellers aglow in neon sunglasses, headbands and shorts.
The latter was there to provide an adrenaline kick to a bunch of giddy revellers aglow in neon sunglasses, headbands and shorts.
So, where did the amusement rides end and the music begin at the Electric Daisy Carnival?
That they were largely one in the same says plenty about the appeal of both.
This was entertainment without subtext, fun on a purely physical level, set in an adult playground where grown-ups act like kids, skipping merrily from one stage to next, many of them costumed as superheroes and cartoon characters — superheroes and cartoon characters on vacation, at an open bar, wielding inflatable novelties shaped like male genitalia.
Friday marked the opening night of EDC's fourth year in Vegas and its popularity has grown right along with its outsize production values, evidenced by even longer waits in traffic to get into the Las Vegas Motor Speedway and the jam-packed festival grounds, where 140,000 fans a night will continue to flood through Sunday.
This year, the fantasia is more eye-popping than ever: the main stage, dubbed the kineticField, is made up to look like a massive cathedral, bookended by a pair of gigantic owls with wings spread, water jets and towering candelabra; the bassCon stage is shaped like a huge one-eyed ghoul, flanked by stacks of graffitti-covered box cars and junkyard autos; at the bassPod, the flame-belching pillars that ring the stage grounds emit fire of such frequency and intensity, watching the performers there is akin to being a log in a roaring campfire.
With eight stages spread out over the sprawling race-track midway, there was a place for just about every one of electronic dance music's many permutations.
For EDM pugilists, there was the bassCon and bassPod stages.
The former focused on hardstyle and dubstep acts embodied by the likes of Dutch duo LNY TNZ (pronounced "Loony Tunes"), who turned a sing-song confection like Icona Pop's "I Love It" into a full contact experience, like getting bludgeoned with a lollipop.
Similary hard-hitting were the jungle, drum 'n bass and other bass fetishizing artists who dominated the bassPod.
"Who wants chaos out there?" Austria's Camo & Krooked asked during their performance there, where they paired skittering, darting beats with reggae-style toasting delivered at a similarly breathless pace.
More populist sounds were found elsewhere.
At the cosmicMeadow, Diplo drew one of the largest crowds the stage has seen with his hip-hop heavy set, where he contrasted genre classics like DJ Kool's "Let Me Clear Me Throat" with more contemporary fare like the aptly titled "Earthquake," his collaboration with DJ Fresh, where he ramped up the song's already seismic bass levels.
At the circuitGrounds, a womb of light and sound where visuals squirm across a canopy above the crowd, Dutch DJ-producer Afrojack underscored EDM's current crossover appeal, playing the Wiz Khalifa-abetted "Too Wild" and his dance pop hit "Take Control" early before delving into less straighforwad, vocal-centric sounds.
Simultaneously, at the kineticField, another one of EDM's artists-of-the-moment, 26-year-old Dutch DJ Hardwell, came with anthemic stadium house powered by perpetually cresting synth lines and simple melodies as he turned Fatboy Slim staples and other familiar favorites into an extended aerobics routine.
Some of the best sets on Friday, though, came from artists who took their time building a groove and then let explored its nuances, guys like Dubfire (Ali Shirazinia, also of Deep Dish) and especially British house pioneer Carl Cox.
It's no coincidence that both are scene vets, Shirazinia is 43, Cox is 51, and that they began their careers at a time when dance music artists weren't as focused on crafting pop hits.
It's also no coincidence that they both drew far smaller crowds than guys like Afrojack and Hardwell.
After all, EDM is posited on immediacy, instant gratification, which has some wondering if the music will eventually burn itself out, especially as its current influx of young fans grows older.
Even some of its biggest artists, most recently and most vocally Toronto DJ-producer Deadmaus, have suggested as much.
But don't look for the EDM bubble to burst just yet.
Sure, every generation gives way to the next — and so will this one, soon enough.
But they all love a good carnival, whether it's populated by DJs or Ferris Wheels or both, as the case may be.
Contact reporter Jason Bracelin at jbracelin@reviewjournal.com or 702-383-0476. Follow on Twitter @JasonBracelin.