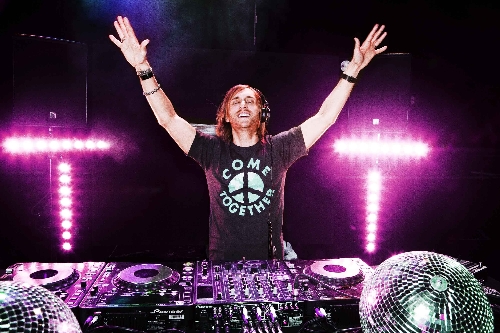 He describes his approach to the event in terms best suited for a comic book word balloon.
"People are just there to be … pow! Hit 'em in the face," says DJ/producer Axwell (Axel Hedfors), of the three-man Swedish House Mafia. "We keep it pretty bang on."
At 1:30 a.m. Monday, Axwell and his groupmates Steve Angello and Sebastian Ingrosso will swing hard with billy-clubbing beats as the headliners of the final night of the Electric Daisy Carnival, a weekend-long marathon of various strains of electronic music that begins today at the Las Vegas Speedway.
It's the largest event of its kind in the country, expected to draw well over 100,000 revellers a day for shows that begin at dusk (8 p.m.) end at dawn (6 a.m.).
The festival will feature more than 200 performers, encompassing trance superstars (Paul Oakenfold, Tiesto), Detroit techno pioneers (Richie Hawtin), dubstep fire starters (L.A. Riots, Skrillex) old school drum 'n' bass favorites (Roni Size, LTJ Bukem), ambient pop day dreamers (Royksopp) and much more, spread out over six stages. (See insomniac.com for the full lineup.)
Aerialists, stilt walkers, carnival rides, fireworks displays and various art installation pieces will complete the larger-than-life vibe that will engulf the 1,000 acre complex.
The Swedish House Mafia performed at the event in L.A. last year, and as Hedfors recalls that day, he sounds almost awestruck.
"I think it was one of the top three memorable gigs ever for us because it was so damn big," he says. "I've never seen so many people in one place at one time. It was just really amazing. It doesn't compare to anything else."
Adds Saturday night headliner David Guetta: "It's one of the biggest events in the world and one of the best. Every time I've played that event it's been an amazing time. I'm really, really excited to do it again."
Their headlining status isn't the only thing that Guetta and the Swedish House Mafia have in common, as they're also both playing significant roles in the mainstreaming of dance music culture in the United States.
Recently, the Swedish House Mafia remixed Coldplay's latest single, "Every Teardrop is a Waterfall," which Hedfors says they'll perform this weekend, and their relentlessly high energy mixes, as exemplified by last year's "Until One," register as a heart-popping adrenaline rush of massive synth lines and arms-in-the-air boosterism.
For his part, Guetta has been instrumental in taking the music to new commercial heights by working with pop prime movers like the Black Eyed Peas, Rihanna, Madonna and many more, as he's infiltrated the U.S. airwaves like few artists of his ilk have ever done before.
Compared to the scene abroad, the dance music community here has long lagged behind its European counterparts.
But, as Guetta notes, that's beginning to change.
"When I released my album 'One Love,' my record company told me, 'You shouldn't expect to sell as many records in the U.S. as you do in Europe, because there's no culture here,' " he says. "And then I invited them to (the Electric Daisy Carnival in 2009). I said, 'You don't even know what's going on in your own country.' There was like 120,000 people in the stadium.
"Everybody in the community is so excited about America," he continues. "It's becoming one of the biggest markets for us, and it's a new market, which makes it even more exciting."
Central to this growth has been Las Vegas, which has become the capital of dance music in the States with its high-watt nightlife and residencies from the world's top DJs.
With the Electric Daisy Carnival coming to town, this coronation is complete.
"It's gonna be a crazy spectacle, and what better place to do a crazy spectacle than Las Vegas?" Hedfors says. "When I heard that they were doing it in Las Vegas, I was like, 'Of course.' "
Contact reporter Jason Bracelin at jbracelin@ reviewjournal.com or 702-383-0476.
Electric Daisy Carnival
Preview
8 p.m.-6 a.m. today through Sunday
Las Vegas Motor Speedway, 7000 Las Vegas Blvd. North
General admission tickets are sold out; VIP tickets available starting at $200 (855-235-2867)
electricdaisycarnival.com