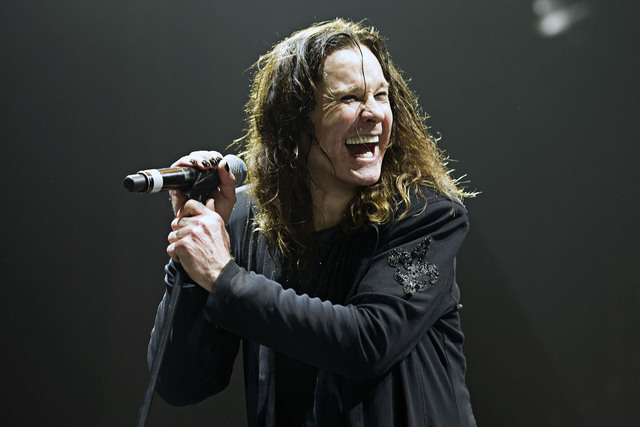 The 67-year-old in black, flailing his arms like a man attempting to keep himself afloat in a sea of distortion, posed the same question he has been for the last 4½ decades now.
This time, though, he finally had his answer.
"Is it the end, my friend?" Ozzy Osbourne asked, his words delivered tremulously, the same as usual, but freighted with entirely different implications.
Yes, this was "The End," the farewell tour from the band that sired heavy metal 46 years ago with songs about Lucifer and love, dope and war, fairies and their footwear.
At roughly a quarter to 9 on Saturday night at the MGM Grand Garden, Satan came around the bend one last time in a show-opening "Black Sabbath," his gait a deliberate one, if his footsteps were measured by guitarist Tony Iommi's lumbering, lugubrious riffing, each chord change resonating like the rock 'n' roll equivalent of tectonic plates colliding.
Heavy metal ripened into adulthood long ago, but if you traced its growth back to when it was still gestating in the womb, Iommi's guitar playing, perhaps the genre's signature, most definitive sound, could be seen as the zygote from which pretty much everything developed, including Black Sabbath.
Prior to the emergence of these British metal forebears in the early '70s, hard rock had plenty of powerhouse vocalists capable of upper register acrobatics and smash-mouth drummers who attacked their instrument as if it had insulted a loved one — two signatures of heavy music.
But what it didn't have was anyone who played quite like Iommi. Some of this was due to circumstance: As a teenager, Iommi lost the tips of two of his fingers on his fretting hand in an accident at the factory he worked at, leading him to create homemade thimbles to replace the tops of his severed digits. Because this made it hard for him to bend the guitar strings, he both tuned down, to create slack in the strings, and focused on playing chords rather than individual notes.
What resulted was a dense, ponderous, supremely weighty sound far heavier than hard rock.
This was heavy metal.
All these years later, seeing Iommi and Sabbath perform live remains an act of communion for metal fans, festive and familial, kind of like a birthday party for the sound in question, albeit with booze in place of balloon animals.
On Saturday, the near-capacity crowd chanted and cheered with the rowdy bluster of 10,000 or so well-lubed soccer hooligans throughout Sabbath's 14-song, roughly 90-minute set.
"Low-dah!" Osbourne bellowed between nearly every song, goading the audience on further still. "It's fun being crazy."
This is the thing with Sabbath: Despite the apocalyptic bent of plenty of their material, it is fun, consistently life-affirming and frequently utopian.
On crushing dirge "Into the Void," Osbourne sang of fleeing a war-torn Earth, escaping into outer space in search of a place to "Make a home where love is there to stay / Peace and happiness in every day." During the headlong rush of musical steamroller "Children of the Grave," which addresses the anxieties of living in the nuclear age, the band encouraged listeners to "Show the world that love is still alive."
Even the funereal trudge of "War of Pigs," a song that fills the mind's eye with images of bodies burning, resulted in a spirited sing-along where the crowd drowned out the band at times.
Sabbath's tunes have always had a palpably physical dimension to them, and in a live setting, this becomes even more pronounced, with bassist Geezer Butler's assertive playing providing the band's catalog much of its forward momentum. Then there's drummer Tommy Clufetos, substituting for original Sabbath drummer Bill Ward, who split from the group acrimoniously. Clufetos is a human jackhammer, arms and legs pistoning behind his kit with pneumatic force, as if he was powered by an air compressor instead of a beating heart.
Despite the festive feel of much of the evening, the fact that this was the final time that many in the crowd would be seeing Sabbath did hang in the air a bit, adding a bittersweet dimension to it all.
"This is the last run for us," Osbourne announced prior to "After Forever," one of the more buoyant songs in Sabbath's repertoire. It was a poignant tune for the occasion, a song about finding a measure of salvation before one's time here is up.
"Well, I've seen the truth, yes, I've seen the light, and I've changed my ways," Osbourne sang. "And I'll be prepared when you're lonely and scared at the end of our days."
Throughout the show, lysergic visuals were displayed on the large screen behind the stage, depicting the band members appearing to disintegrate as they played, each eventually reduced to vapor trails.
It was a trippy effect: Black Sabbath was disappearing before our eyes.
But even as they did so, their songs continued to ring out as powerfully as ever, undiminished by time.
The point they were making was clear: This may have been "The End" of Black Sabbath, but not the music itself.
Never that.
Read more from Jason Bracelin at reviewjournal.com. Contact him at jbracelin@reviewjournal.com and follow @JasonBracelin on Twitter.
Review
Who: Black Sabbath
When: Saturday
Where: MGM Grand Garden
Grade: A
RELATED
Metal pioneers Black Sabbath set to bid farewell to Las Vegas