Former Las Vegas staple Starboard Tack becoming best 'new' bar
February 8, 2018 - 12:54 pm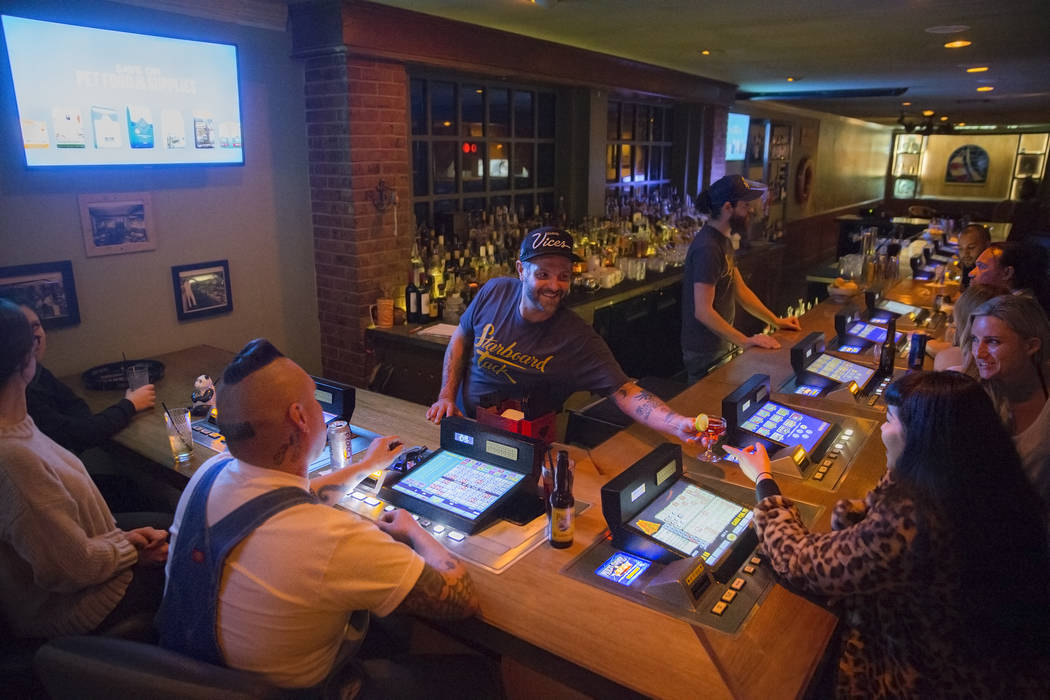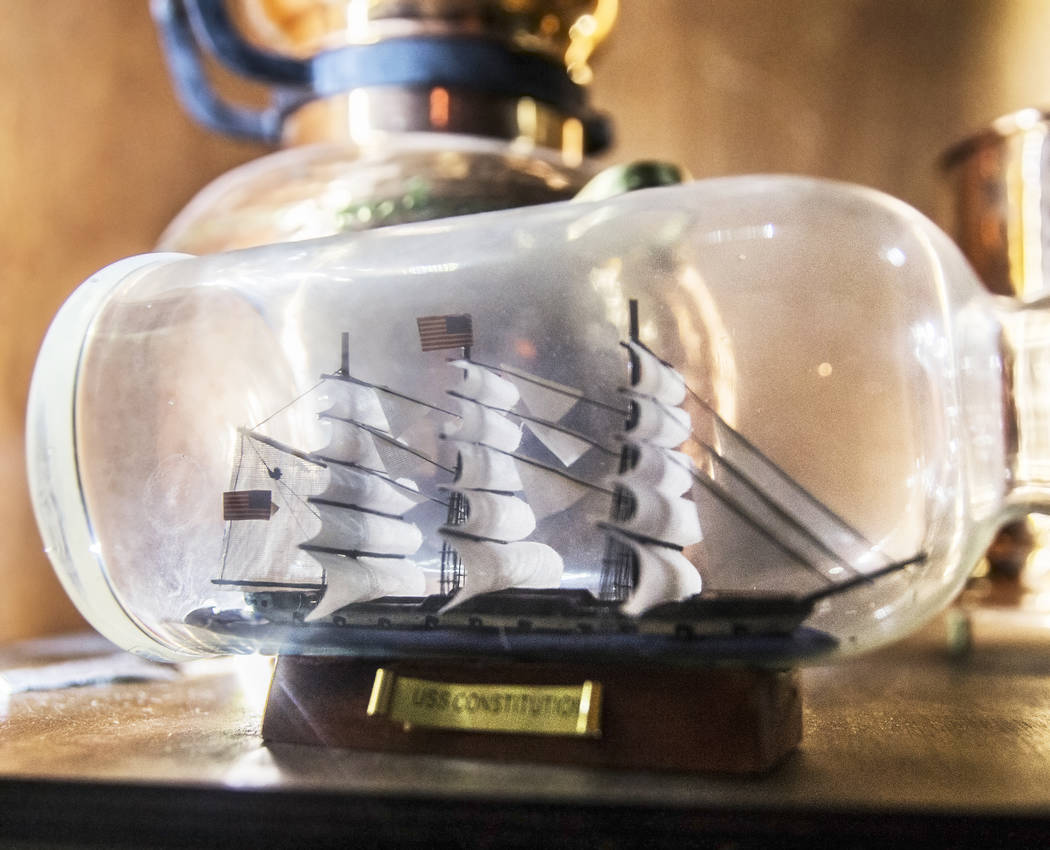 When he leaves the carpet, beer leaves pint glasses.
It's a Tuesday night at Starboard Tack, and in this nautical-themed drinkery where Tom Jones had a private booth back in the day, the Plastic Brains are getting loose.
Eyes shut, throat open — wide open — their frontman lunges toward the crowd before him and then retreats, over and over, like waves of adrenaline and anxiety washing ashore in this boozy marine-land of stained-glass sailboats, rum casks and ships-in-a-bottle.
The sound ravaging the P.A. suits the surroundings: It's a surf-rock-indebted nerve-jangler with heavily processed, paranoiac vocals suggestive of the chaos that might ensue if Butthole Surfers lead weirdo Gibby Haynes fronted the Ventures.
Or something like that.
As the band's set progresses, the singer presses into the crowd more and more.
There's no stage here, so the audience begins to double as bumpers for the human pinball careening into them.
Hence, the spilled brews.
The return of a Vegas staple
It's a symbiotic scene, an up-and-coming band commanding an up-and-coming spot — OK, so it's kind of odd to refer to Starboard Tack as up-and-coming.
The place, at 2601 Atlantic St., originally opened in 1971 as a combination of upscale supper club and late-night hang for a who's who of Vegas entertainers, from Sinatra to Jones to just about any other headliner in town.
"Now it seems very commonplace that there's 24-hour restaurants and places to drink, but in the '70s, this was one of the only ones. That's why everyone would come out here," says Starboard Tack co-owner Bryant Jane, who runs the place with partner Lyle Cervenka, both having previously helmed downtown bar Retroscena in the back of Radio City Pizza. "Anyone who performed on the Strip would come out here."
In '77, Starboard Tack became Port Tack. While the name changed, the place remained popular with celebrities such as Jackie Gleason, Mike Tyson, Eddie Murphy and scads more.
Eventually, the stars dimmed, though, as joints offering a Budweiser and a bite at 3 a.m. became more commonplace.
More recently, the room housed divey poker bar Gilligan's Hideaway for 17 years before Jane and Cervenka got the keys to the place in October 2016.
Jane, a Vegas native, remembered hearing stories of the Starboard Tack's freewheeling past — his uncle is featured in an old framed photo of some Starboard Tack revelers that hangs next to the bar — and so he and Cervenka convinced the building's owners to let them bring the Starboard Tack name back to life, relaunching the bar last spring.
Together, they sought to bring back the original spirit of the Starboard Tack by keeping some of its touchstones intact — the inviting fireplace in the main bar area, the sturdy wooden ship deck tables in the dining room, the 24-hour kitchen, the massive rum selection (the largest in the state, according to Jane).
But there have been updates as well, particularly with the cocktail offerings. Jane and Cervenka are veteran mixologists who still man the bar (in the past year, Jane says he's taken but six days off: three when Cervenka got married and three when his mother passed). Their drink menu is deep and unique, with colorful and colorfully named sips such as Gunpowder Swizzle, Ting N' Sting, Hong Kong Yacht Club and Chi Chi served in panda mugs.
An eclectic crowd
And then there's the music.
In July, local indie rock staple Bad Moon Booking began hosting shows here.
"It's kind of a serendipitous relationship in that we actually love being here," says Bad Moon Booking head Tsvetelina Stefanova, who also sings and plays keys in Boulder City's Same Sex Mary. "We'll even come here late at night when we're done with other shows or events we were at. As a promoter, it helps to be able to really believe in the place that you're telling people to go to. We haven't had a bad show here."
Tuesday night underscored her words.
The room was full, the crowd eclectic and engaged.
Starboard Tack draws a mix of older regulars who live nearby, an abundance of industry workers who stop by after their shifts end and plenty of the downtown crowd who hit the place for a nightcap after popular spots such as Atomic Liquors and the Velveteen Rabbit close.
"Our main goal is to be a neighborhood spot over a destination kind of spot," Jane explains. "A lot of our stuff has a living-room kind of feel to it. We wanted to bring back some of the old glory."
Contact Jason Bracelin at jbracelin@reviewjournal.com or 702-383-0476. Follow @JasonBracelin on Twitter.