Looking back on 2014 music moments
December 28, 2014 - 12:44 am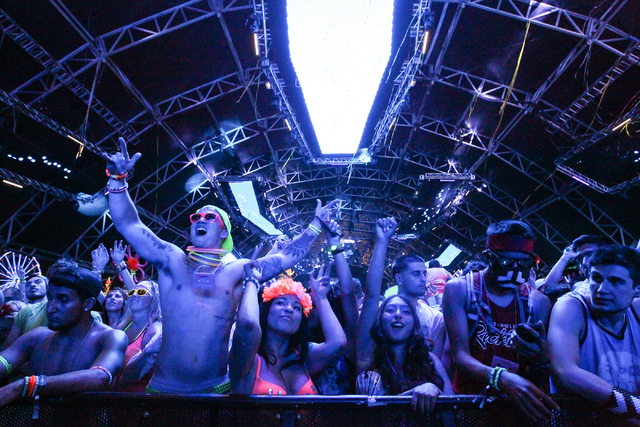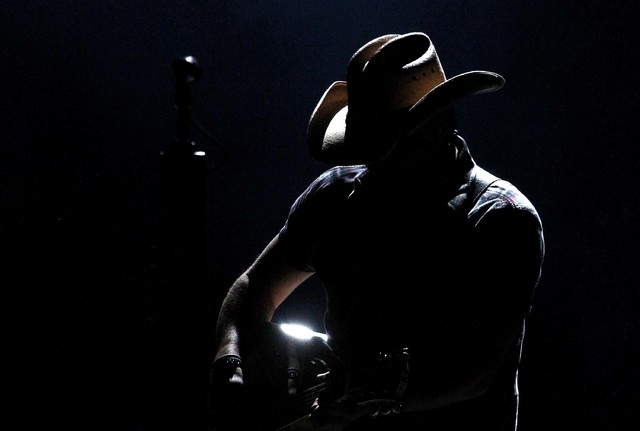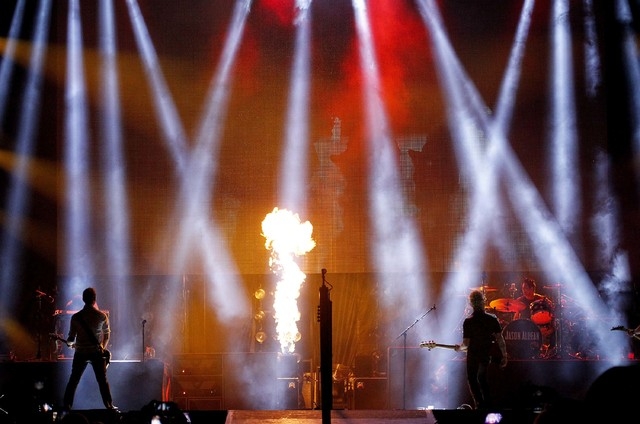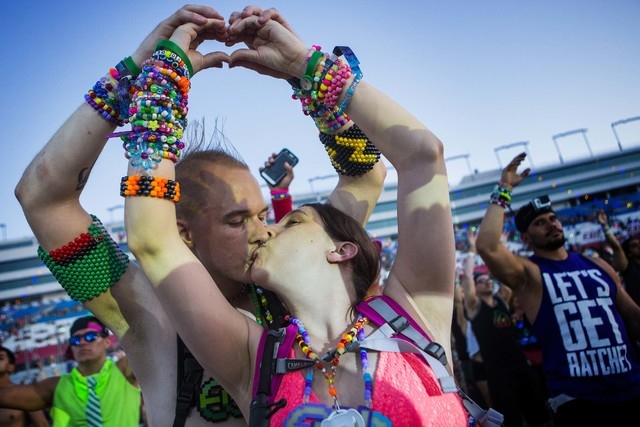 He drank the crowd in right along with the can of Bud Light he'd just shotgunned, sucking the thing down as if a wet vac had been implanted in his innards.
"This is overwhelming the senses," Dierks Bentley beamed, eyes gleaming like pinballs as he gazed out on an audience of more than 20,000 at the inaugural, three-day Route 91 Harvest country music festival at the MGM Resorts Village, which became a fantasia of oversized beers and undersized denim shorts in early October.
Soon, Bentley would be singing about getting drunk on a plane — the song: "Drunk on a Plane" — but at this particular moment during the second night of the fest, he was marveling at the size of what was arguably the biggest country music event ever to take place in Las Vegas.
The previous night's headliner sounded a similarly awestruck note during his performance.
"Every time I play in Vegas, it ain't nothin' this damn big here," grinned Blake Shelton, a self-professed front-porch sittin', guitar pickin', moonshine sippin', 'backer chew spittin' country boy from the woods.
The Route 91 Harvest festival signified several things.
First, it re-emphasized Las Vegas' status as a somewhat unlikely hotbed of country music alongside the Academy of Country Music Awards (which will move to AT&T Stadium in Arlington, Texas, for a year in 2015), all the country acts who come here during National Finals Rodeo and the upcoming residency by Reba McEntire and Brooks &Dunn at the Colosseum at Caesars Palace next year, where they'll replace another country favorite, Shania Twain.
Second, it underscored Las Vegas' growing presence as a destination point for music festivals of multiple genres.
In early spring, news broke that the massive Rock in Rio music fest would be making its American debut here in May of 2015 over two consecutive weekends, luring big names such as Metallica, Taylor Swift and Bruno Mars on permanent festival grounds to be built on the Strip at the southwest corner of Sahara Avenue and Las Vegas Boulevard.
"It's a theme park for music," Rock in Rio founder Roberto Medina said in March, speaking through an interpreter translating his Portuguese into English. "It's a different proposal. It's something extremely sophisticated, and I believe it will take the American market by surprise."
Rock in Rio will join several prominent — and growing — Las Vegas-based festivals that had banner years in 2014.
The biggest of the big, three-day dance music monolith the Electric Daisy Carnival, drew more than 400,000 people to dance from dusk to dawn at Las Vegas Motor Speedway in June, turning the racetrack into a wonderland of flesh, beats and flame-belching art installations.
In October, the Life Is Beautiful music, food and arts fest expanded from two days to three in its second year, with throngs of revelers filling blocked-off downtown streets to feast on artisanal tacos as Kanye West, a furrowed brow incarnate, thundered like a storm front of emotion, Outkast thrilled during the final stretch of their reunion tour and the Foo Fighters gave drunken dudes a reason to play air guitar, amid dozens of other performances.
Also expanding in 2014 was the Blink-182- and Train-headlined Wine Amplified music and spirits fest in October, which added a second day at the aforementioned MGM Resorts Village.
That site also hosted a Kings of Leon gig that doubled as beer festival later that month and the iHeartRadio Village in September, where Iggy Azalea, Childish Gambino, 5 Seconds of Summer and others performed during the return of the iHeartRadio Music Festival, which again consumed the MGM Grand Garden arena for two nights.
A smaller, yet no less noteworthy fest, Punk Rock Bowling, had another memorable year over Memorial Day weekend, selling out all three days downtown where Cocksparrer, The Adolescents, NOFX and others made older punks feel like teens again.
Besides more festivals, Las Vegas also got more venues in 2014.
In March, the fabulous Brooklyn Bowl rolled into town at The Linq, bringing with it an ace pairing of Elvis Costello and The Roots during its opening month.
In August, the new Bunkhouse Saloon opened, bigger and better, with an enhanced sound system and a bonanza of caloric delights.
Finally, Las Vegans were afforded the opportunity to feast on fried pickles and gravy-smothered grits in the presence of Built to Spill.
Elsewhere, venerable metal haven The Cheyenne Saloon officially became the Adrenaline Sports Bar and Grill in October, but not before hosting one of the year's fiercest shows, a bottle-smashing performance by feedback kingpins Eyehategod in January.
And so it was a year of hellos and goodbyes, for venues and artists alike.
We said hello to German electronic music pioneers Kraftwerk, who made their mesmerizing Vegas debut with a performance enhanced by 3-D visuals at The Cosmopolitan of Las Vegas in June, and we said goodbye — for now — to country icon George Strait, who brought his stirring, poignant farewell tour to the MGM Grand Garden arena in February.
Three of-the-moment female singers made their Las Vegas debuts in 2014 at The Cosmopolitan, ranging from good (Lorde in April) to bad (Lana Del Rey, also in April) to somewhere in between (Iggy Azalea in July).
At the opposite end of the age spectrum, we were thrilled to see 68-year-old metal lifer Lemmy Kilmister back on the road after serious health scares when Motorhead ravaged and savaged The Pearl at the Palms in April.
Speaking of heavy metal royalty, King Diamond, he of the inimitable falsetto and face paint, turned in one of the year's best performances in November with his granny-incinerating, career-spanning set at the House of Blues, which also hosted great metal shows by Amon Amarth (January), Ghost (April), Mastodon (May) and Down (December).
Elsewhere, the trend of full-album performances continued with Jane's Addiction playing their classic "Nothing's Shocking" in May and then again in November at Brooklyn Bowl, rapper Nas revisiting his landmark debut "Illmatic" at The Cosmopolitan of Las Vegas' Boulevard Pool in October and Stevie Wonder reeling in the years with his magnum opus "Songs in the Key of Life" at the MGM Grand in November.
Speaking of the MGM Grand Garden arena, that room hosted several memorable performances in 2014, chief among them Miley Cyrus' equally ridiculous and ridiculously fun concert in March, where she cavorted with a three-story inflatable pooch, rode a giant hot dog across the arena rafters and had a good laugh at anyone foolhardy enough to take any of it seriously; Justin Timberlake's three-hour marathon of impossibly suave R&B and panting women in August; and our pick for show of the year, Phish's blockbuster Halloween show.
Spread out over three sets, the veteran jam band's sensational showing was something to be remembered by all of the nearly 17,000 fans who packed the aisles and turned the room into one big, hot, sweaty freakout.
The highlight of the show came when Phish dressed as the undead and used Disney's 1960s sound effects record "Chilling, Thrilling Sounds of the Haunted House" as a jumping-off point for a set of inventive, what-are-they-going-to-do-next? improv rock that was less scary than scary good.
Contact reporter Jason Bracelin at jbracelin@reviewjournal.com or 702-383-0476. Follow on Twitter @JasonBracelin.
Entertainment
2014 shows less memorable for modest hits than epic fails
Premieres pace 2014 in the arts
Restaurant scene enjoys rebound in 2014
Vegas among brightest stars of TV universe
Mediocre year for movies yields few gems
Norm Clarke: Celebrities shined, squabbled