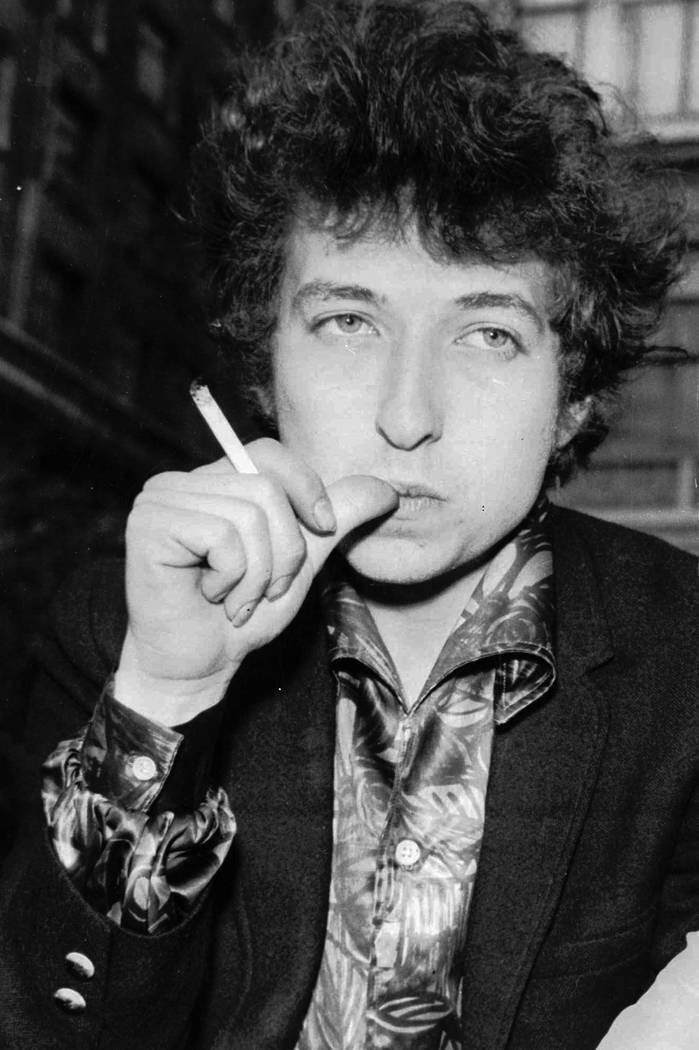 The first songwriter to be bestowed the Nobel Prize in Literature did it his way, defying expectations, just as he has so many times in a six-decade career as rock's premier poet.
Bob Dylan's first public appearance following the award announcement last October occurred not at a press conference where he graciously accepted, but on a stage in Las Vegas where he stuck to what was on the setlist.
Dylan later said he would attend the Nobel ceremony "if I can" and ultimately picked up his prize three months after the gala when his tour took him to Stockholm.
Since the late 1980s, the 76-year-old Dylan has maintained a near-constant show schedule, dubbed by some the Never Ending Tour.
This year's slate brings him back to The Chelsea at The Cosmopolitan of Las Vegas on Saturday.
What keeps Dylan on the road for a hundred dates a year? (Hint: It's not exchanging pleasantries with the crowd, something he avoids like phone calls from the Nobel Prize committee.)
The simple answer is, it's just what he does. You don't ask a bluebird, no matter how raspy-throated, why he sings, do you?
But, for all of his travels, Dylan's clearly not interested in going back in time, and those who attend a Dylan show seeking a nostalgia trip will be sorely disappointed. The old songs typically bear little resemblance to their famed recordings.
Dylan reinterprets them freely like an artist covering over an old canvas, haunted by a Mona Lisa smile, trying to paint his elusive masterpiece.
Never mind that he has already penned enough masterpieces to fill a wing of the Rock and Roll Hall of Fame. The same restless, hungry spirit that keeps him on the road, keeps him tinkering with the music.
Dylan, of course, has made a career out of reinventing himself: troubadour kid; folk-singing voice of a generation; Beat poet; thin, wild, mercurial rock star; Nashville cat; dark-eyed gypsy; world-weary bluesman; gleam-in-his-eye riverboat gambler; crooner of traditional-pop standards. Just a few of the stage personas he's worn.
They're all merely a variation on his greatest creation: Bob Dylan, the rock-and-roll identity assumed by Bobby Zimmerman, the boy from the North Country, a nod to poet Dylan Thomas or maybe, more likely, Marshal Matt Dillon.
His grandmother told him, Dylan writes in his memoir "Chronicles: Volume One," that happiness isn't on the road to anything; happiness is the road.
His longest break from the touring during his Never Ending run coincided with a life-threatening illness in 1997 and was followed by the release of "Time Out of Mind," the Grammy-winning album that began a late-career renaissance.
Since his last album of original songs, 2012's "Tempest," Dylan has turned out three records of Great American Songbook standards such as "That Old Black Magic," "Stormy Weather" and "All the Way." Over the past few years, he's mixed a handful of these chestnuts into his shows.
Clearly he's not Sinatra, but Dylan has proven himself a capable and captivating interpreter of these golden-era tunes. Aside from the material, it doesn't represent much of a departure from what Dylan has been doing for years, reshaping his own songs as if they were written by someone else.
He may not play the hits quite like you remember them, but continuing on this way has kept one of the greatest songwriters of all time excited about making music and touring as he nears 80.
For that, Dylan fans should feel like they just won a prize.
10 overlooked songs
Everyone knows "Like a Rolling Stone," "Blowin' in the Wind," "Mr. Tambourine Man," "Shelter From the Storm," "Subterranean Homesick Blues." Or at least they should.
But here are 10 lesser-known treasures from Bob Dylan's vast catalog.
■ "Visions of Johanna": Not the most obscure track, as it appears on the 1966 classic "Blonde on Blonde," but a masterpiece that's not nearly as well-known as it should be. From the opening line of "Ain't it just like the night to play tricks when you're tryin' to be so quiet? / We sit here stranded, though we're all doing our best to deny it," Dylan delivers one lyrical jewel after the next. Until, at last, "these visions of Johanna are now all that remain." The '66 live acoustic version on "Biograph" offers a hauntingly beautiful take.
■ "If You See Her Say Hello": No one writes songs of heartbreak, and brooding over said heartbreak, quite like Dylan. "She might think that I've forgotten her / don't tell it isn't so," he urges on this painfully tender farewell from Dylan's 1975 heart-on-his-album-sleeve classic "Blood on the Tracks."
■ "Up to Me": A lovelorn, road-worn short story in the vein of "Tangled Up in Blue," this "Blood on the Tracks" outtake (included on the "Biograph" box set) rattles off classic Dylan lines such as "The Union Central is pullin' out / the orchids are in bloom / I've only got me one good shirt left / and it smells of stale perfume."
■ "Sweetheart Like You": 1983's "Infidels," co-produced by Dylan and Mark Knopfler, contains several criminally underplayed tunes — "I and I," "License to Kill," "Neighborhood Bully" and this world-wise romantic ballad. "Steal a little and they throw in jail / Steal a lot and they make you king." Smooth talker, that Bob.
■ "Black Diamond Bay": This rollicking track off "Desire" has something for everyone — treachery, forbidden love, foreign intrigue, a volcanic eruption, Walter Cronkite — and Dylan's final-verse reveal: He's been watching the whole thing unfold on the TV news while sitting at home and drinking a beer.
■ "Just Like Tom Thumb's Blues": Ever been "lost in the rain in Juarez and it's Eastertime too"? Well, this is precisely the sort of Kerouacian fever dream that may ensue.
■ "Man in Me": This hypnotic little love song off 1970's "New Morning would be easy to overlook, Dude. Unless you're the Coen brothers looking for a tune that really ties your film together.
■ "Lily, Rosemary and the Jack of Hearts": This bank robbery caper sounds like it just came crashing through the swinging doors of an Old West saloon. The tune's knotty plot spawned a pair of screenplays that never got off the ground. But we bet Quentin Tarantino could pull it off.
■ "Red River Shore": A haunting lamentation on lost love, left off 1997's "Time Out of Mind" and later released on "Tell Tale Signs," "Red River Shore" plays like a 30-years-later companion to "Girl From the North Country."
■ "Blind Willie McTell": Another song that would be a crowning achievement in anyone else's catalog but, for Dylan, was an outtake (recorded for "Infidels" and finally released on "The Bootleg Series, Vol. 1-3"). This ode to a blues great observes "God is in His heaven / And we all want what's his / But power and greed and corruptible seed / Seem to be all that there is."
Best Bob Dylan covers
A testament to his songwriting prowess, no solo artist's tunes have been covered more than Bob Dylan's.
Here are five standout versions of other artists' takes on Dylan songs.
■ "When I Paint My Masterpiece," The Band: Serving as his backup band gave the group an intimate knowledge of Dylan's tunes, and The Band recorded many sterling covers. Their "Masterpiece" makes them one of the few acts to tinker with the Bard's lyrics with favorable results, Levon Helm opting for "a date with a pretty little girl from Greece" instead of "Botticelli's niece."
■ "Every Grain of Sand," Emmylou Harris: The queen of Americana's angelic voice soars in this moody-sounding take on Dylan's spellbinding, psalm-like ballad abetted by the presence of Daniel Lanois, Steve Earle and Larry Mullen Jr.
■ A Hard Rain's A-Gonna Fall," The Staple Singers: "Ten thousand whisperin' and nobody listenin' "? Not during the Staples' stirring, soulful reading of Dylan's ominous-sky ballad, their call and response perfectly to suited to the song's question-and-answer structure.
■ "All Along the Watchtower," Jimi Hendrix: One master interpreting another. Hendrix's fiery guitar transforms a rather unassuming folk ballad into an apocalyptic call to arms. Dylan acknowledged that Hendrix's phrasing made him change the way he performed the song himself. Honorable mention: Hendrix's cosmically bluesy rendition of "Like a Rolling Stone."
■ "Highway 61 Revisited," Johnny Winter: Speaking of fiery, Winter's combustible rendition of "Highway 61" will have you smoking the tires and lead-footing down the road to a glove box full of speeding tickets.
Contact Assistant Features Editor George Riggle at griggle@reviewjournal.com or 702-383-0248. Follow @GeorgeRiggle on Twitter.