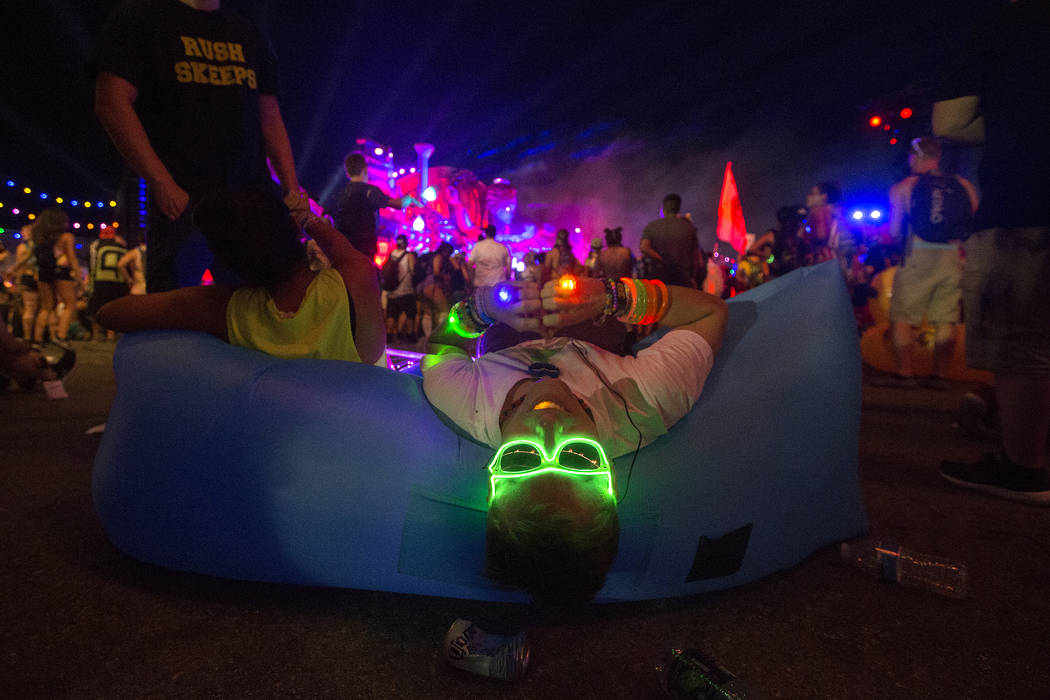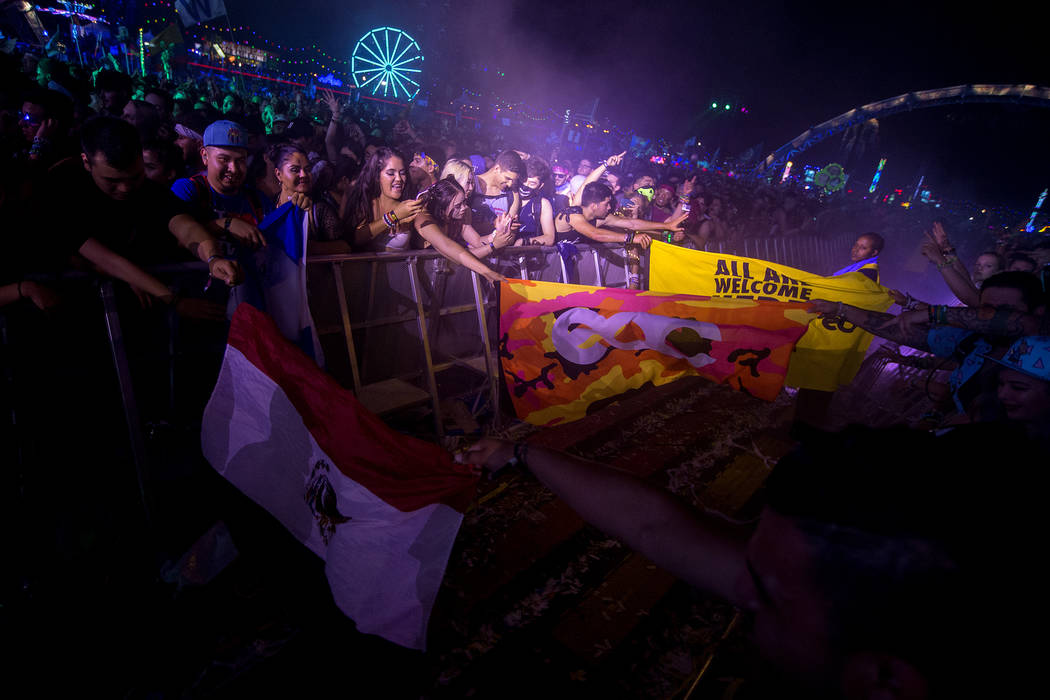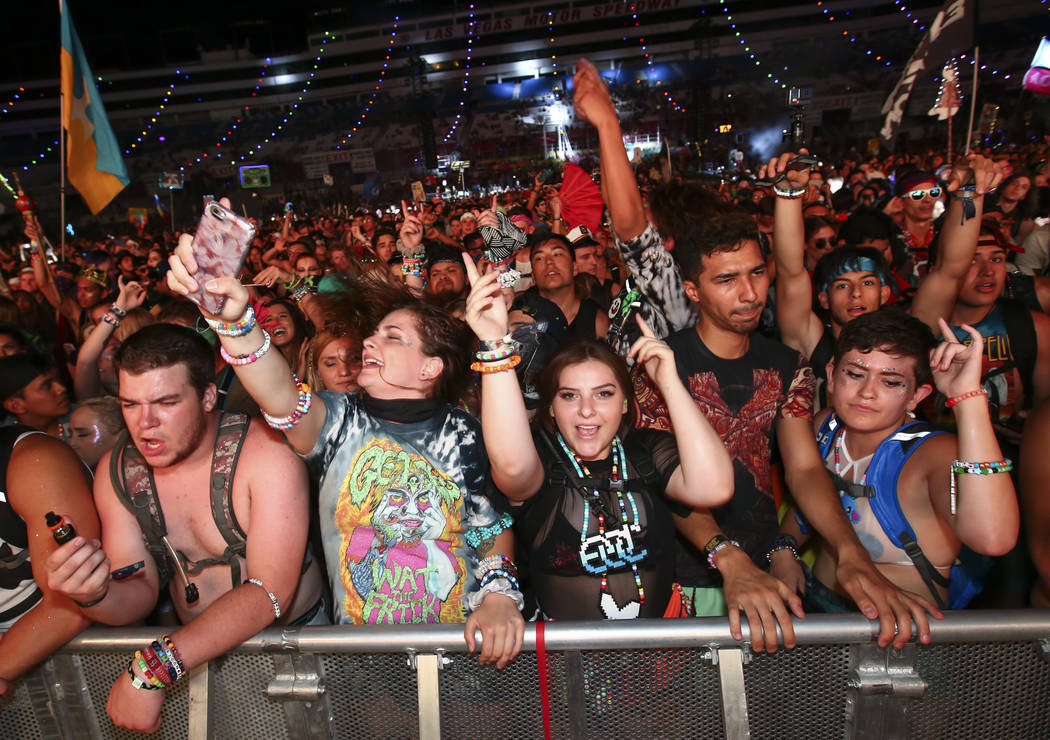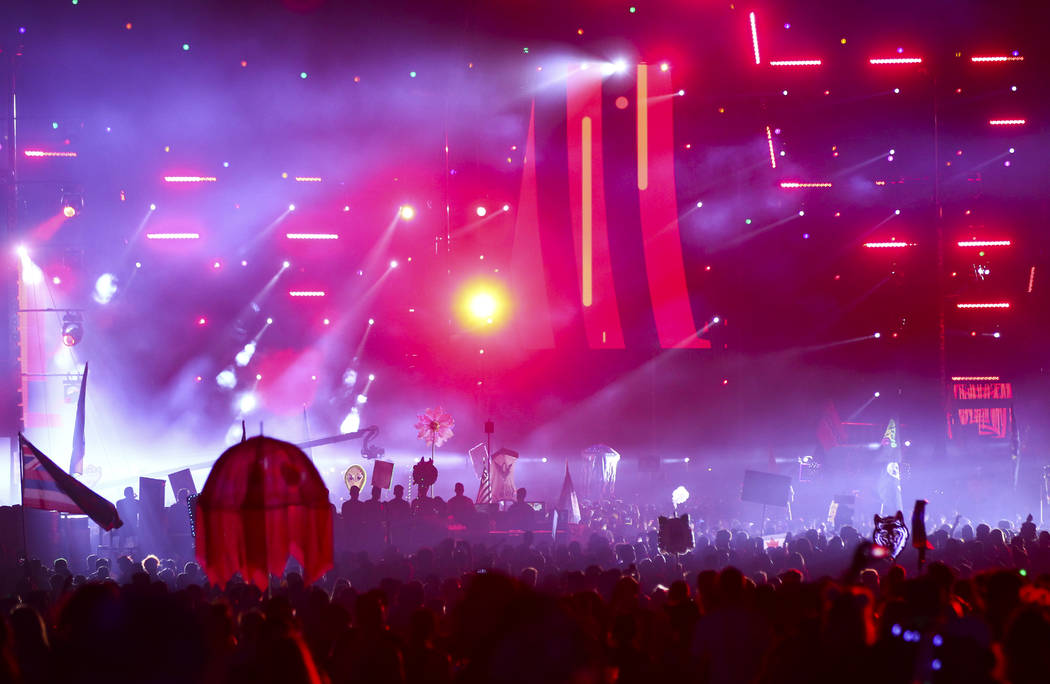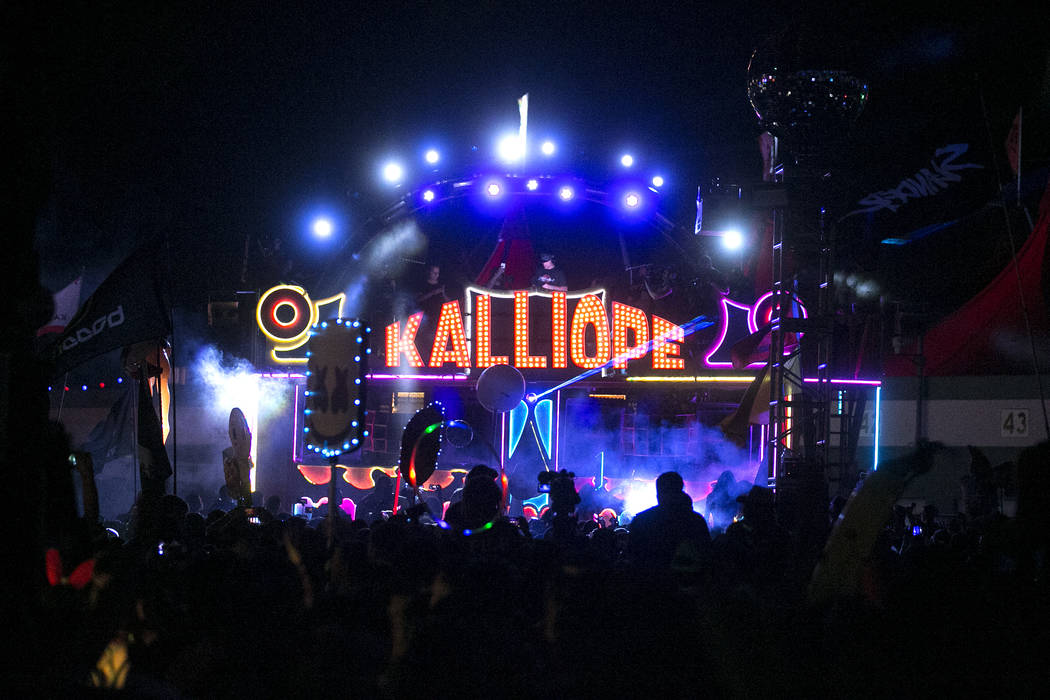 We came. We saw. We guzzled energy drinks.
We're still seeing spots after the retina-liquefying spectacle that was the Electric Daisy Carnival.
Now, you'd need a fly's compound eyes to even begin taking in all that EDC throws at you, from every direction all at once.
This being said, here are a few of a our takeaways after spending nearly 30 hours at Las Vegas Motor Speedway this past weekend fully engulfed in EDC 2017:
Hip-hop hooray?
"This is my first-ever electronic festival," Metro Boomin announced at an overflowing BassPod on Sunday. It most likely won't be his last. The 23-year-old producer/air horn aficionado led the voluminous crowd in siren-enhanced singalongs to hit after hit, beginning with one of his most recent, Future's "Mask Off." One of the curveball bookings this year, a straight-up hip-hop act who delivered a straight-up hip-hop set, Boomin brought twerking, late set times (he was 15 minutes tardy for the start of his performance, a rarity here) and Drake (yeah, that Drake) to EDC along with his woozy trap productions.
Drake — whose appearance with Metro Boomin was easily the weekend's biggest surprise, seconded by an unannounced, festival-closing performance at the Kalliope art car by EDM superstar Kaskade — also figured prominently in a disastrous showing from another celebrated hip-hop producer, DJ Khaled.
Like Boomin, Khaled arrived late — 30 minutes past his scheduled set time, which he attributed to issues with the sound system. Things quickly took a turn for the worse when the sound cut out seconds into Khaled's first number. It'd take another 20 minutes for the bugs to be worked out, with the clock clicking on Khaled's allotted stage time, leaving him but 10 minutes to perform, much to his agitation. ("Don't disrespect my set like that," he barked at the sound guys.)
Khaled delivered fitful bursts of his numerous hits with hip-hop and R&B luminaries like Drake, Jay-Z and Rhianna ("I'm on One," "I Got the Keys," "Just Me"), his disjointed performance swiftly earning the ire of the crowd. When Khaled attempted to get the audience to chant his name after getting the plug pulled on his last number, they responded by loudly calling for the next act, Yellow Claw, instead.
Khaled opened with one of his signatures hits, "All I Do is Win," but whether it was his fault or not, this was one for the 'L' column.
And the most anticipated set of the weekend was …
Drawing a crowd as big as their collective discographies, a collaborative set by Alison Wonderland, Diplo and Jauz flooded the Kinetic Field with a dam burst of bodies Sunday.
"Anything can happen at EDC," Jauz announced early in their set, alluding to the novelty of these three taking the stage together. As might be expected from an assemblage like this, their box-of-chocolates-style set was a blend of different, distinct flavors, veering from Spice Girls remixes to Soulja Boy anthems to duck-and-cover dubstep.
It wasn't a seamless mix, in the same way that a given artist's greatest hits collection often doesn't have the same flow as the individual albums from which the songs were taken. Still, no one seemed to care.
Because the world needed a satanic Daft Punk …
It felt like hell, so it was only fitting that there on the CosmicMeadow stage on Sunday was an act that would certainly get a nod of approval, maybe even a fist bump from the Dark Lord himself.
With temperatures hovering well over 100 degrees hours past sunset, Montreal's Black Party Sex Machine brought still more heat with their mine shaft-dark electro. Performing in illuminated tiger helmets, backed by visuals heavy on skulls and inverted crosses, the trio wreaked all kinds of havoc with locomotive rhythms and snarling electronics testing the mettle of both the crowd and the CosmicMeadow sound system.
When they slowed things down a bit mid-set, it was almost like a taunt, like a schoolyard bully letting you get back to your feet mid-beatdown before taking you to the turf again.
Burnin' down the house
As dance music continues to get vivisected into more and more subgenres (hey, keep your techstep out of my laptronica!), sometimes the tried-and-true is the tastiest. This was the case Saturday when a couple of house vets took completely different routes to the same destination: a killer set.
First there was Tommy Trash at the CircuitGrounds. Trash's big tent jams often push the obvious buttons — all hands-in-the-air synth lines and go-go-go tempos — but he still made the familiar feel fresh.
And then there was John Digweed's master class in subterranean-deep house at NeonGarden a few hours later. Digweed's set exuded an off-handed, almost casual sophistication. He began by establishing a sturdy rhythmic bedrock and letting the groove build. Then he gradually added melodic accents until they became more and more pronounced to the extent that they steered things in a new direction entirely. He repeated this process over and over without any of it becoming repetitive. It was one of the most transfixing performances of the weekend.
Best place to get in the pit and try to love someone
All apologies for the Kid Rock reference, but, hey, it's an apt nod. This is because the BassPod, like a certain "Bawitaba" practitioner, is posited on the stubborn refusal to acknowledge the existence of such concepts as subtlety, grace and getting one's point across without yelling at passers-by.
The BassPod will be retired after this year's EDC, but it went out with a bang (quite literally) as a mosh-pit breeding ground over the weekend. On Friday, it was Phiso, Bro Safari and Boregore who got bodies colliding. But it was Snails on Saturday who just might have delivered the stage's most concussive performance in front of a huge crowd. What was it like? During his set, a tall, shirtless dude in a rainbow tutu repeatedly smacked himself in the head with an inflatable banana in time with the beat. That pretty much sums it up.
Contact Jason Bracelin at jbracelin@reviewjournal.com or 702-383-0476. Follow @JasonBracelin on Twitter.