Singing spouses continue Venetian run
February 1, 2013 - 2:07 am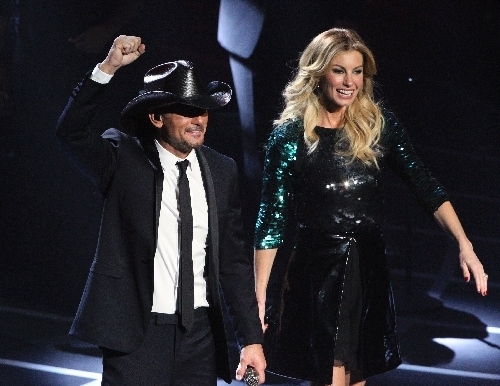 Sometimes it's convenient to have your spouse finish your sentences.
Speaking to a panel of reporters last week, Tim McGraw and Faith Hill said the biggest challenge of their "Soul2Soul" shows at The Venetian is the talking, not the singing.
The point in the show where the two pull up chairs to chitchat is "also the most nerve-racking," McGraw told local reporters . "You run out of something to say, and there's a pregnant pause there. Those are the scary moments. The great thing about being married is when we have those moments, someone sort of takes off with it."
The two are well into their run of only-in-Vegas shows on select weekends through the end of April. At this point, there is no commitment to book more dates because McGraw is already cranking up the promotional machine for his new album "Two Lanes of Freedom."
He was to perform from the Super Bowl in New Orleans on "Good Morning America" today, on "CBS Sunday Morning" Sunday, "Ellen" Tuesday, "The Tonight Show With Jay Leno" Wednesday and "Jimmy Kimmel Live!" on Thursday.
So, when it comes to the singing spouses? "I don't think that far ahead. I can't think that far ahead, especially with what's going on right now," McGraw said.
"I think it was a challenge for us to first see ourselves in this environment together," Hill said. "I've played rooms like this over the years, and I have no problem talking to the audience because I'm a talker."
"I don't talk," McGraw added.
"I think that was one of the things that was so intriguing to us," Hill said. "It was a different thing from out in left field that we had never considered doing together. It was like a mission. We were going to figure out how we could make this thing work. And once we started working on it, it just started to evolve into this thing that is really enjoyable for both of us."
Contact reporter Mike Weatherford at mweatherford@
reviewjournal.com or 702-383-0288.
Preview
Tim McGraw and Faith Hill "Soul2Soul"
8 and 10:30 p.m. today-Saturday
The Venetian, 3355 Las Vegas Blvd. South
$103-$302.50 (414-9000)