Sudden success keeping Imagine Dragons busy
February 8, 2013 - 2:12 am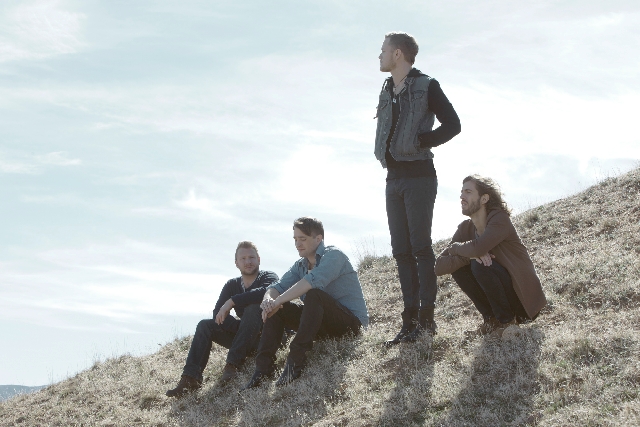 Dan Reynolds is jet-lagged and tired, his voice slowly leaking energy like a punctured tire losing air.
He says he couldn't be happier.
"It's nothing short of a dream," the Imagine Dragons frontman says, even as he struggles to get used to the London time zone while on a recent promo trip through Europe.
Only a year ago, Reynolds and his band mates weren't that far removed from sleeping on friends' couches and attempting to subsist on Del Taco as they got their group off the ground.
Formed in Las Vegas in 2008, Imagine Dragons made the rounds at local clubs such as The Bunkhouse and the Beauty Bar, honing their buoyant, archly melodic rock with a series of self-released EPs before signing with Interscope Records.
And then last February, the band released the single "It's Time," which would eventually go platinum and reach No. 15 on the Billboard Hot 100.
The success of the song would propel the Imagine Dragons' full-length debut, "Night Visions," released in September, to first-week sales of 83,000 and the No. 2 spot on the Billboard album chart.
They've made the rounds on the late-night talk-show circuit, performing on "The Tonight Show With Jay Leno," "Jimmy Kimmel Live!," "Late Night With Jimmy Fallon" and "Conan," and are embarking on their first U.S. headlining tour, having sold out The Joint for Saturday's show.
Reynolds estimates that he's been home for two weeks in the past year.
No wonder he sounds like a dude who's just run a marathon — through mud.
"This last year has kind of been this snowball effect, where things have really just taken off," Reynolds says. "It's a little overwhelming. The pace is just crazy — it's crazier than I ever could have imagined it to be."
Not that he ever really imagined living this life to begin with, even though he started writing songs in the sixth grade, recording them on the family computer.
"It was really like my diary," Reynolds says. "If I had heart break or something, I would write it into a poem and then sing it over some beat boxing on my computer. I would record hundreds and hundreds of songs, all throughout middle school and high school. It was my absolute love; it was my obsession. I would do it every single day. But it just didn't seem like a reality to say, 'I'm going to be a musician when I grow up.' It's like telling people you're going to be in the NFL. You don't tell your friends in high school that you're going to be in a rock band because they'll all just laugh at you."
And so Reynolds set his sights on a career in the FBI.
"I was 100 percent set on it," he says. "I went to these seminars about it. That's was what I wanted to do, which is funny, because it's the complete opposite world from being a musician."
Nevertheless, Reynolds started a band on the side, and he took it seriously, even if he didn't really expect to make a living with music.
But now he's doing just that, and he still sounds a little incredulous about it all.
And understandably so.
It was only about 12 months ago that Reynolds heard his band on the radio for the first time, while they were traveling from Las Vegas to L.A. for a gig.
"We were driving as fast as we could to get in the range of the radio," he says. "All of us kind of had that moment in the car where we were just like, 'No way.' "
Since then, the group has had to adjust to both the rigors and benefits of being in a band whose profile seems to be growing by the week.
"One of the things that's really helped us keep our heads on straight is that it really has nothing to do with us," Reynolds says. "People are reacting to the music. We really feel like we're just instruments. We're the most regular Joe Schmo guys. We're nobody special. None of us was the cool person in high school, the popular kid. None of us was good at sports. Even now, we're just regular guys."
As such, Reynolds is still getting his head around his group's sudden success.
Like the band's namesake, it still seems like a product of the imagination.
"This is the most I've talked about it," Reynolds chuckles. "We haven't really had time to think about it or let it sink in at all. Things have just moved so quickly that it's hard to keep up with it."
Contact reporter Jason Bracelin at jbracelin@
reviewjournal.com or 702-383-0476.
Preview
Imagine Dragons
8 p.m. Saturday
The Joint at the Hard Rock Hotel, 4455 Paradise Road
$25 (693-5000)