The Black Keys perform their snarling seduction
January 1, 2013 - 1:59 am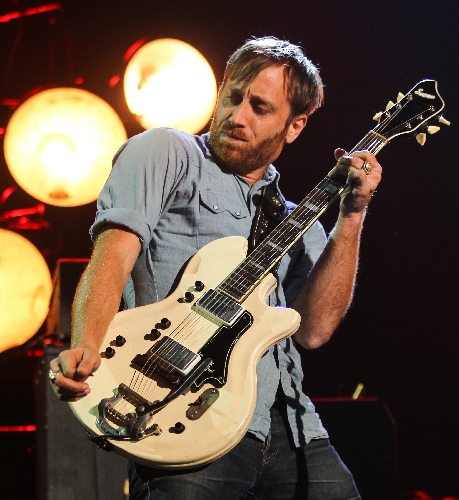 To hear Dan Auerbach tell it, Cupid's arrows are frequently poison-tipped.
"There's nothing worse, in this world / Than payback from a jealous girl," The Black Keys frontman sang in front of a capacity crowd at The Joint at the Hard Rock Hotel on Sunday. "The laws of man, don't apply / When blood gets in a woman's eye."
The song was "Ten Cent Pistol," a hard-eyed revenge tale that began as a slinky vamp with tendrils of guitar wafting through the tune like smoke from the barrel of the song's namesake.
In recorded form, it pretty much stays that way.
Onstage, it didn't.
About three minutes in, the song became hushed and still, a bed of purring organ serving as its heartbeat.
Guitar at his side, Auerbach struck a penitent pose, arms outstretched, as if to beg forgiveness for what was about to come.
And then he reached back and clutched his instrument once again, strangling its neck, as drummer Patrick Carney pistoned his fists toward his kit.
They jammed hard, heads down, for about 30 seconds, and then returned to finish the song as neatly as this brief interlude was thrillingly messy.
This is The Black Keys' thing: Seduce one minute, snarl the next.
Their most tempestuous tunes revolve around the passions and perils of finding oneself in the clutches of women with beautiful faces and wicked ways.
"She's the worst thing I've been addicted to," Auerbach moaned on "Run Right Back," sounding like a man whose heart must be as calloused as the fingertips of his overworked playing hand.
There are plenty of more exultant moments as well, such as those found during a raucous, show-opening "Howlin' For You," a bluesy strut with Auerbach sounding like he was leading a pep rally – "Yeah!" "Come on!"
Upon finishing the following tune, a primal "Next Girl," Auerbach held his guitar out in front of him like a shield, as if he was attempting to absorb some unforeseen force.
Judging by The Black Keys' repertoire, perhaps it was the digital age Auerbach was steeling himself against.
The band plays vintage gear in the pursuit of vintage sounds, and their catalog is highly referential, as they make their influences clear, but avoid being retro and nostalgic.
As such, the Keys don't need the passing of time to eventually render them a classic rock band.
They are one already.
If you listen to them on Spotify, check out who the streaming service lists as related artists, and it's acts such as venerable Mississippi bluesmen R.L. Burnside and T-Model Ford, whom Auerbach once received tutelage from, and '60s and '70s rockers such as Led Zeppelin and Blind Faith more than contemporary bands – we would swap out the Allman Brothers and Canned Heat comparisons in favor of The Kinks and T. Rex, though.
Of course, all this could feel like a study in form if the Keys weren't such instinctual players.
Live, they put on a show without appearing to be trying all that hard to do so.
This isn't to suggest that the group comes across as lethargic or disinterested – far from it – just that there's a discernible sense of ease about the band.
And why shouldn't there be?
The Black Keys' sound – and corresponding album sales – has evolved steadily and organically over the course of seven albums to the point where you can no longer hear the band think.
The lone constant?
Those vexatious ladies, and all the impulses they inspire.
"The devil won't let me be," Auerbach sang on "Sinister Kid," but really, it was the other way around.
Contact reporter Jason Bracelin at jbracelin@reviewjournal.com or 702-383-0476.
REVIEW
Who: The Black Keys
When: Sunday
Where: The Joint at The Hard Rock Hotel
Attendance: 4,000 (sold out)
Grade: A-