Vegas musicians share their favorite records of 2014
December 17, 2014 - 11:15 pm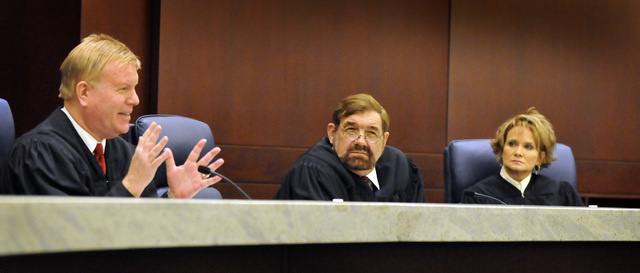 Last week, I gave you my favorite records of the year.
This week, it's time for some people who really know what they're talking about to share their picks.
Here are a few of Vegas' finest musicians on the album they dug the most in 2014:
■ Joshua Chevere Cohen, Candy War Pop guitarist: Scott Walker + Sunn O))), "Soused." "On 'Soused,' enigmatic '60s pop sensation-turned-avant garde composer Scott Walker conducts drone metal royalty Sunn O))), placing them in the role of the ever-present orchestra that sets the dramatic scenery of Walker's universe: a universe populated with dictators and donkeys, Marlon Brando and Al Jolson, Hawaiian death knells and lullabies from forgotten times. Describing a Scott Walker album is about as fruitless as describing an Ingmar Bergman film: It is something that is understood in the bone marrow, the thing that goes 'bump' in the dark night of the soul, and something you wouldn't want to put on when company's over."
■ Melissa Marth, The Big Friendly Corporation singer-keyboardist: Julian Casablanca + The Voidz, "Tyranny." "It sounds like a bunch of punks studied musical theory, grew up, collected their thoughts and made a well-thought-out album protesting banks and large corporations. Their single 'Human Sadness' is an 11-minute opus that is so epic, it actually evokes the kind of sadness that inspires me to want to make a change. The album is so layered that every time I listen to it, I hear something new. I love it."
■ Timothy Styles, Beta Bomb singer-guitarist: Meatbodies, "Meatbodies." "Meatbodies' self-titled debut is not only one of the greatest albums of 2014, but one of the greatest records I've ever heard. It combines the experimental psychedelia of Syd Barrett-fronted Pink Floyd with the hard-hitting, fuzzy riffs of Ozzy-era Black Sabbath. Honestly, when my solo album comes out in 2015, you'll be able to pinpoint this Ty Segall spinoff as an obvious, direct influence."
■ Sam Lemos, Sportello singer-saxophonist: Mark Turner, "Lathe of Heaven." Turner has such a unique sound and style, both compositionally and in his improvisations, and the musicians he assembled for this record couldn't be better. It is an album of rare beauty, his first as a bandleader since 2001's 'Dharma Days,' and well worth the wait."
■ Danielle Bell, The Unwieldies singer-guitarist: Ryan Adams, "Ryan Adams." "The 2014 album that has really stayed with me is Ryan Adams' self-titled release. Being a longtime fan, I love his delivery, both instrumentally and vocally, but this record's stories really kept my attention with its many layers and meanings."
■ Jack Evan Johnson, singer-songwriter: Sturgill Simpson, "Metamodern Sounds in Country Music." "With a booming voice reminiscent of Waylon Jennings' and red-hot twangy picking on some well-penned ballads and honky-tonk barn burners, this release almost comes across as a classic country revivalist effort. However, with borderline psychedelic lyrics/production, unconventional arrangements, and a cover of When in Rome's 1988 new-wave hit 'The Promise,' it's actually a tactfully progressive and important country album. It also radiates an overarching message of love, which is something I've come to appreciate from albums."
■ Brian Garth, Black Camaro singer-guitarist and producer: Lenguas Largas, "Come On In." "We love our Tucson sisters and brothers, and if you thought the Vegas heat altered your frame of mind, wait until you hear this southern Arizona-heat inspired album. Isaac Reyes' vocals will make you sweat like Keith, as the dual drummers sync with cuatro guitarras in this 2014 scorcher. It's hot!"
Contact reporter Jason Bracelin at jbracelin@reviewjournal.com or 702-383-0476. Follow on Twitter @JasonBracelin.