Wayne Allyn Root says Trump is own best spokesman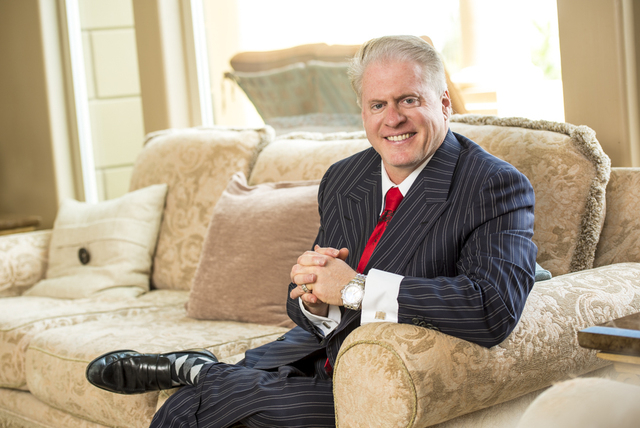 Donald Trump supporter Wayne Allyn Root doesn't care if Trump masqueraded as his own publicist in a 1991 telephone interview.
Root, a Las Vegas resident, said he's done it himself "and it worked out pretty good for me."
Trump denies that it's his voice on the audio recording obtained by The Washington Post and aired last week. Sue Carswell, a reporter for People magazine, called Trump's office 25 years ago for background information on the real estate tycoon's divorce from Ivana Trump and his relationship with girlfriend Marla Maples.
Carswell ended up talking to a man identifying himself as John Miller, a new publicist for Trump. The voice on the recording bears a close resemblance to Trump's.
Carswell told ABC on Saturday that she knew immediately that Miller was Trump and played the recording back for three people, including Maples, for confirmation. Trump later apologized to her, saying it was a joke that went awry, Carswell said.
She told ABC it raises questions about Trump's character.
Root, who joins Democratic presidential candidate Bernie Sanders on Bill Maher's HBO show "Real Time" on May 27, said he often posed as his own agent and publicist.
That was back in 1985-88, he said, when he was trying to become a TV anchorman.
"I called every TV station in the country as Doug Miller (my best friend and mentor) representing Wayne Root," he told the Review-Journal.
"Eventually after a few thousand rejections I landed a few great interviews for my client. I landed the job as lead anchorman for CNBC (then called FNN — Financial News Network) in those days," he said.
"I wound up hosting five shows," he added. "It changed my life. I owe it all to the best agent I've ever had — me! So if Trump did it, I guess we're really a lot alike.
"It worked out pretty good for me. He did OK, too. I'm betting he's the next president," said Root, who has introduced Trump at Las Vegas political rallies.
"By the way," he added, "when I ran for the Libertarian presidential nomination in 2008 I ran against 13 candidates. They all had campaign managers. I ran my own campaign. I was never in national politics in my life. I beat out the whole field but one," and became the party's vice presidential nominee.
DOO-WOP SHOW
Bruno Mars' father Pete Hernandez will be in the lineup this weekend when the Doo-Wopp Hall of Fame performs concerts at the Cabaret Jazz at The Smith Center for the Performing Arts.
Mars, whose real name is Peter Hernandez Jr., was raised around doo-wop. Before he took the name Bruno Mars, he had a cameo as Little Elvis in the 1992 movie "Honeymoon in Vegas," co-starring Nicolas Cage and Sarah Jessica Parker.
The two concerts begin at 7 p.m. The performances will include Doo-Wopp Hall of Fame inductee Billy Davis, Buddy Holly tribute artist Johnny Rogers (Friday night), "America's Got Talent" star Pete Peterkin (Saturday night), among others.
THE SCENE AND HEARD
A recent report from In Touch magazine indicated the Kardashians are in talks to get their own residency at The Mirage. According to the magazine, the show is tentatively titled "Kardashians Live" and would be "a live version of their reality show but also a talk show with special musical guests." A rep for MGM Resorts International said, "That is not something that we're familiar with." In Touch did not respond to an email seeking further comment.
SIGHTINGS
Denver Broncos defensive star DeMarcus Ware, dining at N9ne Steakhouse (Palms) on Saturday. … Entertainer Clint Holmes, with a party of 10 on Saturday at Alize (Palms). … Former "Glee" cast member Matthew Morrison, with his wife, model-actress Renee Puente, Thursday at the Jabbawockeez show (MGM Grand). … The sightings listed here Sunday for Frankie Moreno's show were for the opening night of Paul Zerdin's "Mouthing Off" show in the same showroom at Planet Hollywood Resort.
THE PUNCH LINE
"Tickets for Desert Trip, the upcoming rock concert featuring Bob Dylan, the Rolling Stones, Neil Young and Paul McCartney, went on sale yesterday and sold out in five hours. It would've sold out faster, but it took your dad four hours to figure out the website." — Seth Meyers
Norm Clarke's column appears Sunday, Monday, Wednesday and Friday. He can be reached at 702-383-0244 or norm@reviewjournal.com. Find more online at www.normclarke.com. On Twitter: @Norm_Clarke