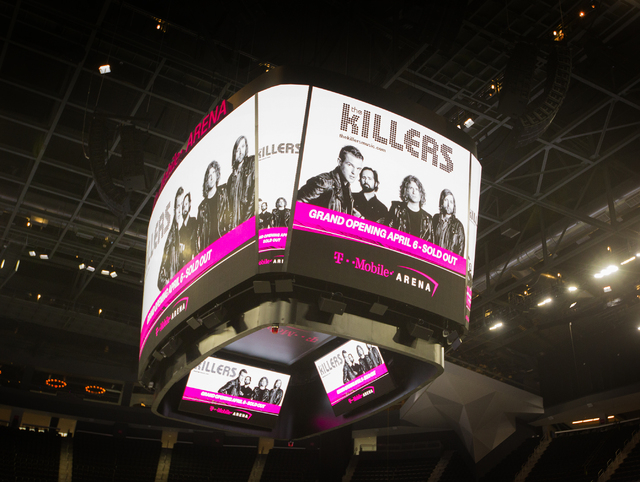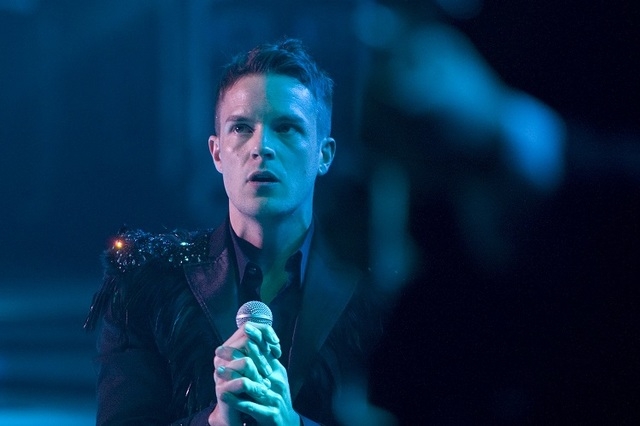 It's entirely fitting that The Killers will be the first act to headline T-Mobile Arena, which opens Wednesday. Arguably the biggest band ever to break out of Las Vegas, the homegrown heroes have earned the honor for obvious reasons.
Beyond that, though, in a more symbolic sense, the outfit, with its hardscrabble early history, seems a solid representation of the city itself, which was likewise conceived by counterintuitive thinking and built into something spectacular by folks who believed in a vision and backed it up with hard work and determination. Once a barren stretch of land in the middle of the desert, Las Vegas became a little piece of paradise, a place that people from all over the planet came to celebrate.
The same can essentially be said for The Killers, who brought attention to a place that was previously overlooked, and went on to become the toast of the town.
"Well, first of all, thanks for calling us the 'toast of the town,' " drummer Ronnie Vannucci says, sounding amused by such an assertion. "There's a lot of other bands and other talented people there, and it's nice to be in that group and considered for this opening gig."
"I think it makes a lot of sense, Las Vegas and as far as that trajectory. The arc of Vegas becoming a new town, as it does every sort of 10 years, it's interesting and fortuitous that we've been able to find a similar arc in our career that leads us to be at the same point. So us being at a certain point in our career and then being able to play this arena is pretty cool."
"We try to take a little bit of Las Vegas with us everywhere we go," says the band's frontman, Brandon Flowers, whose band has embedded references to the city in several of its records, from the title of "Sam's Town" and its accompanying artwork to "Battle Born," the band's most recent album from 2012. "That's something that we've always been proud of and proud to be associated with. And this is definitely a box that we're really happy and proud to be checking."
Some big bands have come out of Las Vegas since the breakthrough of The Killers, including Imagine Dragons and Panic! At the Disco. But back when Flowers and his bandmates first started, there really were no breakout acts from the valley, beyond perhaps Slaughter and Toni Basil (who once choreographed a video for Talking Heads, as Flowers notes). "Nobody had really come from Vegas," Flowers recalls.
So although "I definitely felt strongly about what we were doing and I was excited about it," Flowers says, he and his bandmates really had no inclination that someday they would realize such success, much less be considered one of the city's most celebrated acts. "But even then," bolstered by his belief in the band, "nobody's got a crystal ball, and I think we've always got a little gremlin in the back of your head telling you that it's not going to happen. So, I don't know, we just worked really hard, and we also got lucky."
When you hear how The Killers went about earning accolades outside of Las Vegas, there was indeed a certain amount of luck involved — although timing and tenacity were equally important. Before that, though, The Killers made much of their own luck locally. Working its way up from playing open-mic nights, the band steadily built a following playing a style of music that was out of step with the scene at the time, so it was met with some resistance.
"I think that also helped us," Flowers says, recalling how it made the band work even harder. "When we first started, it didn't seem like anybody was really on our side, and I think that gave us sort of something to fight for in the beginning and made us a better live band. And we just tried to get better with every gig."
Finding gigs in Las Vegas at the time was a little more challenging. The band played whenever and wherever it could, everywhere from places like the Junkyard to Crown & Anchor. But it was the shows at Sasha's, packed parties thrown by scene fixture Ryan Pardey, that helped The Killers learn how to kill. Those gigs were the most memorable Vegas shows, according to Vannucci.
"I think some of my favorite shows are really early shows of us playing these nightclubs down by the Hard Rock," the timekeeper recalls of playing Pardey's "Trash at Tramps" parties. "Back then, it was like, what are people who are in their 20s going to do, the ones who wanted to stay up late and hang with their friends? What kind of scene do they belong to? They have to build it, and that's kind of what we did. We were just the entertainment.
"That was the most fun, just getting together with like-minded people and helping these 20-year-olds — and us included — find a place to sort of let our hair down and party a little bit and establish our own scene and create something that was a little bit more fun and not an outlet mall version of a scene. It felt very organic and cool. It was a place where we could all hang out."
The scene doesn't sound that far removed from the generator parties Vannucci played with Attaboy Skip, one of the bands he was in before joining The Killers. "Seventeen-year-old kids didn't have a place to play," he explains. "So you go where there aren't any gigs and you make a gig. You go sit out in the desert and you get a couple of generators together and some diesel fuel and everybody pitches in and we have parties, and we play these shows. We didn't have a place to play. There were very few places to go and do shows, so we'd make them up. And I suppose the early days of The Killers was just sort of a more developed extension of that."
In essence, the early days prepared the band for life ahead, a life on the road. After landing a record deal and releasing an album that went several times platinum, The Killers spent the better part of two years on the road. When the momentum for that record slowed and the outfit came home to record "Sam's Town" at the Studio at the Palms, that's when Flowers said he really became aware of how much this city means to him.
"I always go back to the same line," he says. "Tom Waits has a line in which he says, 'I never saw my hometown until I stayed away too long.' The first time we left Las Vegas, we toured for a couple of years, and it made me really zone in on where I was from and wonder how much I was a part of it or how much it was a part of me."
Read more from Dave Herrera at reviewjournal.com. Contact him at dherrera@reviewjournal.com and follow @rjmusicdh on Twitter.