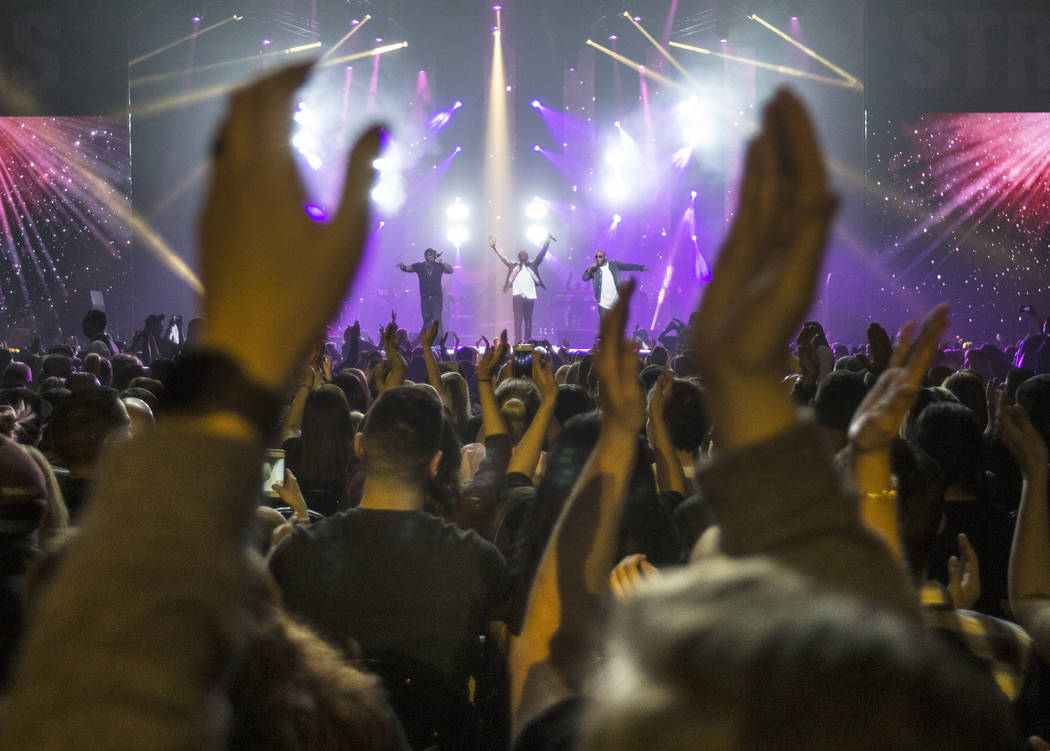 Turning a good cause into a bad investment, a website is promoting a Vegas Strong benefit concert that appears dubious at best.
Promising the "The Most Epic Benefit Music Festival in Las Vegas History!" on its homepage at vegasstrongconcert.com, the site is selling tickets to a three-day fest supposedly planned for October 2018, citing potential big-name acts such as Aerosmith, Red Hot Chili Peppers, the Zac Brown Band and others and featuring photos of the bands.
The rub: No venues or promoters are listed and no dates or acts have been confirmed.
And yet "pre-early bird" tickets are being sold, at prices ranging from $29.99 to $49.99, in what is being boasted as the "concert deal of a lifetime."
The site promises a "100% Money Back Guarantee" and assures that "If the bands aren't your favorites then no worries. We're happy to refund every penny of your money."
But tickets are being sold through a Paypal account rather than an established ticket-selling entity such as Ticketmaster, Ticketfly or Eventbrite, making the prospect of getting a refund much cloudier.
Supposedly, any proceeds from the concerts will be donated to various causes to aid the victims and survivors of the Route 91 Harvest festival massacre.
"Our Goal is to raise Millions of Dollars for people who have been devastated by the LV shooting attack and recent natural disasters," the site says.
But according to several veteran concert industry professionals, the idea of putting on an event of this magnitude without an established promoter and serious music industry contacts is far-fetched.
"People want to believe that people are doing good things, and they're not always as savvy as they might need to be because with such a tragic situation, who would do a scam? But there's some real tip-offs here," says Danny Zelisko, president of Danny Zelisko Presents, who promoted shows at The Pearl at the Palms for many years. "When I'm looking through the website, it doesn't have any contact information whatsoever, it doesn't say who's putting it on, it doesn't say the venue. It's like somebody sitting around drinking, saying, 'Wouldn't it be great if these groups would come around and participate in a benefit concert?' "
Pat Christenson, president of Las Vegas Events, points to all that went into putting on the recent Vegas Strong Benefit Concert at T-Mobile Arena as an example of what it would take to actually make something like this happen.
"Let's just look at what MGM (Resorts) did to produce their event," he says of the concert's corporate parent. "In terms of connections in the industry, there isn't a market other than maybe New York or L.A. that has more relations with acts, agents and managers than MGM, and that was very difficult to pull off. … It'd be very, very difficult for someone without any experience to pull off something like this."
Those who have found the site suspect include officials from MGM Resorts International and Larry Rudolph, who manages Steven Tyler of Aerosmith and says he has no idea why the band's shot is on the site.
"I can't believe that somebody would be so incredibly naive and deranged that they would say, 'All right, let's go sell these tickets to see these groups first, and then we'll go to these groups and see if they can play sometime in the fall," says Zelisko. "There's a lot of red flags here — no white flags, no green flags, no nothing."
Contact Jason Bracelin at jbracelin@reviewjournal.com or 702-383-0476. Follow @JasonBracelin on Twitter.