Las Vegas Strip swept clean within hours of New Year's celebration
January 1, 2017 - 7:26 pm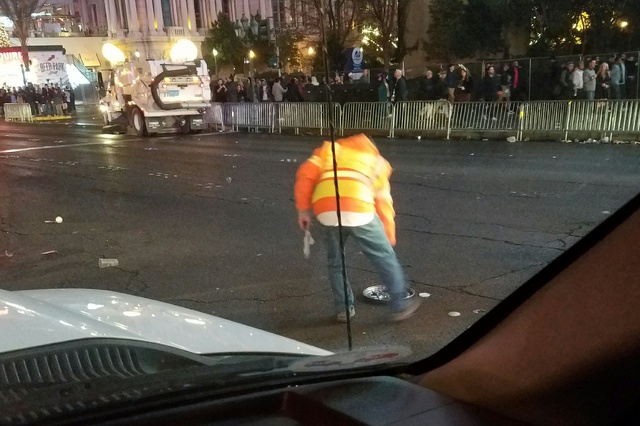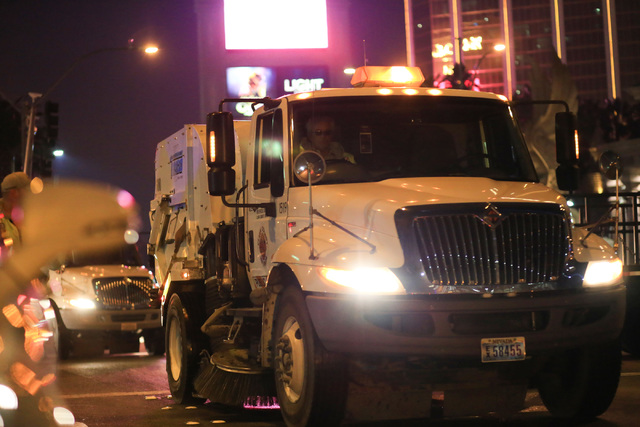 First came the fireworks and the festivity. Then came the refuse, tons of it.
As the calendar flipped to the new year and pyrotechnics burst overhead, a good chunk of the more than 300,000 revelers tossed several tons of bottles, cups, food, paper and garbage onto the Strip.
A few hours into New Year's Day, it was gone. The Clark County Department of Public Works made sure.
Eighty to 90 employees worked in a street-sweeping cleanup crew to tidy up Las Vegas Boulevard and nearby streets after New Year's celebrations Sunday morning. They whisked away debris on Las Vegas Boulevard between Mandalay Bay Road and Sahara Avenue.
Don Ficklin, their leader, brought up the rear in a white pickup truck. He estimated the crews would get 99 percent of street rubbish on their sweep.
The job was complete by 3 a.m., not even two hours after they began. Typical sweeps take three hours.
"It's almost like the party never happened," Ficklin said.
It's an important job, the maintenance supervisor said Sunday morning, and a job Strip patrons may regard as an afterthought.
"You go to dinner, you order a meal, do you really consider the guy washing the dishes?" he said.
Yet somebody needs to wash the dishes, or in Ficklin's case, ensure the streets are swept. And it's a job he enjoys, he said, adding he's worked with the New Year's Eve cleanup crew for 19 of the last 20 years.
It's rewarding to collaborate as a team, he said, even at the cost of working a holiday.
County spokesman Dan Kulin said 26 street sweepers were in action Sunday morning on the Strip — half with Clark County and half with the Nevada Department of Transportation. They worked to remove an estimated 12 to 15 tons of litter from the Strip. Kulin said the effort would cost Public Works between $135,000 and $180,000.
The crew members are a veteran bunch, Ficklin said. He watched as they circled and weaved their way up the Strip and its surrounding streets, leaving behind trails of water.
He rarely needed to direct, leaving his pickup sparingly. He said he's proud of the crew members' work, half-jokingly comparing them to the "A-Team," noting their ability to work in sync.
"I'd put my guys and my girls up against anybody," Ficklin said.
Metro officers blocked vehicle and pedestrian traffic as the sweepers swept. They didn't stop everybody, however; a few pedestrians tried crossing in front of the sweepers, briefly slowing the job.
Ficklin, 56, said the disruptive ones are outliers.
"Sometimes you're the hero," he said. "Most people just ignore us."
Most did, but several stood on the Strip sidewalks, pulled out their phones and snapped pictures. Others smiled and waved. A Metro officer held up her phone toward Ficklin's truck.
"Even the cops love us," he said with a chuckle.
As the group approached the end of its sweep at Sahara, Ficklin slowed his pickup to a stop and rolled down the window. A worker from an adjacent truck walked to the door.
"Damn good job, Don," he told Ficklin. "Happy New Year."
Contact Mike Shoro at mshoro@reviewjournal.com. Follow @mike_shoro on Twitter.
RELATED
Las Vegas rings in 2017 with New Year's Eve celebrations on Strip, downtown – PHOTOS
New Year's Eve bash in Las Vegas, with lots of glamour, stays peaceful
Celebrating the start of 2017, Vegas-style — PHOTOS
Bands rock in the new year in downtown Las Vegas — VIDEO