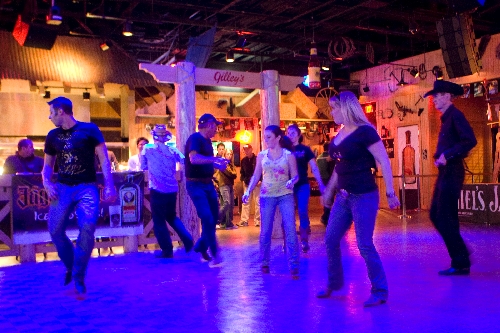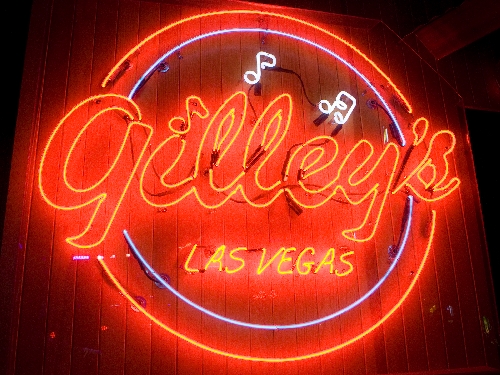 In the nightclub business, there are a handful of names that are iconic.
Among them — and thanks to a little 1980 John Travolta movie called "Urban Cowboy" — is Gilley's. And, like its iconic nightlife brethren, Gilley's for many years has been a local clubbing option for Las Vegans and tourists alike.
Gilley's Saloon, Dance Hall & Bar-B-Que opened its doors in April 2010, at Treasure Island, 3300 Las Vegas Blvd. South.
"It just has such a reputation," says Robert Perry, the club's general manager. "People come in and they expect that same ambiance and feel of the movie."
The TI Gilley's actually is the club's second incarnation in Las Vegas. For several years, Gilley's had a local home at the New Frontier, which was imploded in 2007.
Perry says it's common for guests to tell him that they were Gilley's patrons back there, and that they're glad Gilley's has returned.
The club, now as then, is laid-back casual, featuring such cool countryish amenities as bar stools fashioned in the form of saddles (and which, Perry notes, are a popular prop for photos).
Gilley's is divided into two areas, a dining room that features an open kitchen and a menu of barbecued favorites, and a bar/saloon that features numerous TVs for sports fans, a stage for bands, an area for such gatherings as bachelorette parties, and an always-busy dance floor.
The club's clientele spans the range of ages and demographics, but all presumably are seeking a night out that's a bit less stuffy than that provided by other clubs in town.
"It's kind of interesting," Perry says. "People call (and ask), 'Do you have bottle service? Do you have a VIP line?' And it's not that type of atmosphere."
Gilley's counts among its regulars a sizable herd of locals who show up for such events as Tuesday karaoke nights, and line dance lessons every Wednesday and Thursday.
DJs spin tunes — mostly country, but they're happy to take requests of all sorts — Sundays through Thursdays, while live bands play Friday and Saturday nights.
Of course, it wouldn't be Gilley's without a mechanical bull. "Absolutely, that's the highlight," Perry says.
Patrons are welcome to give the bull their best 8-second shot ($10 a ride), while the club's roster of events includes Bikini Bull Riding each Sunday and Toughest Cowboy competitions every Thursday.
Dress is strictly casual. "I get calls about that all the time," Perry says. "I tell them our dress is, basically, you just have to wear clothes."
There is one footnote to that rule, however: The club's signature Gilley Girls, Perry says, "are the only ones who can wear chaps (with) bathing suits and cowboy hats."
Gilley's opens at 11 a.m. daily. The saloon side closes at 2 a.m. Sundays through Thursdays and at 4 a.m. Fridays and Saturdays.
Cover is charged only on nights when bands are playing, and only from 10 p.m. on. The dining room is open daily from 11 a.m. to midnight.
For more information, call 894-7147.
Contact reporter John Przybys at jprzybys@ reviewjournal.com or 702-383-0280.
Las Vegas nightclub slideshows