Owner: Champagne's 'the same but a little better' after 'Bar Rescue'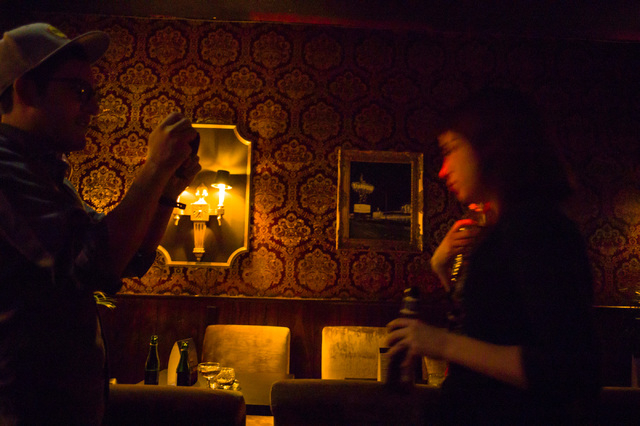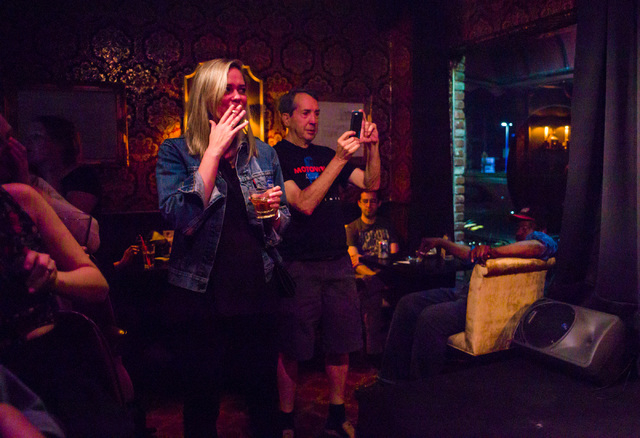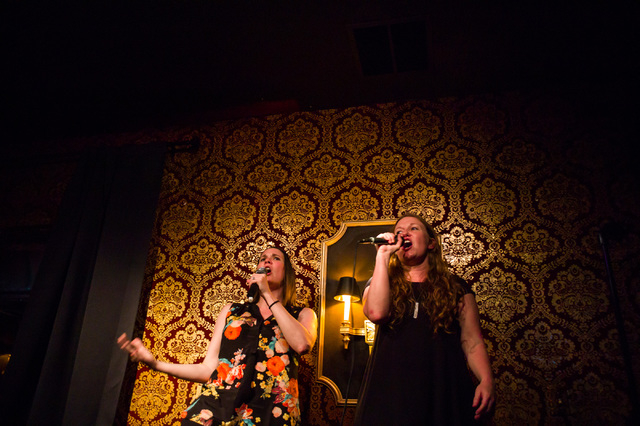 Pulling up to the notoriously frustrating parking lot, the initial difference is obvious: Champagne's.
That's the first sign — literally — of the transformation that the Maryland Parkway nightlife staple underwent at the hands of Spike TV's "Bar Rescue."
Champagne's (formerly Champagnes Cafe) received a lot of attention after word leaked a few weeks ago that it would participate in the reality show. The early reaction was, well, not good. Just look at the posts that fans left on the bar's Facebook page.
Greg Sims, owner of Champagne's, said the backlash "freaked me out."
"I did not see that coming at all. I was really freaked out, actually. It took me a whole day to, like, un-freak out," he said.
As a regular there for karaoke, birthdays and the like, I visited post-"Rescue" expecting the worst and was pleased to find not much has changed. In fact, I like it. So do other regulars trickling back to the joint, as well as Sims.
We visited the bar last Friday night — karaoke night — to find an interior closer to, say, an old lounge inside the Sands rather than a flashy update or complete overhaul, something Jon Taffer's reality show is known for.
Previous "Rescues" haven't turned out well for Las Vegas bars — save for Bacon Bar and the Sand Dollar Lounge, if you count a reopening post-show.
One difference seems paramount for Champagne's continuing success, and it's not the change of decor or the flashy marquee lettering atop the bar. It's the smoke or, rather, the lack of it.
With the installation of smoke-eaters, visitors now can go home at the end of the night without smelling like they've spent the evening in a cigar lounge.
KEEPING THE HISTORY
"It's the same wallpaper, they didn't even clean it," Sims said last Friday, on his way out of the bar. He laughed and added that a lot of begging was involved.
"I told them, if it goes, I go," one bartender said.
The wallpaper was probably the biggest concern for fans of the bar, along with the old sign, which many are suggesting should be donated to the Neon Museum.
The carpet, pulled from a casino years after the establishment originally opened ("I couldn't tell you which casino," Sims said) hasn't been cleaned, as the bar would have had to close for too long during filming. It's still on Sims' to-do list.
Of the slight name change, Sims said he missed the sign, "but I'm totally on board with losing Cafe. That, I always hated."
The bar hasn't served food since 2006, according to Sims, but was originally built as a restaurant called Sundown in 1966 ("when rent was $350 per month," he added). Sundown was open about a year before it suffered a large fire. It later was known as Huey's Bar and Restaurant and Inner Circle before becoming Champagnes Cafe.
A kitchen was on Sims' wish list, but licensing and infrastructure issues nixed that idea. It would have taken a long time and a lot of money, he explained.
"It'd be like turning this into a dry cleaners — a 1960s bar with 2016 codes," he said.
The bar's new tagline — "Legendary since 1966" — can be seen on the sign as well as the marquee inside and on logos posted along windows outside and a back wall near a jukebox.
"I had a lot of talks with ("Bar Rescue") before," Sims said. "I was pretty sure that they were going to keep with the history of the bar."
Drink prices have gone up slightly, only a few quarters' difference, depending on the drink. (My bill for two well-whiskey sours was $7.)
Booths were removed (leaving four), and open-air gold and beige furniture, including a section of tables toward the back of the bar, have replaced heavy red chairs.
"I'm almost looking forward to when the gold furniture gets a little beat up," Sims said with a laugh.
Along the walls, film posters and photos of Frank Sinatra were replaced with framed photos of Las Vegas in the 1960s separated by new lighting fixtures, although the bar remains as dark as ever.
"For everyone, it's funny, there seems to be this one thing that they miss — it's not the same for everybody, but there's one thing," Sims said.
For some, it's the sign; for others, the torn booths or "A Toast to Champagnes," a Joe Schoenmann column that had long served as reading material for customers waiting to use the restroom.
For one patron, Sims said, it was a brass rack for hanging glassware above the bar.
"We all miss the sign," he added.
Sims noted some more minor changes, including new plants, adding to the lounge feel, as well as technical aspects and things behind the bar.
The bar itself was painted, but the coating is unpopular with just about anyone who's rested their elbows on it. Sims said it's already begun to chip off, perhaps to the delight of people who were upset about the changes in the first place.
Oh, and in case you were wondering, the restrooms went completely untouched by Taffer and crew.
'THE SAME BUT A LITTLE BETTER'
Last Friday night, the temperature in the bar was borderline sweltering. But the crowd was just like you would have seen even before Sims purchased Champagne's a little more than a year ago.
Friday, Saturday and Monday mean 10 p.m. karaoke at Champagne's, and the day after Prince's death, "When Doves Cry" was one of the first songs.
Familiar faces still lined the bar, including Doug Price and drummer Butch, playing live along with probably drunken singers and a regular crooner, Eric.
"(The bar) is the same but a little better version of itself," Sims said. Bartenders seemed to agree.
The episode of "Bar Rescue" featuring Champagne's — and, according to Sims, no fake actors and his three newest employees — is expected to air midsummer on Spike.
Contact Kristen DeSilva at kdesilva@reviewjournal.com. Find her on Twitter: @kristendesilva
RELATED
Does Champagnes Cafe need to be 'rescued'?