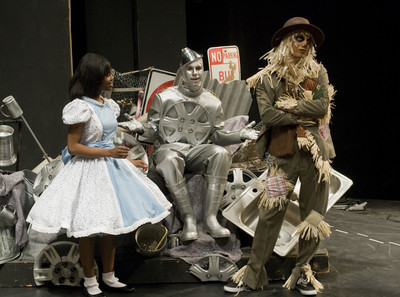 Dark and complex.
Light and breezy.
Weird and weirder.
Three authors. Three outlooks. Three plays.
"He pushed the Broadway play to places it had never been. People like Tennessee Williams said there would not be the dramatic theater without the sacrifices O'Neill made," says Brian Kral, who will portray the angst-driven playwright in his own one-man monologue tribute, "Eugene O'Neill at Tao House," compiled from the Nobel/Pulitzer winner's letters and interviews. Kral's wife, Dale, will provide the voice of O'Neill's spouse, Carlotta.
The piece, the title of which references the Danville, Calif., home O'Neill often worked from and shared with Carlotta, will be paired with "The Sniper," O'Neill's one-act antiwar drama, at the College of Southern Nevada.
"He was always an autobiographical writer," says Kral, a longtime devotee/scholar of the playwright's powerful, tragedy-laced dramas, particularly "Long Day's Journey Into Night" and "The Iceman Cometh," his celebrated masterpieces. "These two plays stripped away any pretense and really paved the way for works like 'The Glass Menagerie' and Arthur Miller's 'After the Fall' about Marilyn Monroe. Nobody at that point had been that honest about themselves in their own material. It was stunning."
But O'Neill didn't want to expose such searing candor while he was alive, stipulating to his wife that "Long Day's Journey" not be published until 25 years past his death because his living children might be wounded by the play's painful family revelations. She missed that mark by 23 years.
"Some historians suspect O'Neill expected she would do this, because so much of her identity had to do with being the wife of a famous author," Kral explains. "About two years after he passed away, she released the rights to 'Long Day's Journey' to be performed in Sweden, and when the play finally came to New York, he posthumously won the Pulitzer for the fourth time."
That's a mark no dramatist ever has equaled (Edward Albee won three times, Tennessee Williams twice). "Most authors hedge the bets with themselves," Kral says. "But when you read 'Long Day's Journey,' you never get the sense he's romanticizing it and letting himself off the hook. He's just as tough a critic of his own behavior as he is on other members of his family. It's a work of genius."
Not so Sturm und Drang-inclined? Transition from misery to mirth at the Las Vegas Academy of International Studies, Performing and Visual Arts, where students will stage "The Wiz," the funky 1975 riff on "The Wizard of Oz." But they've eased on down (eased on down) the road from the original Broadway hit.
"Ours definitely isn't the 1975 production," says director Robert Connor. "It's a multicultural cast. In the original, it was an African-American cast, but we have two Dorothys alternating, one's white, the other is black, and we have all different ethnicities."
Winner of seven Tony Awards including best musical, "The Wiz" is credited, along with fellow '70s shows such as "Purlie" and "Raisin," of blazing a new, racially balanced Broadway path for later hits such as "Dreamgirls." It picked up some star oomph when the 1978 film version starred Michael Jackson (Scarecrow), Richard Pryor (The Wiz), Nipsey Russell (Tin Man), Lena Horne (Glinda the Good Witch) — and 33-year-old Diana Ross as a rather mature Dorothy.
"Some of the melodies are just infectious," Connor says. "And it's a feel-good show that talks about the hope of things to come, and that's very important right now."
From fresh-faced students in a winsome "Wiz," we make a screeching U-turn toward serious weirdness and the latest slice of oddball life within the Onyx Theatre, tucked cozily inside a fetish shop. The Insurgo Theater Movement's latest is a nearly literal Looney Tune: "Cartoon."
"It's about what violence represents," says director John Beane of playwright Steve Yockey's alterna-fable about young Esther, a dictatorial little brat who wields a sledgehammer to control everything in the lives of her toys — a ballerina, a soldier, a puppet and a stuffed bear, among others. But the hammer is swiped by an anarchist, triggering chaos in their cartoon world … honest.
"There's the idea of the totalitarian state and a political current that goes through it, but it's not something we're tapping ardently," Beane says. "But violence in the cartoon world has no repercussions, and that's the beauty of it. This takes that extreme and adjusts that one thing of having repercussions. It's a dark show, no getting around that."
Audience advisory: Leave your Acme Anvil — you know, the one Wile E. Coyote kept getting beaned with when outsmarted by the Road Runner — at home.
Contact reporter Steve Bornfeld at sbornfeld@ reviewjournal.com or 702-383-0256.
Previews
"Eugene O'Neill at Tao House"/ "The Sniper"
7:30 p.m. today and Saturday; 2 p.m. Sunday (through March 1)
BackStage Theatre, College of Southern Nevada, 3200 E. Cheyenne Ave.
$8-$10 (651-5483)
"The Wiz"
7 p.m. today, Saturday and Thursday (through March 7)
Lowden Theater for the Performing Arts, 315 S. 7th St.
$18 (800-585-3737)
"Cartoon"
8 p.m. today, Saturday and Thursday (through March 14)
Onyx Theatre, 953 E. Sahara Ave.
$15 (732-7225)