'Pawn Stars' find new niche in 'Pawnography'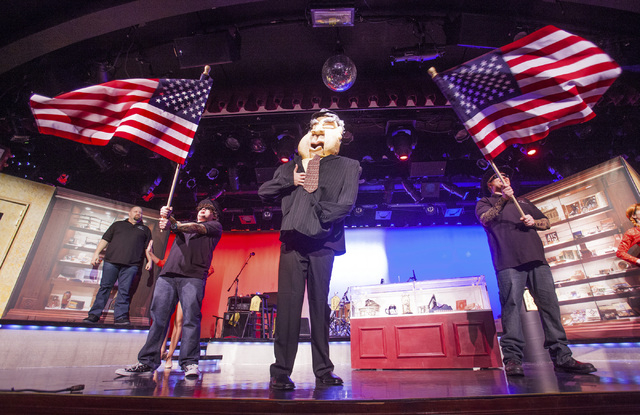 The "Pawn Stars" are into "Pawnography."
They came up with the oh-so-perfect name for their upcoming trivia game show long before anyone had an inkling what the show would be about, according to Rick Harrison.
"We've been bouncing that name around for two-, two-and-a-half years," said Harrison, "Pawn Stars" front man and co-owner of Gold & Silver Pawn.
"We've been talking about doing (a spinoff on the History channel), and that's one of the first names we came up with.
"Whatya think?" said a delighted Harrison, clearly smitten with the delicious word play.
Auditions for the game show are on Saturday from noon to 4 p.m. at Circus Circus (Ballroom E, first floor, Skyrise Tower).
For more information, contact: pawnshowcasting@gmail.com. Go to my website for a link to submit a profile.
Harrison and son Corey "Big Hoss" Harrison and Austin "Chumlee" Russell will test their trivia knowledge against contestants during a half-hour show. Richard "The Old Man" Harrison, the resident grump, has no interest in "Pawnography."
"He wasn't interested," said his son. "He's more than happy with what he's got. He helps take care of my mom. He's 73. He said, 'I don't need another job.'"
HAVING A BALL
ESPN columnist and storyteller extraordinaire Rick Reilly is in town for a cool event tonight at the M Resort.
He's sharing some of his favorite tales with a gala crowd at the Boys & Girls Clubs Sneaker Ball.
Reilly's 11th book, "Tiger, Meet My Sister," comes out this month. It's a collection of his most popular column written since he joined ESPN in 2008 after a long run at Sports Illustrated.
One of his columns eight years ago sparked an amazing humanitarian response that helped raised $46 million to help the United Nations and other international organizations provide more than seven million bed nets to protect families in malaria-ravaged sub-Saharan Africa.
Last summer Reilly challenged NBA players to join the cause. Reilly and Stephen Curry of the Golden State Warriors delivered more than 38,000 bed nets to refugees stricken by or at risk for malaria.
"There's no Boys and Girls Clubs in the Congo," said Reilly. "Kids have it bad in this country and the Boys and Girls Club is my favorite charity in this country, but in Africa the stakes are higher."
THE SCENE AND HEARD
I'm hearing rumblings about a Las Vegas megadeal that's in the works. …
Dance legend Debbie Allen will be taking a bow as the Nevada Ballet Theatre's "Woman of the Year." In making the announcement, Nancy Houssels, NBT co-founder and co-chair, described Allen as "one of the most significant and versatile artists in the entertainment industry today. From her beginnings as a ballet dancer to her performances on Broadway, it is her unwavering talent and dedication to the art form of dance that has been foray into choreographing, acting, directing and producing." …
The Smith Center for the Performing Arts has landed its first regional Emmy nomination. Last fall's "Frank Wildhorn and Friends" featuring Jane Monheit and Clint Holmes was produced by Myron Martin and Vegas PBS. It is nominee in the arts and programming category in the Pacific Southwest Emmys competition. The announcement was made Tuesday in San Diego. The winners will be announced in June. …
It's a big first-anniversary weekend at La Comida, the downtown Mexico City-style eatery. A mariachi band will be on hand for Cinco de Mayo weekend celebration. The definition of double trouble: the birthday of bartender-partner John "Juan" O'Donnell falls on Monday. …
A life-size Spider-Man wax figure produced by Madame Tussauds will be on view starting today, 35-feet up on The Venetian's campanile tower. The latest "Spider-Man" movie is being released today. …
Juan Pablo Galavis of ABC's most recent season of "The Bachelor," will host a bachelorette bash tonight at Chateau Nightclub & Rooftop at Paris Las Vegas.
THE PUNCH LINE
"NBA players had threatened to boycott if Donald Sterling wasn't banned for life. In fact, the Lakers are so upset they decided not to play for the rest of the season." — Conan O'Brien
Norm Clarke's column appears Sunday, Monday, Wednesday and Friday. He can be reached at 702-383-0244 or email him at norm@reviewjournal.com. Find more online at www.normclarke.com. Follow Norm on Twitter @Norm_Clarke. "Norm Clarke's Vegas," airs Thursdays on the "Morning Blend" on KTNV-TV, Channel 13.