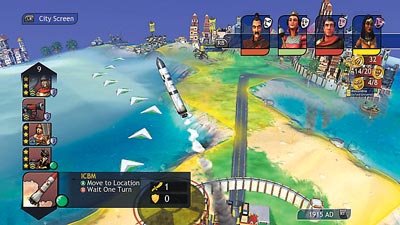 My mother used to tell me I'd grow up to be president. Yeah, she was one of those moms. For decades, a small part of my brain kept thinking: I better kick butt in school and work, and not break the law, or else someday I might not run the country and, thus, the world.
This thought process is, of course, idiotically set in a megalomaniacal fantasy. But sometimes, big dreams can be productive. Thomas Edison fantasized he'd invent electricity. He did. Wilbur Wright fantasized he'd fly. He did.
On the flip side, Fidel Castro fantasized he would play professional baseball, and Hitler dreamed of being a great painter, and when both of them failed, they became dictators. The point is: Beware fantasists. They can lift us up or break us down.
Thankfully, we now live in the video game world, where future Hitlers and Castros (and Wrights and Edisons) might be spending their time playing video games instead of using their energy to conquer the world. Look at the bright side. Right now, some horrible guy, somewhere in the world, is obsessing himself into the role of despot in "Sid Meier's Civilization Revolution," and that benefits us all, since he is not instead writing his own "Mein Kampf."
See, video games enrich our lives by destroying others'.
"Civilization Revolution" is so magnificent and addictive, I can see how people could get lost in it for months. It's like "Risk." You can portray any of many fantasists in history: Gandhi, Queen Elizabeth I, Abe Lincoln, Caesar, Napoleon or some other historical dreamer. Then, you control that leaders' country from the Stone Age to the Space Age.
You juggle your nation's resources in order to build armies, construct temples, universities and other structures, and fortify your cities with food, gold and walls.
At first, you merely send warriors into other territories to war, win land and sign treaties. But as hours move forward, you build tanks, planes and nuclear weapons. The winner is he or she who takes over the world and/or builds the United Nations first.
The coolest of many options is you can give gold to, say, Queen Elizabeth to egg her into starting wars with other nations. That leads to Britain and other countries getting bogged down by battles while you build bombs and discover inventions that give your empire a leg up financially, militarily, culturally and scientifically.
Despite a few visual clogs (cluttered frame rate) near the ends of solo and online missions, this is a great game for students of history. You can play as a Russian pushing democracy, then start over as an American pushing communism. You'll find yourself winning somewhat easily.
And you can see how possible it could have been that those things that seem destined to us now — holocausts, the Manhattan Project and the Magna Carta — easily could have evolved in other nations if those countries simply had produced their own Edisons and Hitlers ahead of time.
Then again, if video games had come around a century ago, maybe Hitler and Castro could have wasted all their dumb energy playing "Civilization Revolution," leaving the rest of us blissfully unaware of their stupid existence.
("Sid Meier's Civilization Revolution" by 2K Games retails for $60 for Xbox 360 — Plays very fun. Looks great. Moderately challenging. Rated "E 10+" for alcohol and tobacco reference, mild suggestive themes, violence. Four stars out of four.)
NEW IN STORES "MLB Power Pros 2008" brings more cartoon-looking baseball to gaming, with blocky avatar players that do not look anything like real baseball players, but the game play is supposed to be as fun and realistic as possible given the animated circumstances. The game retails for $40 for the Wii; $30 for DS; $20 for PS 2. It's rated "E." — By DOUG ELFMAN