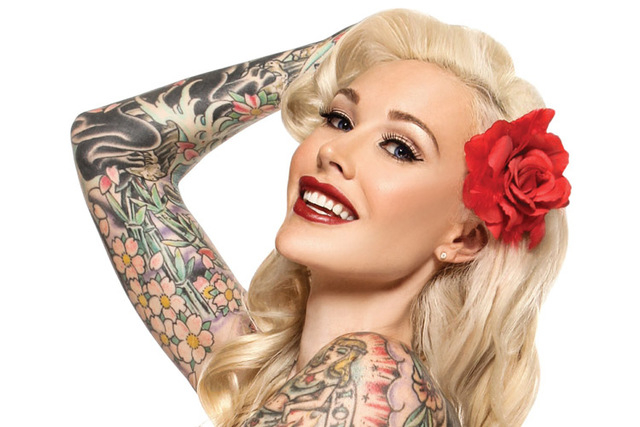 Stratosphere headliner Sabina Kelley is so pretty, and she's fun to talk to, and she has a dead person's bones implanted in her mouth. Wait, what?
"Well, you want to know what happened to me?" Kelley said, while preparing to guest-star tonight through Thursday at "Pin Up."
"I had my tongue pierced for probably about eight or 10 years," Kelley said. "It was sitting there rubbing the bone away on the inside of my bottom teeth.
"When I went to the dentist one time, they told me I was going to lose my four bottom teeth. I had to go get bone graft put in, like, where they take cadaver bone and put it in your mouth, and regrow bone in your mouth, so my teeth wouldn't fall out on the bottom."
Oh oh oh.
"Isn't that gross?!" she said, and laughed.
She's a fun-loving model, this Vegas-based host of "Best Ink" on TV.
"Do you feel like your mouth is haunted by the ghosts of dead bones?" I asked.
"No, not at all, ha ha. Maybe that's my problem!"
(How has this cadaver-teeth plot not been turned into a storyline in a Wayans Bros. comedy?)
Anyway, Kelley possibly is making history as the first heavily tattooed star of a Strip show.
She is filling in for the quick-witted Playmate and Instagram pro Claire Sinclair, while Sinclair promotes her comic book at Comic-Con in San Diego.
Kelley and Sinclair are friends. So this isn't about Kelley trying to steal Sinclair's butt-tastic billboards.
Years ago, Kelley was a showgirl in "Jubilee!" But she moved on to modeling, TV, burlesque, and raising three kids.
Kelley lives in Henderson, but sometimes lives in Los Angeles when it's time to film "Best Ink."
She runs her own tattoo-laser-removal business, Bombshell Tattoo Removal, inside the Hard Rock Hotel's Hart and Huntington.
Kelley said the no-longer-trendy tattoos people get lasered off most are: 1) tribal tats (the barbed wirelike arm bands); 2) names of former lovers (Kelley is currently removing the name of her ex, in laser stages); and 3) tramp stamps (the ones ladies got inked above their butts).
"I always figured those tramp stamps would get rubbed off by sex," I joked.
"You'd think, huh? I wish," Kelley said.
"I remember Johnny Depp had Winona Rider's name on him and he changed his to 'Wino Forever,' right?" I said.
Kelley said she has heard through the grapevine Vegas' porn legend Jenna Jameson just got "a bunch of pictures of herself tattooed on her arms or something; but I haven't seen her, so I don't know if that's true or false."
I asked Kelley if she ever sits around and studies her tats, the way other people reread books, or if she forgets they're there.
"I forget about them," she said. "I can't even see my back, unless I see pictures of it.
"All my tattoos have a reason, and a story behind them, and it's all super personal to me," she said. "I usually don't even tell people (each story), because it's not anyone's business."
Kelley hopes everyone goes to see her in "Pin Up," not just because it's "super fun" and classy with a live band, but because a portion of sales go to a charity, Pinups For Pitbulls.
"I have two pitbulls at home already," she said. "They're like the best dogs in the world to me. I have kids, and I'm not worried about them. My hairless cat beats the crap out of my pitbulls. It's about how you raise your dog."
I told Kelley I like cats and dogs so much, I used to contemplate writing my will so my journalism inheritance will go to Best Friends Animal Society.
"That's how my mom is. My mom is like a dog hoarder," Kelley said. "I don't think my mom's coming to this show because of her dogs. She doesn't want to leave her dogs! I definitely think when she passes away, all her money will go to either save-the-polar-bears or to her dogs."
Doug Elfman's column appears Tuesdays, Thursdays and Saturdays. Email him at delfman@reviewjournal.com. He blogs at reviewjournal.com/elfman.