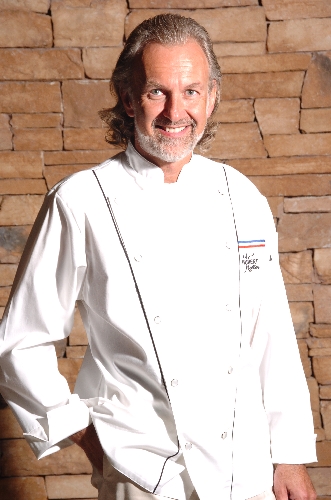 Recession shmession. At Mandalay Bay's Fleur restaurant, "Top Chef" star Hubert Keller is selling a $5,000 burger — and he calls it a bargain.
What the beef?
Years ago, Keller started selling a $60 burger (such a quaint price in retrospect) at Burger Bar at Mandalay Bay.
But the Travel Channel reported his friend and chef Daniel Boulud was selling a $100 truffle burger.
"So I thought to myself, 'Daniel has the most expensive burger now. I have to put a burger on the map that will beat that one, just for fun,' " Keller says.
His dish: Kobe beef topped with foie gras and black truffle on a brioche truffle bun and truffle sauce, plus one bottle of Chateau Petrus 1995 (a vino with a hint of truffle), and a pair of Ichendorf Brunello glasses.
Keller was already selling the Petrus '95 for $5,300.
"I give you the bottle for $300 less — and the burger for free. So it's a bargain!"
Eaters of the $5,000 meal at Fleur, a casual-gourmet restaurant, also get a certificate of burger authenticity.
"Actually, the burger is numbered," he says.
My question: "What would you murder me with if I put ketchup on that burger?"
"I would not murder you!" Keller claims. Of course, he wouldn't. He's French. The French, like the citizens of Alderaan, are a peaceful people.
'WHOSE LINE' CAST AT MGM
Drew Carey's amazingly fun "Improv-a-ganza" resumes tonight and Saturday at MGM, while being filmed for the Game Show Network.
"If I could do 'The Price is Right' in Las Vegas, I would," Carey says.
"Vegas is so extra fun," he says. "And I like Las Vegas because it's kind of like Personal Responsibility Land.
"You're allowed to gamble and do all these things. But if you lose all your money, Las Vegas says, 'Don't come crying to me. We warned you. We posted the odds!' "
The MGM show has been rotating cast members from Drew's old show "Whose Line Is It, Anyway?": Greg Proops, Ryan Stiles, Colin Mochrie, Brad Sherwood, Jeff Davis, Kathy Kinney, Chip Esten, Sean Masterson, Heather Anne Campbell and Jonathan Mangum.
PRE-SIGHTINGS
Naya Rivera of "Glee" turned 24 on Jan. 12 and celebrates Saturday with some cast mates at club Bank. … Kelis hosts club Marquee on Monday.
SAY WHAT?
"Go out in your garage, get in your walk-in freezer, and every 15 minutes, I'll come by and throw a cup of sand in your face." — USO comic Kathleen Madigan, on what it's like in Afghanistan. She performs tonight-Sunday at South Point. Read more in today's Neon section.
Doug Elfman's column appears Sundays, Mondays, Tuesdays and Fridays. E-mail him at delfman@ reviewjournal.com. He blogs at reviewjournal.com/elfman.