Celine offers thanks, and selfies, to loyal fans
November 17, 2015 - 2:41 pm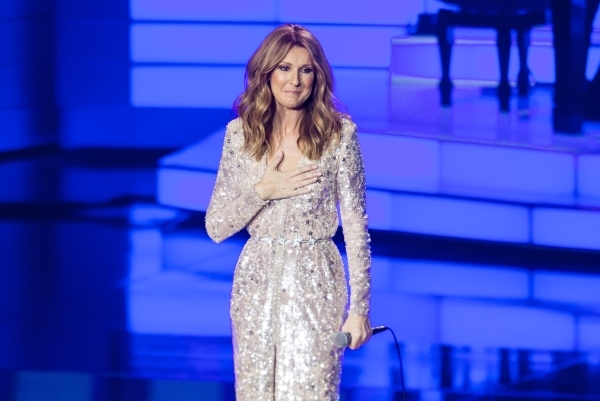 There's scripted stage patter, and then there's sincere scripted stage patter.
Celine Dion tells her fans that even though she was absent for a year from the Colosseum at Caesars Palace, she knows "you were with me, stayed with me."
And it's not only that she says this convincingly. Or again at the end, when she thanks fans "for all your love." The rest of the show backs her up on it.
Let's go back for some then-and-now context. In 2003, the Canadian pop star's promoters were confident enough of her Las Vegas drawing power to set some then-astronomical ticket prices. And yet, no one was sure enough to gamble on her standing in front of an orchestra and simply singing songs.
After all, it had been six years since "Titanic." So they hedged the bet with 40 dancers and a Cirque du Soleil-like production.
When Dion came back in 2011 with a new show, everyone had relaxed after 700-plus shows. Now it was OK to sing in front of an orchestra. Still, not everyone owns the "One Heart" album. The Colosseum show broadened its scope with James Bond medleys and holographic Stevie Wonders, just in case.
But now? The singer has been through a trying health battle with her husband, Rene Angelil. And this "very personal show," as she explains, is for the fans who stuck by her. You get the message when the star delays the ending of "Because You Loved Me" and says, "Wait a minute. I want you to sing this last phrase with me":
"I'm everything I am, because you loved me."
And part of the show was, as recently as her August comeback, a duet with a projected "holograph" of a singer such as Frank Sinatra. Last week, she skipped that to create more personal time with her fans. The Bee Gees were confined to a conventional video screen during "Immortality," as she sang her way down a lucky aisle and posed for selfies with fans to the point where she jokingly called up to the band, "I won't be long."
It's not like the show has become a closed circle. After all, some of her signature songs aren't all hers. "River Deep Mountain High" has been a Colosseum rousing point for so long now, she deserves shared custody with Ike and Tina Turner.
And "All By Myself," was an Eric Carmen hit in 1976, when Celine was just 8 years old and perhaps only absorbing radio waves of the song that would become her traditional tee-up of the high note, for a ritual swatting out of the park.
And yes, there's usually a deliciously campy cover as well. This time it's a double whammy of Prince's "Kiss" and "Purple Rain," both perfectly good reminders of why white people get made fun of.
Still, she has earned the right to do a show for those who will not see any unintentional humor there. Yes, casual fans will still understand the wisdom of past attempts to open the show beyond her catalog. "Incredible," the Ne-Yo collaboration that seemed fresh and exciting just two years ago is already an "Oh, yeah, I forgot about that one."
But she has enough real fans who didn't. If you aren't one, step aside for the ones who deserve a full version of "The Power of Love" and other past hits, not a medley.
And if you stay, you will see those fist-pumping "Celine-isms" — making a powerful lick seem more like a well-played tennis return — are offset by her finesse on "The First Time Ever I Saw Your Face," sung from the sidelines as family photos of her children and cancer-fighting husband play on the big screen.
A front-of-curtain "unplugged" breakdown with the background singers and acoustic guitar has become a concert cliche now. But here, it was a welcome chance to hear "A New Day Has Come" and "I'm Alive" refreshingly stripped of pop radio bombast.
After all, we know Celine Dion can power a song over the fence. The kinship with fans is one that allows her to show what else her voice can give them, now that there's nothing to prove.
The final, emotional "Over the Rainbow" encore didn't even need an orchestra.
— Read more from Mike Weatherford at reviewjournal.com. Contact him at mweatherford@reviewjournal.com. Follow him @Mikeweatherford.