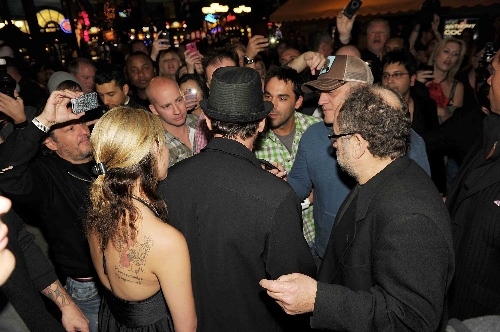 First of all, let's talk about that horrible hat Charlie Sheen was wearing on his angry little hedgehog head. It was the worst fedora I've ever seen. I kept imagining he bought it at 7-Eleven for $8, but I don't know that.
He arrived at 1:45 a.m. at club Chateau in Paris Las Vegas to serve as Saturday night's celebrity host. Pathetically, there wasn't a large crowd of tourists and locals waiting to see him on the red carpet outside the club.
Does that mean he's over?
Ill advisedly, he quickly broke a star-in-Vegas rule: Never publicly badmouth an entire hotel, especially if it's run by people you know.
During a backroom interview with a Chateau videographer, he implied insiders at the Palms hotel leaked news about his recent Palms porn party.
"What happens in my life is broadcast everywhere — especially if you're at the frickin' Palms, where they protect no one!" he groused, furry eyebrows burrowing downward in the direction of hell.
"But that's all right," he said, getting a hold of his tongue. "I'm just jokin'. They're my friends."
This is what he was whining about, I believe: In January, when the Palms was holding the porn awards downstairs, Sheen was upstairs holding bosoms of female porn thespians, because he enjoys their delightful repartee and repertoire. Who doesn't? He later drank at a hotel bar in full sight.
After the Palms weekend, he was reportedly late on the set of "Two and a Half Men," partially setting off the Fall and Rise and Fall of Charlie Sheen — cocaine aficionado who says he is not now using, although who cares anymore since that whole episode started four months and a dead Osama bin Laden ago.
If Sheen thinks Palms people were breaking the news to everyone in the media that he was Sheen-ing a suite, he's sniffing in the wrong direction.
I was in the media room before the porn awards, where elite porn journalists were asking, "Where's Bree Olson?" They were answered by porn entourages, not Palms people, who buzzed: "She's shacked up in a room upstairs with Charlie Sheen."
Word spreads fast in a room full of fast spreaders.
So Saturday night/Sunday morning, Sheen walked Chateau's red carpet with his fleur du jour, a woman with a tattoo on her back.
Then he started walking off the carpet but was stopped by four of us — me; Mark Gray of People; Ryan Slattery of Us; and Tom Dietz of Life & Style.
"How's it feel to be back in Vegas?" I asked, friendly, pitching a soft opener.
He didn't even look at me.
"Hold on. Where's Larry?" he grumbled.
Larry Solters, his public relations guy, stepped up and asked us to identify ourselves. We did, and let me tell you: The Las Vegas Review-Journal, People, Us and Life & Style is a good turnout for a guy who just got thrown off a TV show.
"OK, we got two questions. Let's go," Larry said.
Oy.
"Are you hoping to be back on TV, Charlie?" Gray asked.
"Not right away," his cigarette voice rasped. "Look what I went through. I'm not going to rush right back. So I can endure that again?" (Oh, what a sad wee victim is Charlie Sheen.)
"What's your relationship like with Meghan right now?" Dietz asked, referencing one of Sheen's ladies.
"What does that have to do with anything? That's all you're here for isn't it?" Sheen barked.
"No no no no no," Dietz said.
I tried calming and redirecting Sheen, asking him to talk about Vegas a second time. He still wouldn't look at me. He continued taunting Dietz for asking a reasonable question, considering Sheen himself brags about these women as if they were his currency.
"He just ruined it for everybody. Bye-bye," Sheen condescended to Dietz, shaking his bedazzled green lollipop at we amiable writers, and he hopped away, the grump troll.
What have we learned?
We learned if you are a fired actor whose oxygen is media, maybe you should talk to the press who wait on a red carpet for Your Heinous until an hour and 45 minutes past midnight on a Saturday night.
And we learned Charlie Sheen may have seemed briefly comical to some people from afar, but up close? An ugly spitball of a frog pig goat skunk. I pity those women, that lollipop, Larry Solters and that material masquerading as a hat.
Doug Elfman's column appears Tuesdays, Thursdays and Fridays. Contact him at delfman@reviewjournal.com. He blogs at reviewjournal.com/elfman.