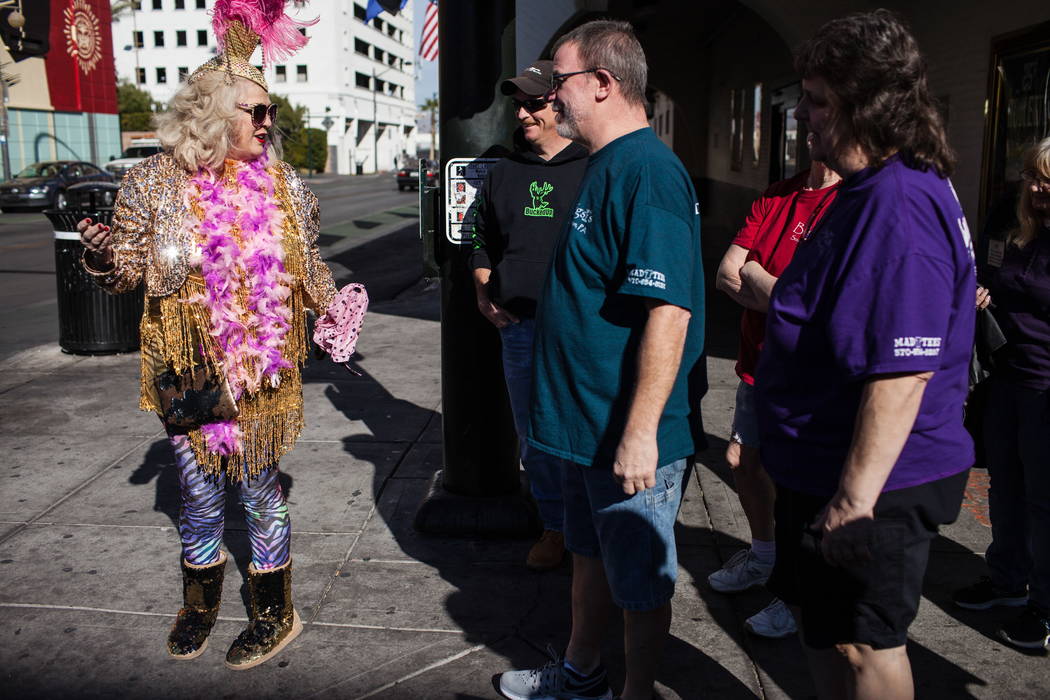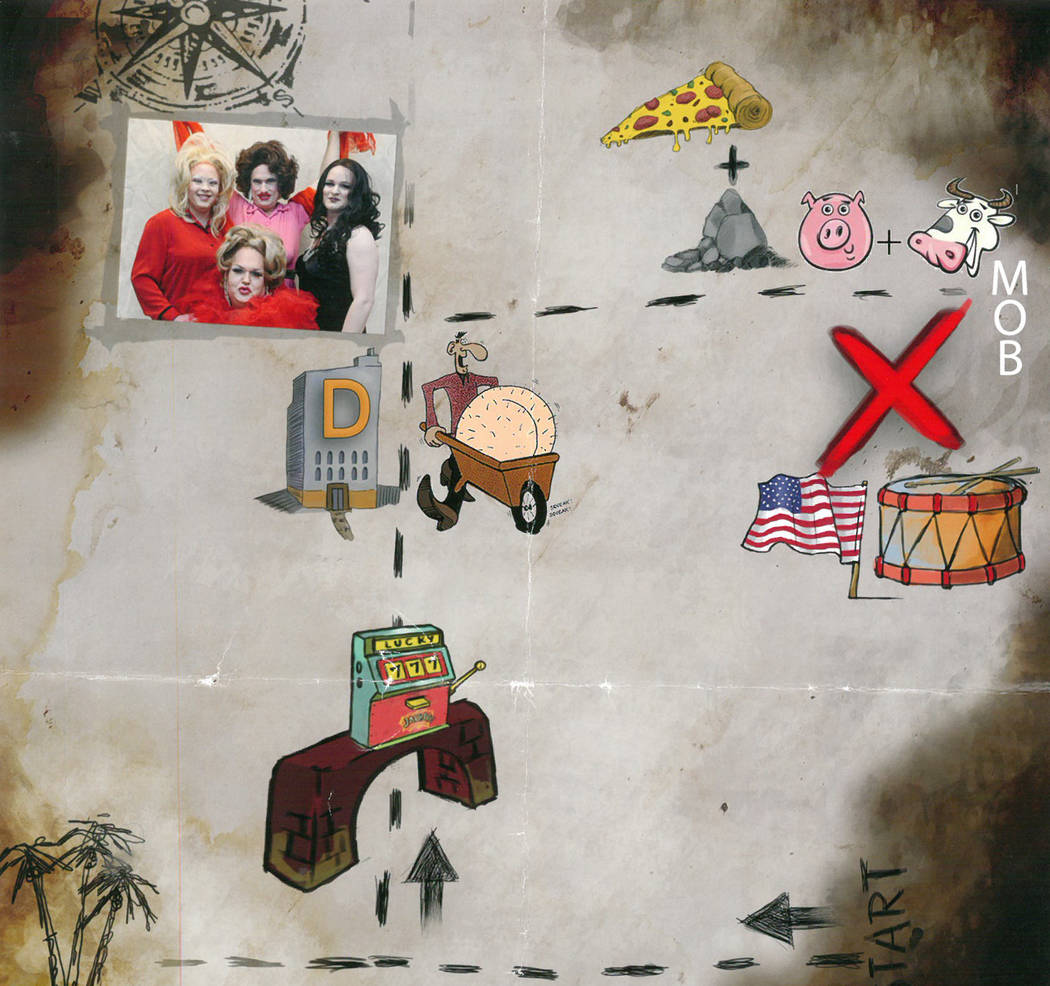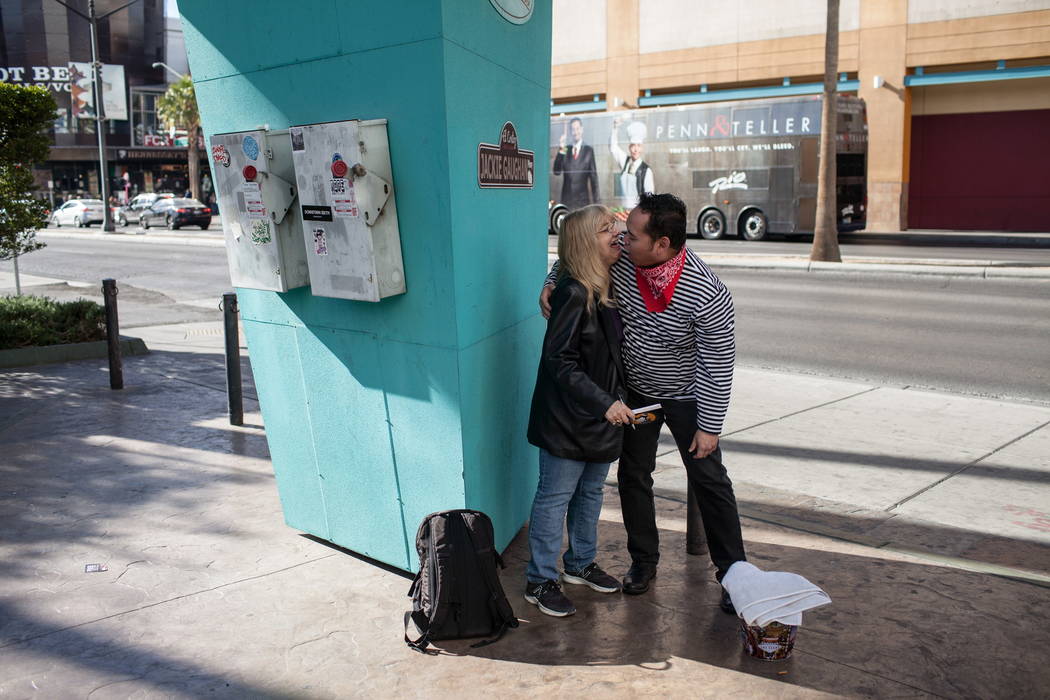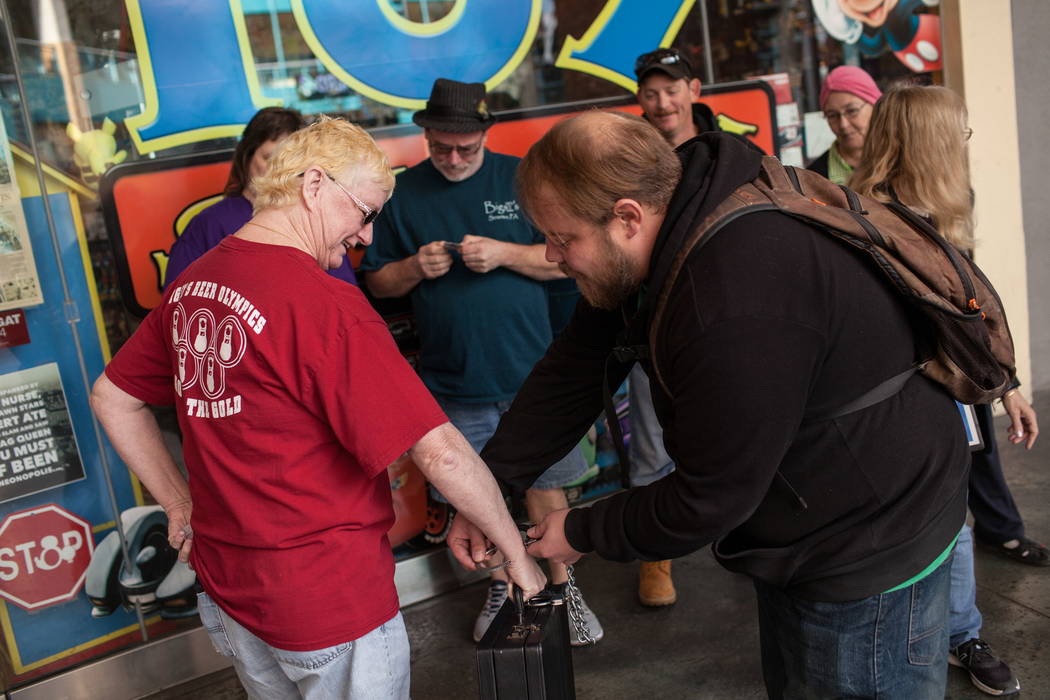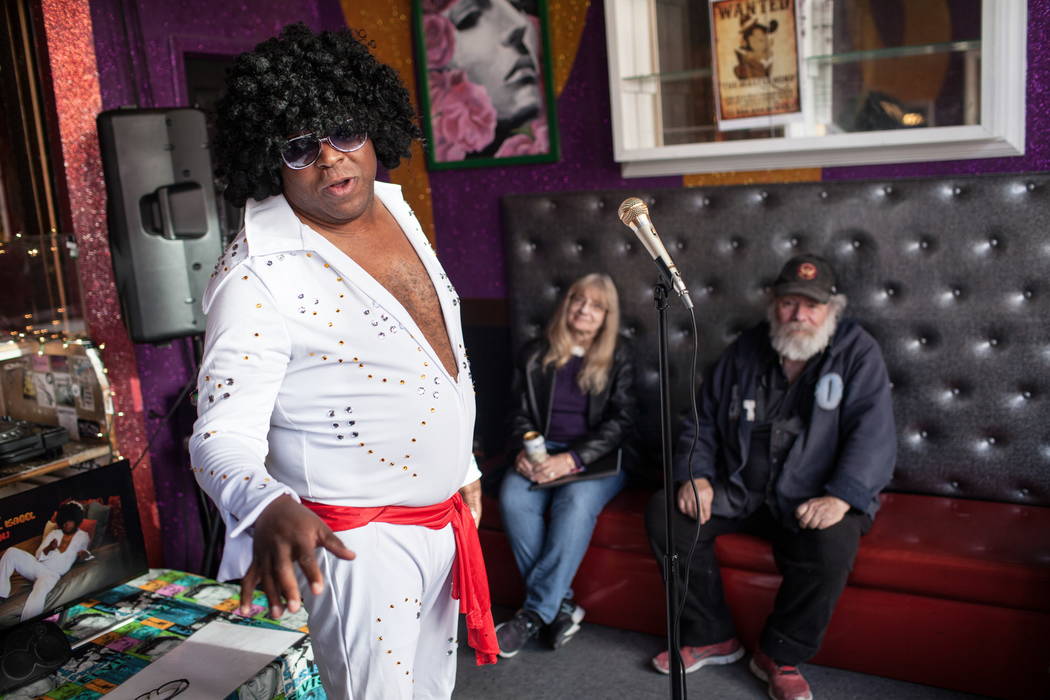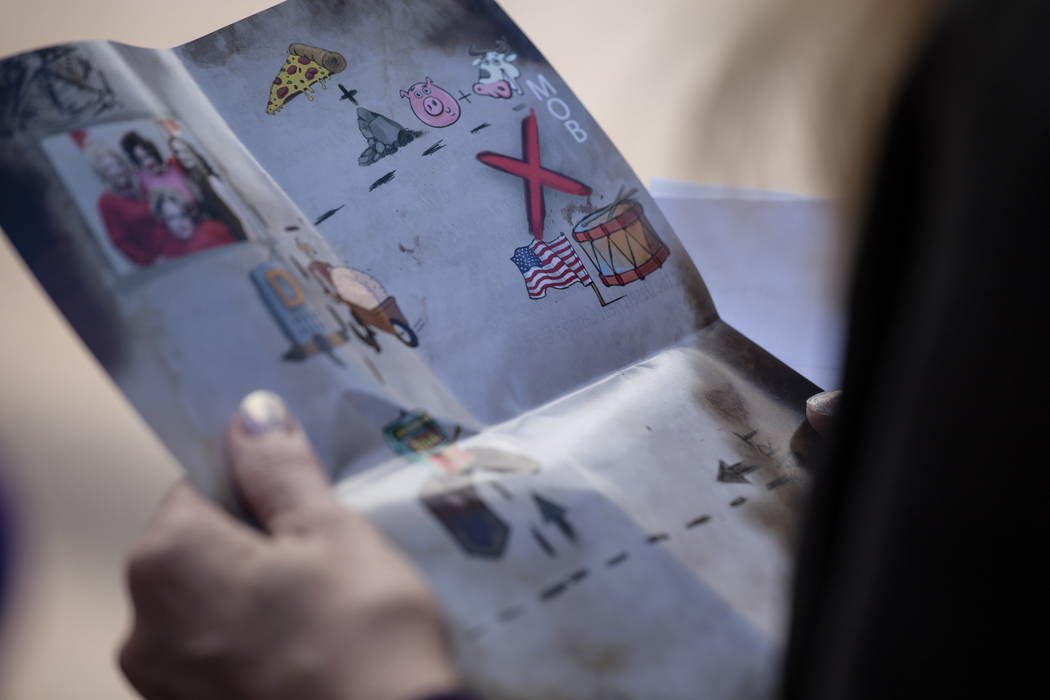 There are texts. Then there's this text.
"Hi it's Cuddles the Showgirl. Can U help me? Meet me @ the Big Heart outside Container Park (707 Fremont St.) @ 11:45 a.m./tomorrow.| Don't be late sweetie!!!" Whatever you say, honey-bunny.
With that Friday evening missive, we're prepped for a Saturday morning excursion into oddness called "Alibi Las Vegas," a weekly, kooky combo platter of downtown walking tour/interactive scavenger hunt/restaurant crawl/detective challenge/street-side improv/joie de vivre soiree. Which is to say: a Vegas show that wouldn't be caught dead in a Vegas showroom. (Nor would Cuddles.) Rather than sit, applaud and gaze at a stage, this bonkers entertainment brew, concocted in 2014, plunges us into a surreal scenario in which we wind up ferrying ill-gotten booty for a shadowy no-goodnik through our colorful streets.
I did a similar experience in New York called 'Accomplice,' and I thought with all our rich history, we could have one customized to Vegas. The moment you arrive, it's already started.
— "Alibi" creator Ivan Phillips
Curious, this funky-funny figure approaching us: gold, spangle-flecked boots and vest, feather boa, and psychedelic, flesh-clinging leggings that look less likely to be taken off than peeled away. Must be Cuddles (Penny Wiggins), the first of our actor/guides sashaying toward our five-guy/four-gal gaggle (of mostly locals), one of seven groups thrust into this "show that's not a show" throughout the day.
"Jazz hands!" she shouts as a group photo is snapped.
We're off down Fremont Street, with exuberantly daffy Cuddles as our sequined-and-sparkled pied piper, going Beatle-maniac on us. "We all live in a yellow submarine!" she brays, turning the heads of passers-by. Nine strangers now tethered to Cuddles' ditsy antics exchange bemused glances. Bizarre? Just go with it.
Led into a low-lit, grotto-like eatery (nope, can't say which one — this is a no-spoiler zone), we're treated to drinks as Cuddles passes out fake newspaper flyers. Sample headlines: "Las Vegas to Build All-Nude Gambling Casino" (if only) and "Las Vegas Studies Show That Alcohol is the No. 1 Cause of Marriages" (well, duh).
Plus this one: "Record-Breaking Heist at Casino: Mastermind Strikes Again!" Therein lies the gimmick: We're entangled in a Vegas-style robbery, and will be shuttled from actor/conspirator to actor/conspirator (bye-bye Cuddles!) to pull off this fanciful feat of felonious chicanery. Clues at each stop prod us along beginning with one sending us poking through a garbage can, the trash hiding a paperback of "Crime and Punishment" with an embedded message luring us toward … a mime (Ren Bautista).
I thought that putting together a show where people can go home and talk about what they did, rather than what they saw, would be exciting. It's the reality generation, so they can be the stars of their own reality show. And a lot of people are curious about downtown, which has this mysterious, old-Vegas vibe to it. I thought 'Alibi' was the perfect way to hold people's hand and introduce them to downtown during the day.
— "Alibi" writer/director Matt Donnelly
Beneath El Cortez's electronic billboard, our mime unspools his shtick — fake drinking, joint-rolling and French-smooching the ladies — until we're handed a white metal box, the combination lock springing open via one clue we suss out from the faux-newspaper. Inside, a cartoonish map urges us on to our next locale.
Wandering around Fremont Street and puzzling over this map that would give your GPS heartburn, we arrive at a restaurant (sorry — no-spoiler reminder) and are met by "The Mastermind" (LeWayne McQueen) in kitschy Damon Runyon-esque threads, resembling a mook from "Guys and Dolls." Here we're served small bites (strips of meat on a bed of potatoes, and tasty, fried balls of … something) and instructed how to execute the next phase of our criminal enterprise, involving a suitcase holding the "loot."
It's laughter therapy for me every Saturday. One girl who came through said it was like walking into 'The Twilight Zone.' It's an immersive experience on steroids.
— "Alibi" owner/producer/actress Corinna Harney-Jones
With a photo binder propelling us toward a Neonopolis shop, we're met by a furtive conspiracy theorist (Tommy Todd), who warns us to trust no one — including ourselves, as we mock-frisk each other. After handcuffing the suitcase to one of our group to safeguard the ersatz booty, he provides a clue that aims us toward a cozy establishment (sorry, we can't squeal on the name, lest we be branded as rats) where we're serenaded by a not-quite-svelte Elvis (James White, aka Frankie B. Isabel). The gag: Elvis blanks on Elvis lyrics. (Did the King ever warble, "I like big butts and I cannot lie" in the middle of "Jailhouse Rock"?)
If you've got a short attention span, this show is perfect for you. You're not in one location for more than 15 minutes. If you don't like one actor or location, you'll be moving to a new location and new actor with a new set of clues. Two and a half hours sounds like a long time but that flies by when you're moving around and seeing different people.
— Phillips
Finally, we're welcomed by the crime's "inside man" — a Magic Marker-mustachioed woman (Harney-Jones, who at age 20 was Playboy magazine's 1992 Playmate of the Year), whose rapid-patter one-liners build to the grand conclusion of our audacious "crime." That includes a raid from, well, let's loosely call it "the fuzz."
We're not high-tech. I call it the lemonade stand of Las Vegas shows. But it's a quirky good time. We had these ladies from Compton come through, and these men from Scotland. At the end of the tour, they were hugging and exchanging information. When that happens, I just feel, this is why we're doing this. We need more of this connection and laughter.
— Harney-Jones
Did we abscond with the loot, to boot? Ah, ah, ah — no spoilers. But memo to Cuddles: I'm texting you my Cayman Island account number — OK, sweetie?
If you go
■ What:"Alibi Las Vegas"
■ When: Saturdays, with separate groups departing at 11 and 11:45 a.m., and 12:30, 1:15, 2, 2:45 and 3:30 p.m.
■ Length: Two hours and 30 minutes, on foot, includes food and drink.
■ Where: Through parts of downtown Las Vegas, beginning at Container Park, 707 Fremont St.
■ Tickets: $80
Contact Steve Bornfeld at sbornfeld@reviewjournal.com. Follow @sborn1 on Twitter.