Longoria ready to let her hair down, party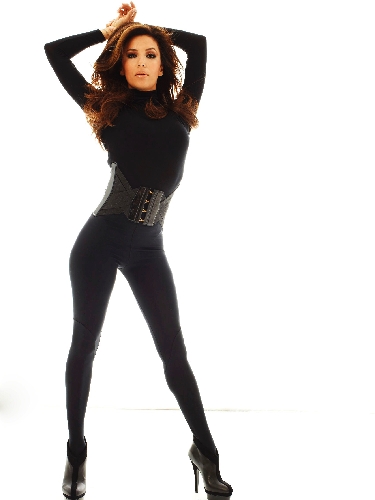 Eva Longoria hosts her own birthday party Friday night at her restaurant/club Beso-Eve, with a red carpet and celebrity glam.
"I think it's time to let my hair down a little bit," she told me.
No kidding. The year 2010 could have been nicer to her. She and (now former) business partners at Beso-Eve entered an ongoing legal battle. Worse, she and Tony Parker ended their marriage.
If I may be shallow for a moment, Eva Longoria — Maxim magazine's hottest woman in the world in 2005 and 2006 — is still one of the most beautiful women I've ever seen.
I told her so. She humbly said thanks.
"I think I've been on the divorce diet. Everybody keeps saying I look so great. I think, 'Oh God, did I look horrible before?' " she said and laughed.
"But I have lost a lot of weight since the (divorce)," she said. "It's that silent stress. It's nothing overly like: 'Oh, I can't take it. I can't eat.' I'm eating! I'm going about my business. It's just this silent way I've been losing weight."
The "Desperate Housewives" star, who has a few movies coming out this year, seems like she's in that post-divorce place where she appears to be swell and laughs well — until it's clear she's dealing with residual fallout.
She says she's handling her post-divorce phase "day to day."
"It's learning your new identity," she said.
"I had such a strong identity in being a wife. So for me, it's just learning: OK. I've always thought of other people in my daily life, like: 'What would so-and-so like?' Or, 'What would make them feel better?'
"So to finally do that for myself, and focus on myself, has kind of been a real experience. And it's a bit of a joy just to go about your day, thinking about what's going to make you — and solely you — happy today."
We've all been there. In those times, you lean on friends and family. Longoria's no different.
"I have the best family and friends. They've just been amazing, amazing people. I'm pretty lucky."
To be shallow again, it really is remarkable how good she looks — especially since she has for a long time neglected her personal trainer (who oversees a mix of cardio, light weights and core training).
"I haven't worked out in, like, a year," she said. "Really, the way I stay fit has been my diet lately. Almost 80 percent of your fitness is your diet. So I just eat really well. I'm not a junk food kind of girl."
She eats quite well at Beso. I asked her for quick recommendations from the menu.
"You always have to start with my guacamole and tortilla soup," she said. "The skirt steak is my favorite. And if you're on a date, it's lighter than a major steak. And then we have churros for dessert. They're amazing. They come with caramel cream, so you can feed them to your loved one.
"After dessert, you can go upstairs and have a drink and dance the night away, which is usually the routine I do. It's really fun and you don't have to leave the building."
Her drink of choice, naturally: "I'm a champagne girl."
For Friday's party, she has brought in sponsor Nuvo, a liqueur blend of vodka, white wine and passion fruit nectar. She mixes in champagne, personally.
Since Beso-Eve started restructuring, she's hoping Friday's party, beginning at 11 p.m., reminds everyone she's working hard to thrive at CityCenter with a night she promotes as "amazing and exclusive and fun."
But it is her birthday party. (Technically, she turned 36 on Tuesday.) As such, I asked if she wants anyone to bring her a present. She laughed, because no one ever brings presents to nightclubs for celebrity birthdays.
"I love flowers, though the doorman probably doesn't like flowers! Ha!" she said. "He probably likes something else."
I followed up: But wouldn't she like some jewelry?
"Exactly!" she said and laughed. "Hellooo!"
Doug Elfman's column appears on Sundays, Mondays, Tuesdays and Fridays. E-mail delfman@reviewjournal. com. He also blogs at reviewjournal.com/elfman.