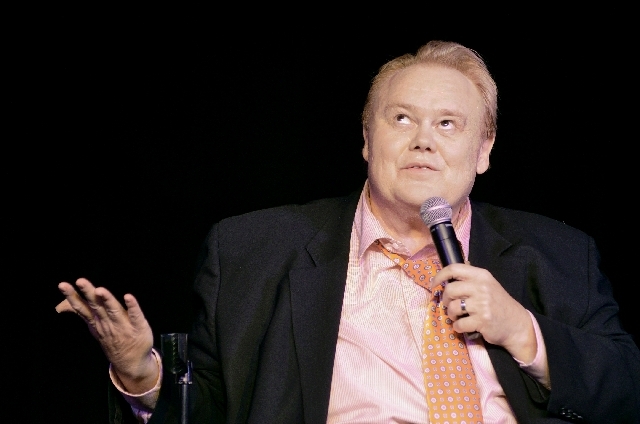 There are fat jokes and there are fat jokes.
Louie Anderson understands the difference.
He can dish up a standard bit about Cold Stone Creamery. They ask "Cup or cone?" and you tell them to "crush a cone and put it in the cup." They keep piling on the toppings until the bill comes to $85, and Anderson says "Oh-kay" in that nasal cartoon voice he often uses to punch a joke, his version of the Jerry Lewis "Hey la-dy."
But Anderson tells us he has been a stand-up comedian for 35 years. And he didn't achieve this longevity without connecting on a deeper level of understanding with his fans.
The U.S. obesity rate has reached 32 to 35 percent of the population, depending on which statistic your search engine kicks up. Anderson is quick to point out that fat people don't wake up each day with a plan to overeat and be lazy. It's more like, "Today's the day I'm gonna turn it around," he says. Until he realizes it's Sunday. Followed by a Monday holiday.
Anderson's jokes nearly always flow from a departure point of confession about his real life, which involves a continued effort to sustain the exercise momentum he began with the TV diving contest "Splash" last spring.
But there are nods and grunts of familiarity when he talks about how much he hates salmon. Or how, "no matter what you do in the gym, if you're in there for more than 10 minutes, you worked out."
The audience is rooting for him when he says he is working out with a trainer who tells him, "We're building your core."
"Well when do we work on my outer crust?"
Anderson is digging in for a run as a resident headliner in the vintage showroom at the Plaza, and there seems to be enough of his people downtown for it to be a good fit. What a dark irony it would be if Fremont Street has become so hip that it chased off his middle-age fan base.
On this night, the comedian took his sweet time with a soft-spoken hour that seemed random and conversational but expertly wove its themes and came full circle back to its starting point. Familiar bits about his mom and dad ("such a mean, horrible man, but in the most loving way") worked in a few new riffs, like jazz variations on a theme.
But his new obsession is being 60. "When I say it, I just go, 'What?' I'm 60. Six-ty!"
If 60 is the new 50, Anderson's 60 is the new 70. He talks about "clicking" when he walks, having people open jars for him or watching as doctors perform a difficult angioplasty.
Fear not, though. As he closes the hour marveling about his unlikely success — 35 years of "a job where you stand around and make smart remarks" — you wonder if a third act still awaits him, as it did for the likes of Carl Reiner and Walter Matthau, and if he just had to wait until he got old enough for it.
Two quick notes about things that could tighten the languid pace and occasional slumping energy in the room by the time you read this. First, Anderson's long-term plan is not to have another stand-up open for him (as the smartly dark Ed Driscoll did this show), but to try out various musical-variety acts until he finds one that fits.
Also, computer problems on this night scratched a closing segment in which Anderson shows clips from the diving contest "Splash" and serves up some behind-the-scenes stories. Not sure why he couldn't have told them without the video, but we are a visual society as well as an obese one.
Contact reporter Mike Weatherford at mweatherford@
reviewjournal.com or 702-383-0288.
Review
Louie Anderson
7 p.m. Wednesday-Saturday
Plaza, 1 Main St.
$72 (702-386-2507)
Grade: B